A delicious activity for wintry days when the temperature drops. A tasty way to pass the time with friends and family. And, above all, a crowd-pleasing treat, few things can top a freshly baked apple strudel. Layers of flaky crust, stewed apples, and warming spices–what's not to love?
Another one of our wintertime favorites, Bonterra Chardonnay, rich and buttery with notes of citrus, is the perfect match for a strudel day. Plus, we're all for drinking white wines during the winter.
Suggested Wine Pairing: Chardonnay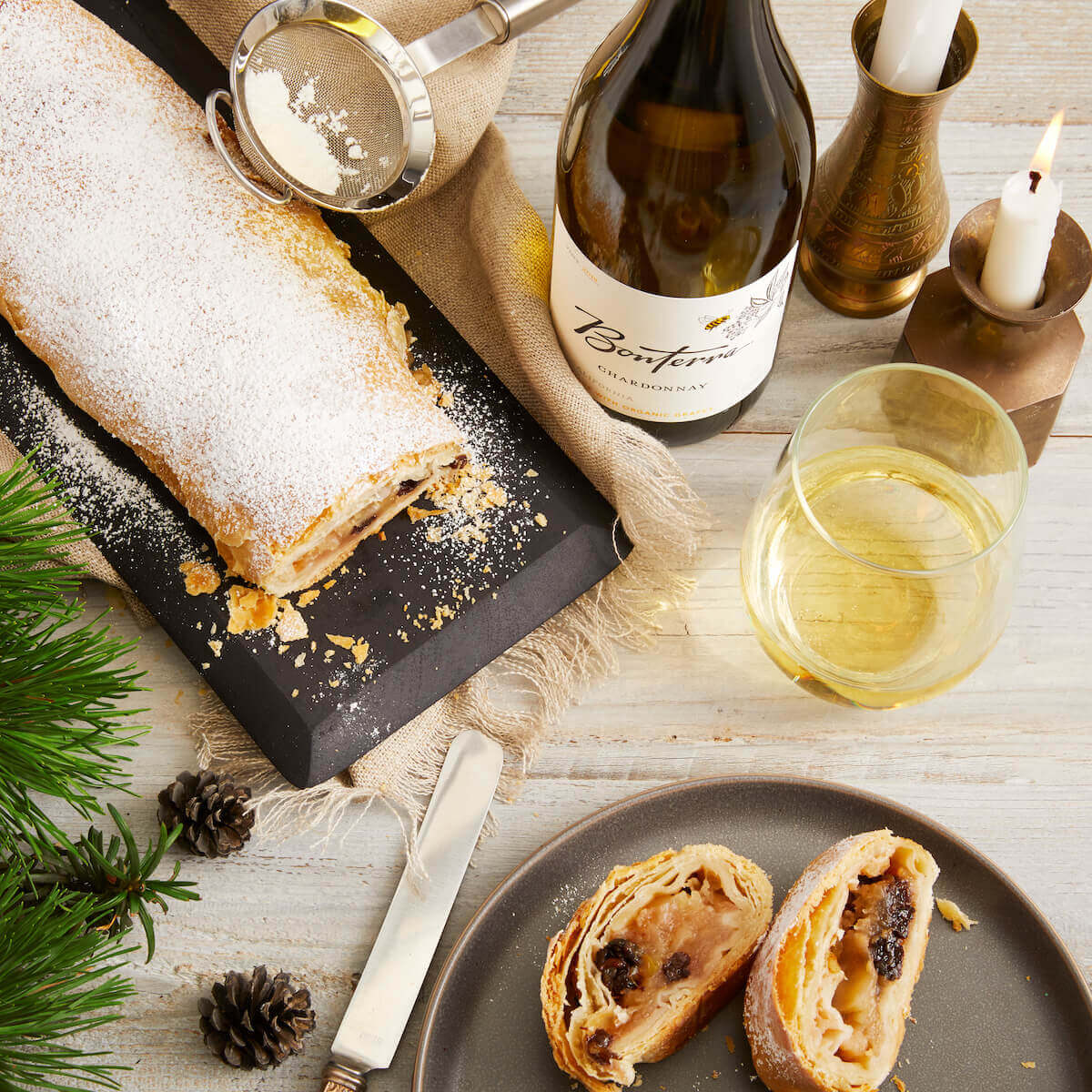 Apple Strudel
Ingredients
Dough
½ cup + 2-3 Tbsp. warm water
2 tsp. vinegar
1 tsp. salt
1 Tbsp. sugar
3 Tbs. vegetable oil
2 ½ cups all-purpose flour
Filling
4 Granny Smith or tart baking apples, peeled and sliced about ¼-inch thick
½ cup sugar
½ tsp. cinnamon
1 Tbsp. cornstarch
⅓ cup raisins
8 Tbsp. butter, melted + more for brushing
¼ cup bread crumbs
2 Tbsp. powdered sugar
Instructions
Dough
Combine ½ cup water, vinegar, salt, sugar, vegetable oil, and flour in the bowl of a stand mixer fitted with the hook attachment. Mix on low until the dough starts to come together.
Add 2-3 Tbsp. water if the dough feels dry. It should be soft but not wet. Once the dough comes together, mix on medium speed for about 8 minutes.
Turn the dough onto a clean table, cover with plastic and let rest for 20 minutes. Knead a few times by hand. The dough should now be smooth.
Put the dough in a lightly oiled bowl, cover and let rest overnight in the fridge or for at least 6 hours.
To assemble, take the dough out of the fridge and let it come to room temperature while you prepare the filling. Preheat the oven to 350°F.
Filling
Toss the apples with the sugar, cinnamon, and cornstarch. Let the mixture sit for a few minutes until juices are released. Put the apples in a large shallow pan and cook over medium heat until they start to soften and the juices thicken. Mix the raisins in and pour the apple mixture onto a sheet tray to cool.
With a rolling pin, roll the dough into a large square about 14-inches wide. Spread a tablecloth onto a table and patiently stretch the dough on the cloth until it measures about 18 inches by 40 inches. If the dough feels very tight, give it a 10 minute rest and then continue stretching. When finished, you should be able to see through the dough. Brush the dough gently with about half of the melted butter.
Toss the bread crumbs with the cooled apple mixture and pile the apples on one of the shorter sides of the dough. The apple pile should be about 5-inches by 14-inches.
Using the tablecloth as an aid, gently begin rolling the strudel up like a burrito, tucking in the sides of the dough and brushing with melted butter as you go.
Transfer the strudel (seam side down) to a parchment lined baking tray. Bake for about one hour, brushing with melted butter every 15 minutes.
Remove from oven and cool for 30 minutes. Serve with a generous dusting of powdered sugar.
For a quicker version of this strudel, use premade phyllo dough. This version makes 2 smaller strudels instead of one longer one.
16 sheets frozen phyllo dough, thawed
8 Tbsp. melted butter
¼ cup sugar
Preheat the oven to 350°F. Place a sheet of phyllo dough on a work surface. Brush lightly with butter and sprinkle lightly with sugar. Top with another sheet of phyllo and repeat until you have a total of 8 sheets. Pile the apple filling on one of the shorter sides and roll like a burrito. Repeat for the second strudel. Brush the rolled strudels with melted butter and bake for about 45 minutes.