Born from necessity and since elevated to an artform, bread making is in vogue for serious home cooks and beginning bakers alike. And, in contrast to popular cooking "hacks" for quicker, easier results, bread making, much like grape-growing or winemaking, requires a sometimes unpopular ingredient: time.
Time is an essential component in Bonterra wines, a necessary player both in our organic and Biodynamic® vineyards, as well as in the cellar. Crafts intertwined by the care, respect, and time they demand, winemaking and bread-making are, ultimately, expressions of their most basic ingredients – grapes, flour – and a little patience.
So, with a little help from the Bonterra test kitchen, you can put your home bread-making skills to the test. Find the recipe for our Rustic Bread below.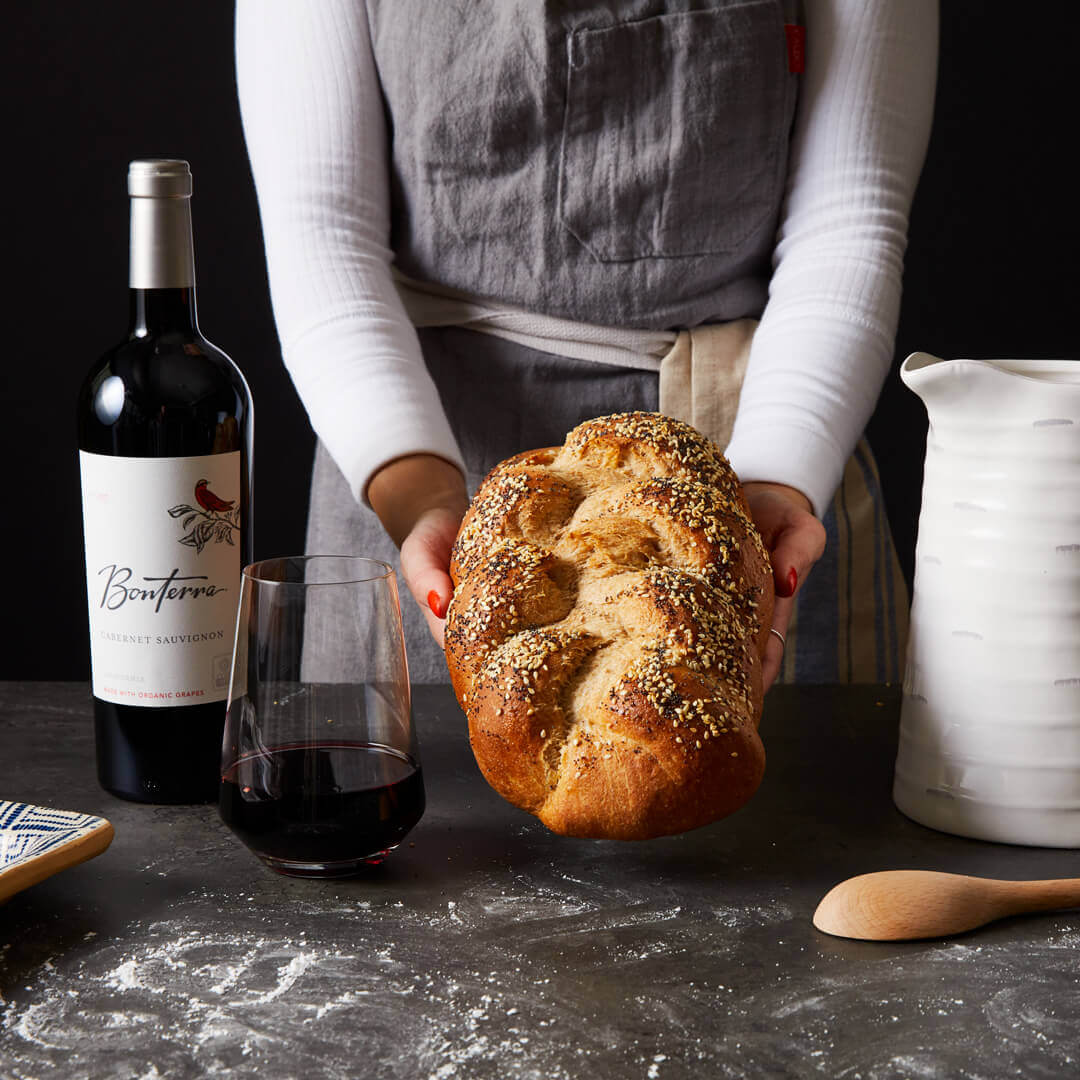 Break Bread with Bonterra: Rustic Bread Recipe
Ingredients
Sponge Starter (begin the night before)
1 cup cool water
¼ tsp. Instant yeast
1 ¼ cups unbleached bread flour
2 tbsp. whole wheat flour
1 tbsp. yellow cornmeal
1 tbsp. semolina flour
Dough
1 cup cool water
1 tbsp. kosher salt
1 tbsp. granulated sugar
¼ tsp. instant yeast
3 ½ cups King Arthur unbleached bread flour
2 tbsp. poppy seeds
2 tbsp. sesame seeds
Instructions
The night before you'd like to bake the bread, mix together all sponge starter ingredients into a soft dough. Allow to rest at cool room temperature, covered tightly, for about 12 hours.
To make the bread dough, combine the sponge starter with the dough ingredients, minus the poppy and sesame seeds. Knead mixture for about 15 minutes to create a silky, smooth dough. Turn into a greased bowl and cover tightly. Let rest 30 minutes then fold the dough over onto itself from all four sides. Re-cover and let rest for another 30 minutes, or until doubled in size.
Turn dough gently onto a lightly floured surface. Divide into three equal pieces, platting each into a rectangle with the long side facing you. Starting with the end nearest you, fold up on third of the way and seal with the bottom of your palm. Repeat twice more to create a long rope of dough. Repeat this process with the remaining two rectangles of dough.
With the ropes of dough arranged vertically and parallel to each other, pinch the tops of all three ropes together. Braid the ropes together then transfer to a sheet pan and cover with a large towel. Proof at room temperature for approximately one hour, or until nearly doubled in size. While loaf is proofing, preheat oven to 425°F.
Brush loaf gently with water and sprinkle poppy and sesame seeds over the top before baking for 30 minutes, or until deep golden brown.