Delicious dessert or crowd-stopping centerpiece? When it comes to our Candied Caramel Apple Rose Tart, we won't ask you to choose.
A festive addition to any holiday party or potluck, the delicate apple rose buds atop this tart's caramel custard will have your friends and family coming back for another slice of this 'gram worthy treat.
Inspired by Bonterra Chardonnay's apple notes and rich, buttery cream aromas, you'll have to taste this tart for yourself.
Get started with the recipe below!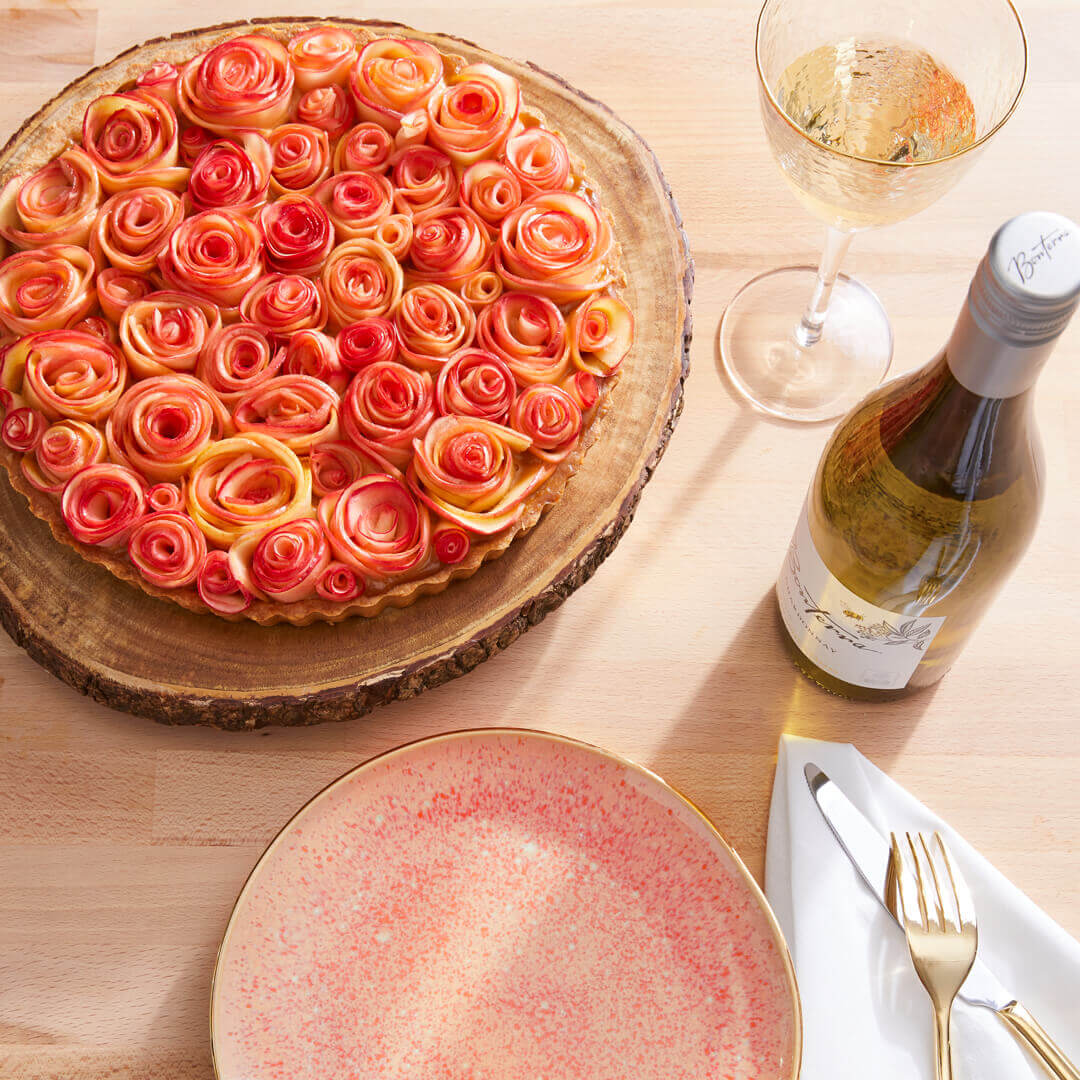 Candied Caramel Apple Rose Tart
Servings: Makes one 10"-12" tart
Ingredients
Crust
11 Tbsp. (5 ½ oz) butter, softened
1 cup powdered sugar
1 egg
2 cups all-purpose flour
1 ½ tsp. salt
¼ cup finely crushed peanuts or other nut (optional)
Caramel Custard Filling
¾ cup sugar
3 Tbsp. water
1 cup heavy whipping cream
1 Tbsp. all-purpose flour
1 Tbsp. corn starch
1 Tbsp. sugar
4 egg yolks
1 Tbsp. butter
1 tsp. salt
1 tsp. vanilla extract
Apples for Topping
4-5 tart, red-skinned apples such as Cripps Pink or Crimson Crisp
Juice from ½ lemon
2 Tbsp. sugar
2 Tbsp. fruit jelly, such as apple, apricot, or strawberry
2 Tbsp. water
Instructions
For the Crust:
In the bowl of a stand mixer fitted with a paddle attachment, cream the butter and sugar until fluffy. Add the egg and mix until incorporated. The mixture will look curdled at this point.
Whisk together the flour, salt, and ground nuts. Add the dry mixture to the mixer and mix just until combined into an even powder with a few clumps. Finish bringing the dough together by hand being careful not to over mix. Wrap and chill for 20 minutes.
Meanwhile, preheat the oven to 350° F. Roll the dough out on a lightly floured surface to about ¼" thick and press into a tart pan (10"-12" will work). The dough is forgiving and can be pieced together if it cracks.
Trim off excess dough and save for delicious tea cookies. Poke the bottom of the tart with a fork and bake for about 25 minutes or until golden. Remove from oven and cool. Meanwhile, make the custard filling.
For the Filling:
Bring the sugar and water to a boil in a medium, heavy-bottomed pot. The pot should be large enough to allow plenty of room for bubbles and steam.
Cook the sugar without stirring until a dark amber caramel forms. Slowly and carefully add the cream.
Whisk together the flour, cornstarch, sugar, and yolks. Temper the caramel and cream into the yolk mixture.
Return to pot and cook stirring constantly until boiling and thickened. Add the butter, salt, and vanilla.
Let cool to about room temperature stirring occasionally. Spread into the bottom of the baked tart shell.
For the Topping:
Slice the apples as thinly as possible on a mandolin or with a sharp knife. Sprinkle with lemon juice and sugar as you go so that the apples don't brown. Let the apples sit with the juice and sugar until they are pliable.
Roll one slice of apple into a cylinder shape. Wrap another slice around that apple and continue until the apples form a rose about 1-1 ½" thick. Slice off the bottom of the rose to make a flat surface and press into the custard. Grab a friend and continue with the rest of the apples. Use the handle of a wooden spoon to hold the apples in place as you go.
Bring the jelly and water to a boil. Brush on the top of the apple roses. Bake at 350° F for about 20 minutes.
For a little extra color, put the tart under the broiler at the very end of baking. Watch it very carefully.
Let cool. Slice with a very sharp knife or a serrated knife – pressing straight down. Enjoy!