This season, we're opting to add a little color to our plates and palates with this wintry Citrus Salad with Walnuts and Tarragon Vinaigrette.
Bringing some much-needed balance to a season often dominated by rich, decadent dishes, this salad is the perfect starter or side dish to brighten up your winter table.  Plus, who doesn't love citrus season?
To complete the meal, pair with our Biodynamic®, single-vineyard Chardonnay, The Roost.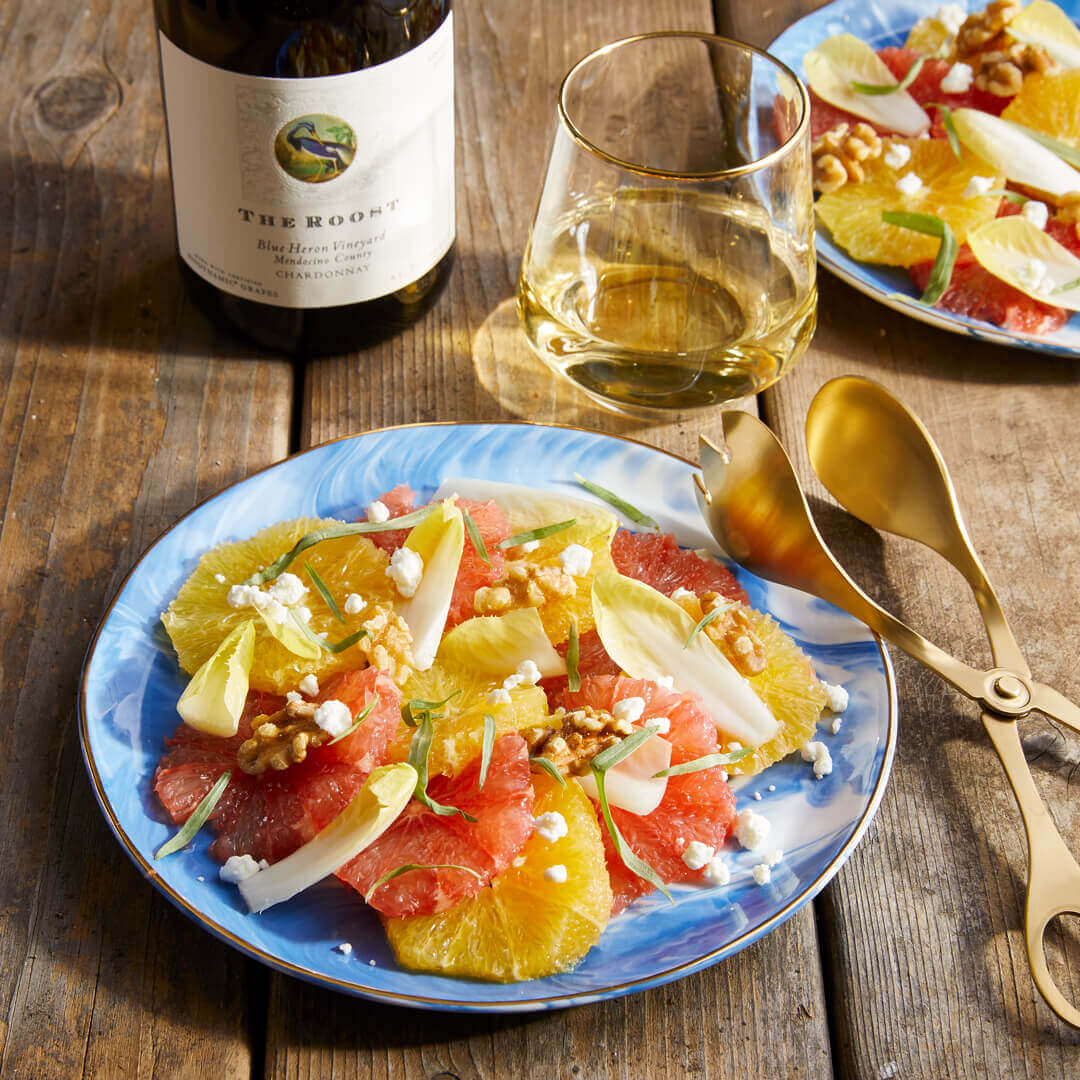 Citrus Salad with Tarragon Vinaigrette and Walnuts
Servings: 4
Ingredients
Vinaigrette:
2 Tbsp. white wine vinegar
¼ cup extra virgin olive oil
¼ tsp. salt
1 tsp. finely minced tarragon leaves
Salad:
4 Belgian endive hearts
2 oranges (Navel, Blood, and/or Cara Cara varieties will work)
2 grapefruits
¼ cup soft goat cheese
¼ cup toasted walnuts
Instructions
Combine the ingredients for the vinaigrette in a large bowl.
Separate the leaves of the endive and toss with some of the vinaigrette. Arrange on a platter.
Cut the peel off of the oranges, slice crosswise into rounds, and remove seeds. Cut the peel off of the grapefruit and slice out the segments. Strain out excess juice (drink and enjoy!).
Toss the fruit in some of the vinaigrette. Arrange the citrus on top and in between the endive leaves.
Break the goat cheese into small bits and dot on top of the salad. Drizzle remaining vinaigrette over the top.
Finish with toasted walnuts and serve immediately.