They're adorable. They're edible. They're our DIY gingerbread cookie ornaments.
Break out your cookie cutters and get in the holiday spirit this season with a fun, crafty activity for friends and family. We can't promise you'll have enough cookies left over to deck the halls after tasting one of these gingerbread creations, but go ahead and try.
Plus, these festive, edible ornaments mean you can forego the tinsel and plastic decorations this year, and opt for a less wasteful, more earth-friendly approach to holiday decor.
Happy piping and, whether you're hosting or attending this year's gingerbread extravaganza, don't forget to break out a bottle of The Butler!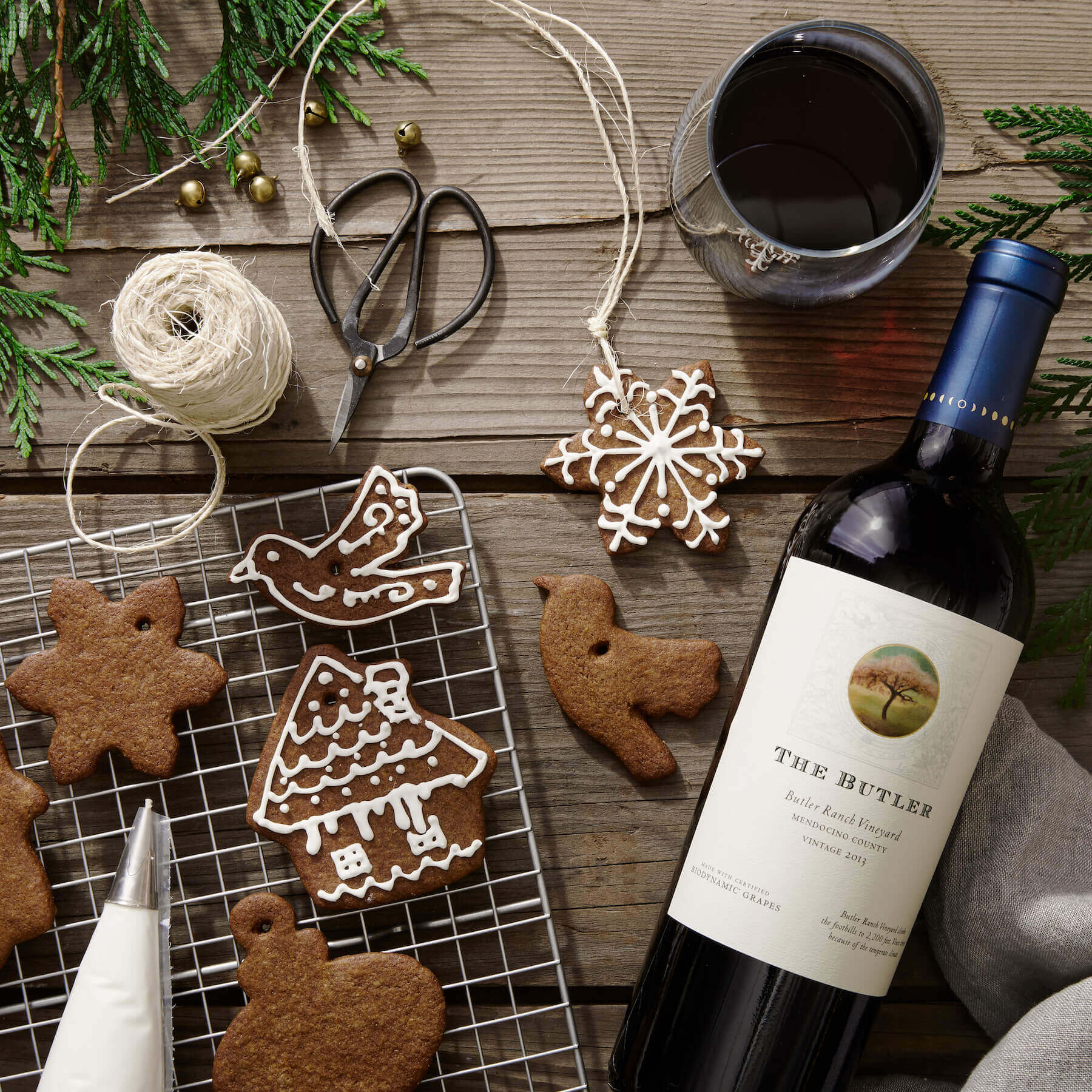 DIY Cookie Ornaments
Ingredients
Gingerbread
2 ½ cups flour
½ cup plus 2 Tbsp. brown sugar
1 tsp. baking soda
1 ¼ tsp. salt
1 Tbsp. ginger, powdered
1 Tbsp. cinnamon, ground
½ tsp. black pepper, ground
¼ tsp. clove, ground
10 Tbsp. butter, cold and cubed
2 Tbsp. honey
2 Tbsp. molasses
¼ cup plus 2 Tbsp. heavy cream
2 tsp. vanilla extract
Royal Icing
2 egg whites
2 tsp. lemon juice
3 cups powdered sugar, sifted
Instructions
Gingerbread Instructions
Preheat oven to 325℉.
Mix flour, brown sugar, baking soda, salt, and spices together in the food processor. Add the butter and pulse until mixture is sandy and even.
Mix together the honey, molasses, cream, and vanilla.  Add to food processor and pulse to combine. Take the dough out and finish mixing by hand.
Divide dough into two discs. Wrap in plastic and chill for at least one hour.
On a floured surface, roll to a ¼-inch thickness and cut out with cookie cutters. Piece together the dough and re-roll to make more cookies.
For ornaments, punch a hole near the top of each cookie with a skewer or a chopstick.  Bake at 325℉ until golden brown and crispy (about 18 minutes).  Cool completely before frosting.


Icing Instructions
In the bowl of a stand mixer fitted with the whisk attachment, mix the egg whites and the lemon juice until foamy.
Gradually add the sugar and mix on high for about 3 minutes, until the icing is thick and glossy.  Transfer to a piping bag fitted with a small writing tip and decorate cookies.
Once the icing has dried, thread string or twine through the hole in each cookie for the perfect hanging ornament.