We're a little obsessive about all aspects of our organic and Biodynamic® grape growing and winemaking processes so it's only natural that we're also obsessed with natural dyes. Compared to synthetic or commercial dyeing methods, which produce harmful waste and byproducts, dyeing naturally is more sustainable and less toxic.
An ancient practice with deep roots in cultures across the globe, creating simply dyed and patterned textiles from natural ingredients at home is a breeze. Plus, similar to the way tannins (or the lack thereof) play an integral role in winemaking, naturally occurring tannins in plant, fruit, and vegetable-derived dyes improve the colorfastness, or staining power, of certain dyes.
Though patterns, materials, and styles may differ between regions, the basic tenets of dyeing remain the same and incorporate a few key components. Here are a few examples of things with natural dyeing power, some of which you might find in your own backyard, as well as key terms to help prepare for your own home dyeing party: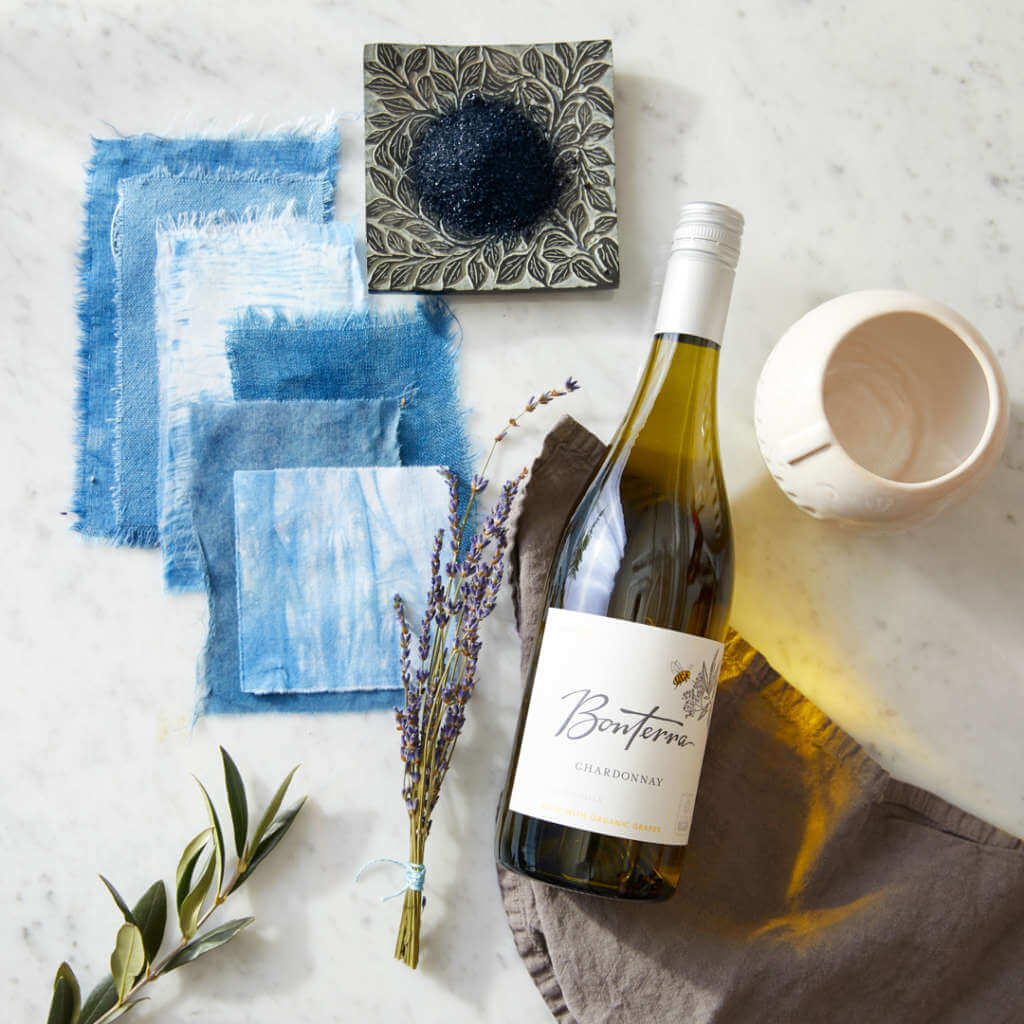 Things with Natural Dyeing Power:
Eucalyptus Leaves (yellow)
Pomegranate Rinds (light to dark brown)
Beets (pink)
Black Tea (earth tones)
Mulberries (purple)
Sumac (red)
Terms to Know:
Scour: Scouring or washing your fabric before dyeing removes residues that might otherwise prevent dyes from properly or uniformly saturating the fabric.
Mordant: A mordant is an agent that helps bond a dye to the fibers of a fabric. The proper mordant will vary and depends upon the type of dye and fabric being used, but these agents are typically water-soluble metallic salts such as aluminum sulfate or aluminum acetate.
Additive Dyeing: This method of requires the use of a mordant to adhere a dye to fabric.
Eco Dyeing: Eco printing or eco dyeing is a method by which color is transferred via direct contact. Flowers, leaves, and other organic matter is pressed or applied directly to the fabric or textile to yield unique patterns.