We've entered peak corn season and when the produce is this prime, we're all for keeping it simple with the popular Mexican street food that's taken palates and Instagram by storm. We're talking about the addictive, sweet, crunchy, creamy, smoky grilled corn treat often served on a stick: elote.
Charred whole on a hot grill, ears of corn are kicked up a notch with the addition of a spicy, zesty crema; cool crumbly queso fresco; a dusting of chili powder and a squeeze of lime.
An easy entertaining staple, elote is the perfect match for a cool can of Bonterra Sauvignon Blanc. Grab a 4-can pack and share the love.
Suggested Wine Pairing: Bonterra Sauvignon Blanc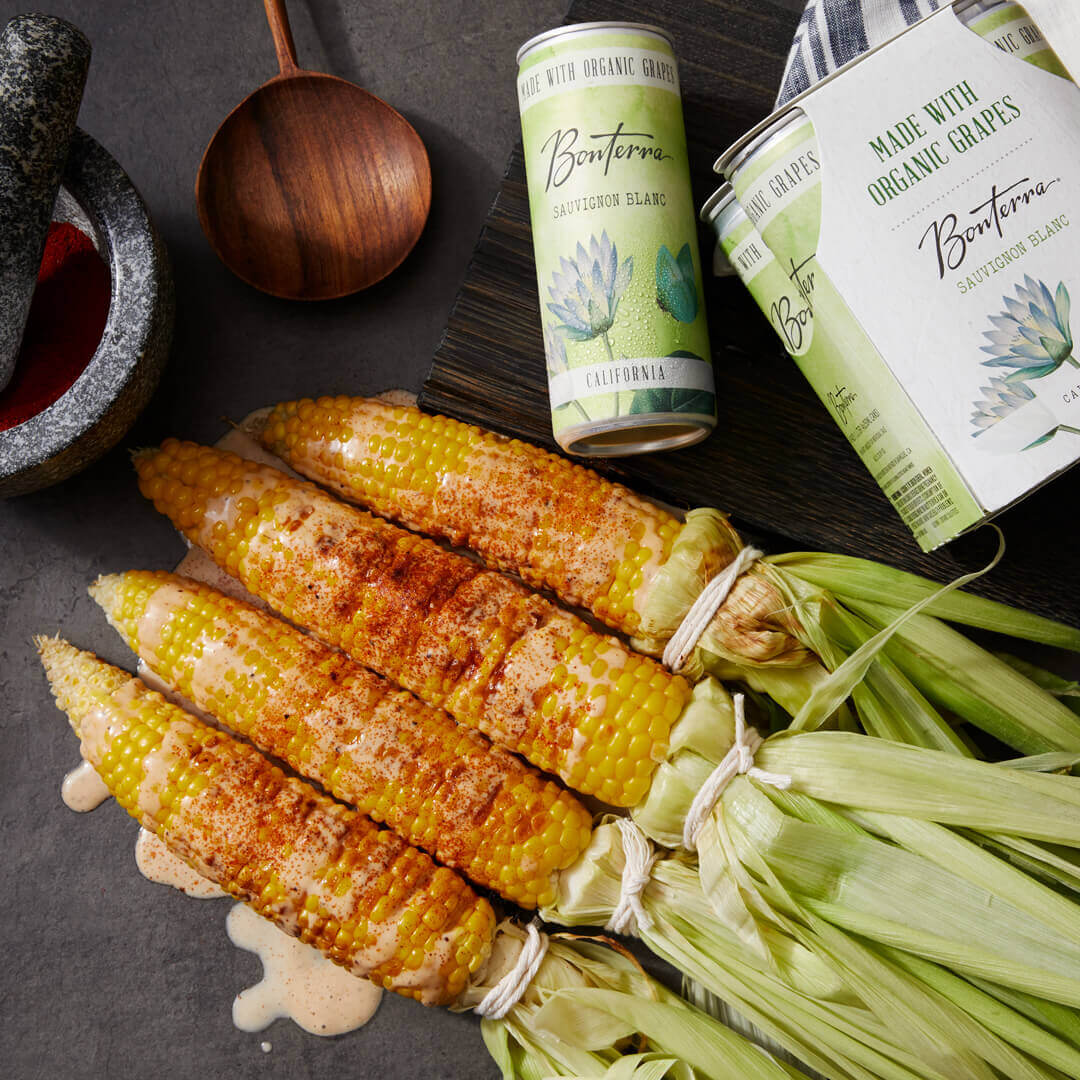 Easy Entertaining: Elote
Servings: Serves 4
Ingredients
Spicy Crema
¼ cup mayonnaise
¼ cup sour cream
¼ tsp. ancho chili powder, plus extra for garnishing
¼ cup packed cilantro leaves, plus extra for garnishing
1 large clove garlic
Zest of one lime (lime reserved to be cut into wedges)
Grilled Corn
4 ears fresh corn, shucked
2⁄3 cup crumbled queso fresco
1 lime, cut into wedges
Coarse sea salt and extra chili powder
Instructions
Make sure your grill is hot. Charring the corn properly adds flavor and prevents it from drying out.
For Spicy Crema
Whisk together the mayonnaise, sour cream, and chili powder. Set aside.
Mince the garlic clove, add the cilantro leaves, and lime zest and continue chopping to make a rough herb paste. Scrape this paste into the sour cream mixture and mix to combine.
For Grilled Corn
Preheat the grill, clean and oil the grates.
Grill the corn for 3-4 minutes per side, until lightly charred in spots.
Transfer grilled corn to a platter and brush or drizzle with the crema and sprinkle generously with the crumbled queso fresco.
Finish with the reserved fresh cilantro and lime wedges, and a light sprinkle of coarse salt and chili powder.