NEW Limited-Edition Fall Equinox Trio & Virtual Tasting
September 22, 2020 at 5pm PDT
And, just like that, it's time to bid adieu to summer and say hello to fall. Celebrate the first day of fall with our new, limited-edition Fall Equinox Trio and join us for a virtual tasting on 9/22 at 5 p.m. PDT.
Featured Wines
Dry Muscat 2018 A single-vineyard expression of our biodynamically farmed Blue Heron vineyard, this lean and lively wine delivers notes of juicy mango, stone fruit and fragrant lychee. A subtle thread of honeysuckle blossom segues to a crisp, dry finish. This wine is gorgeous as an aperitif but also terrific with Asian cuisine with a hint of spice, fresh salads, light fish or pasta with seafood.
Pinot Noir 2018 This Pinot Noir has aromas of strawberry and raspberry, accented with hints of oak spice and vanilla. In the mouth, this wine is rich with nice soft tannins and flavors of berries, vanilla and spice that fade into a lovely long finish.
Equinox Red 2018 Twice a year, the sun crosses the celestial equator, resulting in a day and night of equal length. These occurrences are referred to as "equinoxes," and the twin lengths of day and night when they occur are among the many ways nature demonstrates balance. At Bonterra, we strive for a similar natural balance in our organic vineyards and in our wines. Equinox Red celebrates this vision, offering supple notes of juicy red and black fruit matched with a patina of intriguing spice, herb and oak tones.
About the Hosts
Jeff Cichocki, Director of Winemaking, will lead the tasting and guide attendees through each wine. Always ready to share his go-to (and sometimes humorous) pairings, Jeff joined Bonterra in 2007 after honing his skills at celebrated wineries in Napa, Sonoma and Mendocino Counties. He now crafts balanced Bonterra wines that express the pure fruit character of our organic grapes.
Joseph Brinkley, one of America's foremost experts on biodynamic farming and Director of Organic Farming at Bonterra, will provide a vineyard update with the latest news from the farm. A proud steward of Bonterra's organic and biodynamically farmed estate vineyards in Mendocino County, Joseph focuses on nurturing the soil and vines to create balance in the vineyard—and in the glass.
Chef Olan Cox, our resident culinary expert, will share gourmet pizza pairings to accompany each wine in our Fall Equinox Trio. Dive into Chef Olan's creative recipes and learn more about the seasonal ingredients and wines that will take your homemade pizza game to the next level.
Pizza Pairing
From deep dish to Sicilian to New York-style, pizza is as much a crowd-pleaser as it is a topic for debate. Offering his spin on whatever this beloved dish means to you, Chef Olan Cox will guide you through the perfect homemade pizza pairings for each of your Bonterra wines.
Dry Muscat: Made for this wine's lively tropical notes, think bright olive oil, roasted leeks, sweet figs, blue cheese, walnuts, and nutmeg.
Pinot Noir: The wine's subtle floral and fruit notes complement this pairing of fire-roasted tomato and garlic sauce, portobello mushrooms, and herby potatoes.
Equinox Red: Juicy fruit and warm spice from this wine make roasted sweet peppers, charred eggplant, sweet corn, caramelized onions, and paprika pulled chicken a flawless pairing.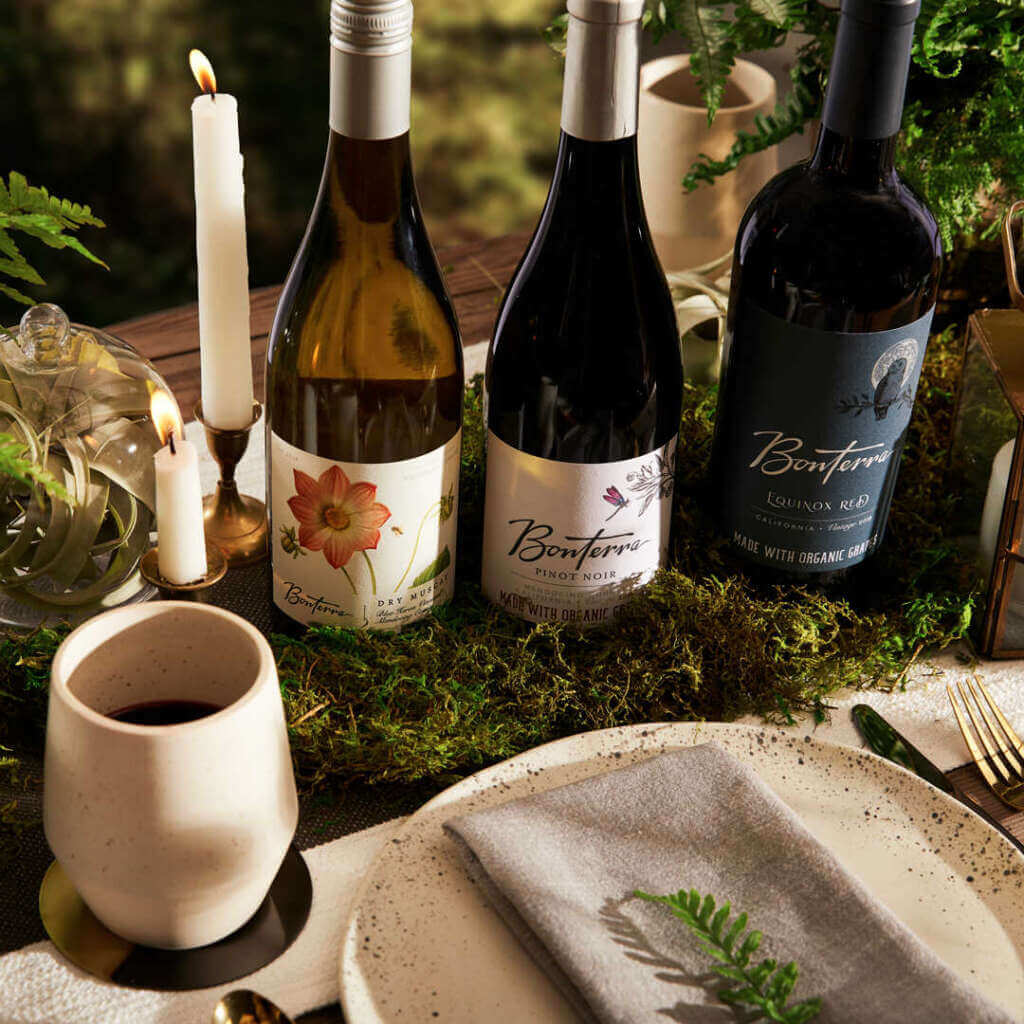 Fall Equinox Trio
This limited-edition Fall Trio, curated for autumnal celebrations, features three of our signature wines. Perfect for the honoring the harvest season and winemaking tradition, this trio of Bonterra Dry Muscat, Pinot Noir, and Equinox Red is not to be missed. In order to celebrate with us, West Coasters should place their orders by 9/15 and ship by 9/17, East Coasters should have orders placed by  9/10 and ship by 9/14.
Appellation: Mendocino County