Spring may be for floral prints and patterns, but late summer is for flower salads. You heard us.
Festive and delicious, edible flowers add a pop of color to your not-so-typical salad.  Our variation marries an assortment of tender, baby greens with shaved vegetables (for a bit of crunch) and, of course, a rainbow of tasty petals and whole flowers.
Fueled by a deep respect for the earth and its systems, the main tenet of Bonterra farming and winemaking practices, here's our tribute to some of the local blooms that grace our ranches and estates. Paired with the vibrant citrus and fresh cut grass notes of Bonterra Sauvignon Blanc, this salad is sure to impress.
Suggested Wine Pairing: Bonterra Sauvignon Blanc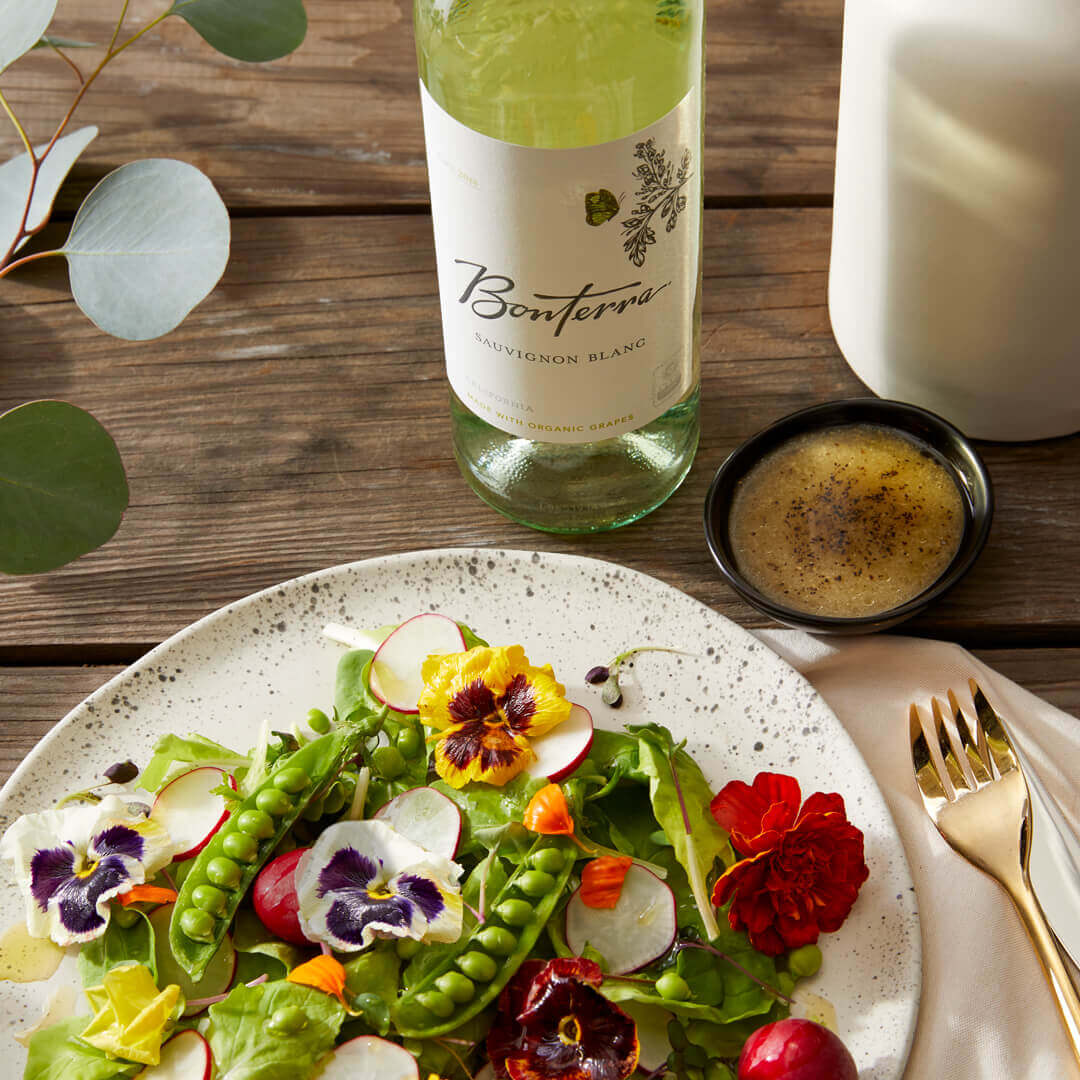 Flower Power: Upgrade Your Salad
Servings: Serves 4-6
Ingredients
6 cups baby greens (an assortment of baby kale, mustard greens, and micro greens add visual interest)
1 small bunch baby carrots
1 pint sugar snap peas
1 small bunch radishes (French Breakfast variety, if available)
½ cup edible flowers (pansies, calendula, nasturtium, anise hyssop, marigold, borage)
6 Tbsp. extra virgin olive oil
3 Tbsp. fresh lemon juice
1 small shallot, minced (about 2 Tbsp.)
Salt and pepper to taste
Instructions
Gently rinse the baby greens and spread out on a clean towel to dry.
Scrub the carrots, snap peas, and radishes. Julienne the snap peas on the bias with a sharp knife.
Trim the greens from the carrots, leaving a small bit of stem. Cut the carrots in half lengthwise and, starting from the cut side (the center of the carrot), use a peeler or mandoline to shave long strips of carrot that retain its original shape. Repeat this process with the radishes.
Clean the edible flowers as needed—small ones should remain whole while large flowers like marigold or calendula can be separated into petals.
Whisk together the olive oil, lemon juice, and minced shallot and season the dressing to taste with salt and pepper.
Separately, lightly dress the greens and shaved vegetables. Then divide greens between each plate and arrange dressed vegetables and edible flowers on top. Or, make one large salad with the dressed greens in the bowl, topped with the dressed shaved vegetables and flowers.