Kimchi is the bright, crunchy solution to the dinnertime doldrums. These days, especially, we're looking for vibrant flavors and pops of acid to liven up our meals throughout the week. So, enter the no-recipe recipe for infinitely customizable kimchi rice bowls. Simply take stock of your pantry and fridge and utilize what you've got on-hand to dress up your dinner. Pair with the bright red fruit aromas, zippy acidity, and lighter profile of
Bonterra Young Red.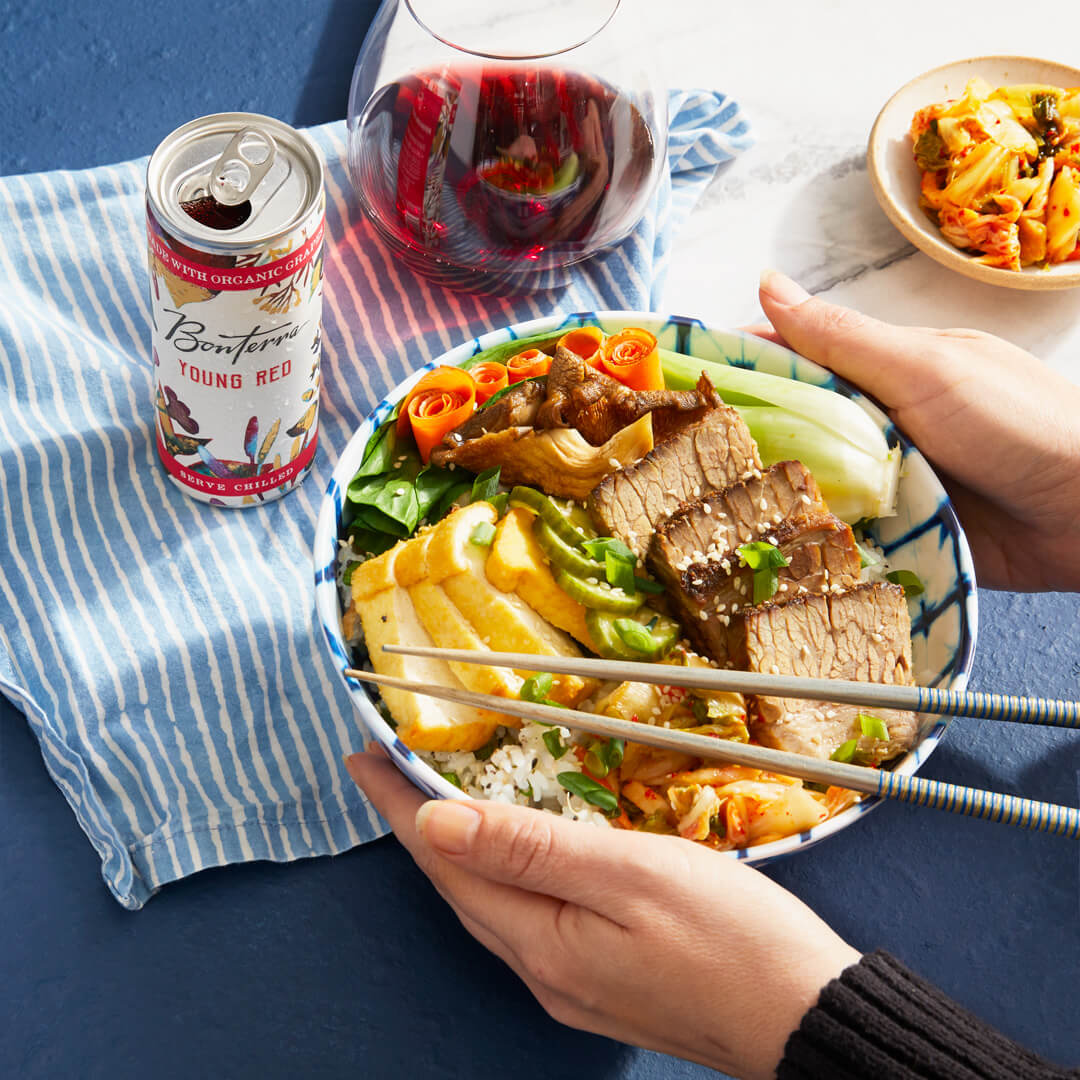 Kimchi Rice Bowls
Ingredients
Base
Rice, soba noodles or quinoa
1 tbsp sesame oil
1 clove garlic
1 tbsp soy sauce
1 tbsp fish sauce
1 tsp rice vinegar
1 tbsp brown sugar
Chili oil to taste
Chopped cilantro
Toppings
Veggies such as sliced carrots or bok choy
Sliced cucumber or red onion for pickles
3/4 cup apple cider vinegar
1/2 cup sugar
1 cinnamon stick
1 tbsp peppercorns
Protein of choice such as tofu, shredded chicken, pork belly or salmon.
Kimchi
Instructions
Base:
Check your pantry and fridge. Rice, soba noodles, or quinoa make a great base for this infinitely riffable dish. Cook and prepare the base of your choosing.
Base seasoning:
Using sesame oil, fry thinly sliced garlic in a sauté pan until light golden brown. Add in soy sauce, fish sauce, rice vinegar, and brown sugar until sugar is dissolved and remove from heat.
For added spice and flavor add chili oil, or freshly chopped herbs like cilantro to taste. Mix the base seasoning with your base grain or noodle.
Toppings:
Quickly sauté veggies like carrots and bok choy in sesame oil until tender.
For quick pickles, try sliced cucumbers or strips of red onion. Combine apple cider vinegar, sugar, one cinnamon stick and peppercorns in a small pot and bring to a simmer. once sugar is fully dissolved remove from heat and add your sliced veggies. Let stand for 5 minutes and serve.
Season and cook protein of your choice, such as tofu, pork belly, shredded chicken or salmon.
Assemble:
In a bowl, layer your base grain or noodle and top with sautéed veggies, quick pickles, protein, herbs and kimchi to taste, and enjoy!