Add some easy DIY boho decor to your tabletops with this no-sew Macrame Coaster craft. Open a bottle of our Bonterra Pinot Noir,  get your supplies together, and start creating.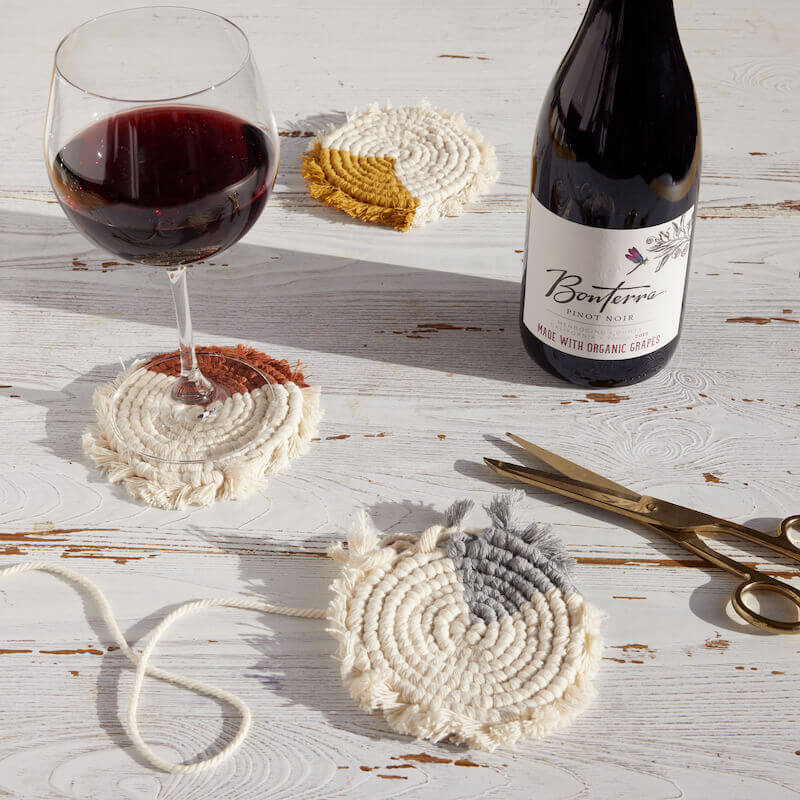 DIY Garden Markers
Supplies (set of 4):
1 roll Macrame Cord (any color or multiple colors)
Scissors
Ruler
Comb
Iron (optional)
Instructions:
Step 1: Cut 1 5ft cord and 5 30in cords
Step 2: Take 5ft long cord and make a circular shape with one end.
Step 3: Take the 5 30in cords and make a lark's head knot around the 5ft cord circle.
How to make a lark's head knot:

Fold a 30in cord in half and place on top of the 5ft cord circle, with looped end facing outward.
Place looped part on top of 5ft cord
Take the two ends of cord, loop them through and pull tight.

Repeat with each 5 30in cords Once all 5 30in cords are knotted on, pull 5ft cord strand tight.

Step 4: Create a double half hitch knot.

Take your 5ft cord and place it over the first strand of the closest lark's head knot.
Then with the left end of lark's head knot, make a "number 4".
Then place the end of the strand under the 5ft cord and through the number 4 you created.
Hold the 5ft cord tight, and pull the strand looped through. Repeat this process so you have done it twice per strand.

Continue with each 30in strand to make the double half hitch knots, always using the same holding cord (the 5ft cord). Once you've completed the coaster to desired size, (we recommend at least 7 rows), tie the holding cord into a knot and trim.

Step 5: Trim up ends to make them even and comb out the end strands to get the desired effect. Trim again so strands are even. Iron out for a flatter effect, if desired.
TOP