This Memorial Day, take the party outside with these grill-able and supremely shareable yakitori skewers. A chance to celebrate and remember those who have served our country, opt for crowd-pleasing chicken skewers you can grill quickly before returning to your friends and family.
The perfect counter to these slightly sweet, caramelized, smoky skewers, Bonterra Young Red (slightly chilled, of course) will cool both you and your palate down. Bright acidity and a light profile complement Young Red's raspberry, watermelon, and pomegranate notes, making it a perfect introduction to summer.
Ready, set, grill! Find the recipe for our Yakitori Skewers below.
Suggested Wine Pairing: Bonterra Young Red a light red that can be sipped all summer long. Check out our feature in Harpers Bazaar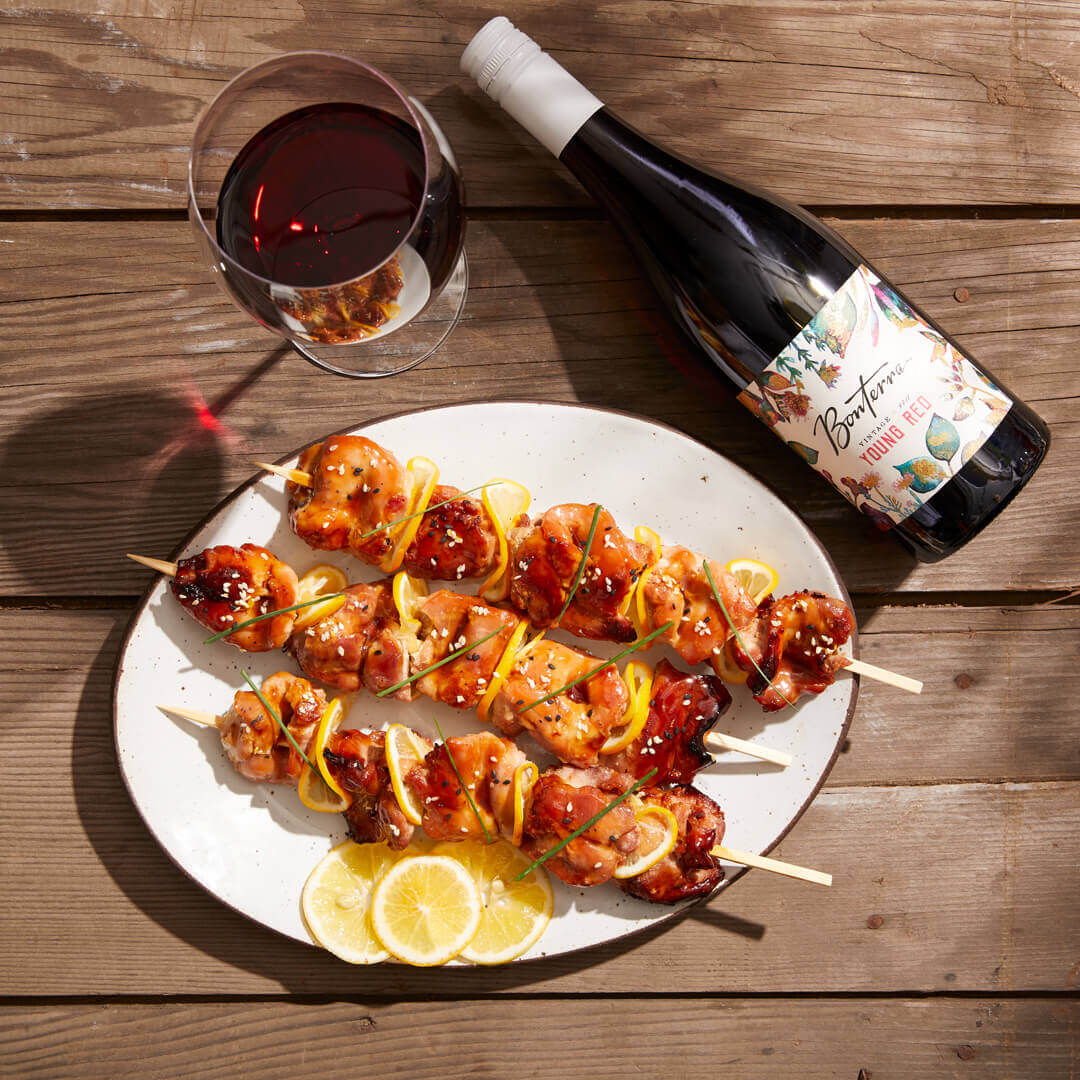 Memorial Day Weekend: Yakitori Skewers
Ingredients
⅓ cup brown sugar
⅓ cup mirin (sweet rice wine)
⅓ cup soy sauce
¼ cup rice vinegar
1 knob fresh ginger, peeled and thinly sliced
8 boneless, skinless chicken thighs
2 Meyer lemons, thinly sliced with zest reserved
1 small bunch chives
2 tbsp. sesame seeds
Instructions
Combine the brown sugar, mirin, soy sauce, rice vinegar, and ginger in a small saucepot.
Remove ½ cup and combine with the chicken in a resealable plastic bag. Marinate for 1-2 hours in fridge. Simmer the rest of the marinade to reduce to a thin syrup. Set aside.
Remove chicken from marinade and thread onto skewers, alternating with the Meyer lemon slices. Grill over high heat, basting with marinade and turning occasionally, until well caramelized and fully cooked.
Arrange on a platter and sprinkle with lemon zest, snipped chives, and sesame seeds.