We nurture and cherish our roots—whether we're in the vineyards, at home with our families, or at work with our chosen Bonterra family—because these connections to the land and the people around us make for truly delicious wine and a healthy planet. A poignant reminder to celebrate and support the planet and its bounty, Mother's Day reminds us why we uphold our organic and Biodynamic® farming practices and continually seek ways to honor and care for Mother Nature. So, why not join us in celebrating the mothers, grandmothers, and mother figures in our lives by hosting a festive brunch this Mother's Day?
Comforting and easy to make, our mini ham and cheese quiche are a brunch no-brainer. Plus, Bonterra's organically farmed Chardonnay—with its bright, clean minerality and vibrant lemon notes—is the ultimate pairing for these cute, creamy quiche.
Find the recipe for our Mother's Day Mini Quiche below!
Suggested Wine Pairing: Bonterra Chardonnay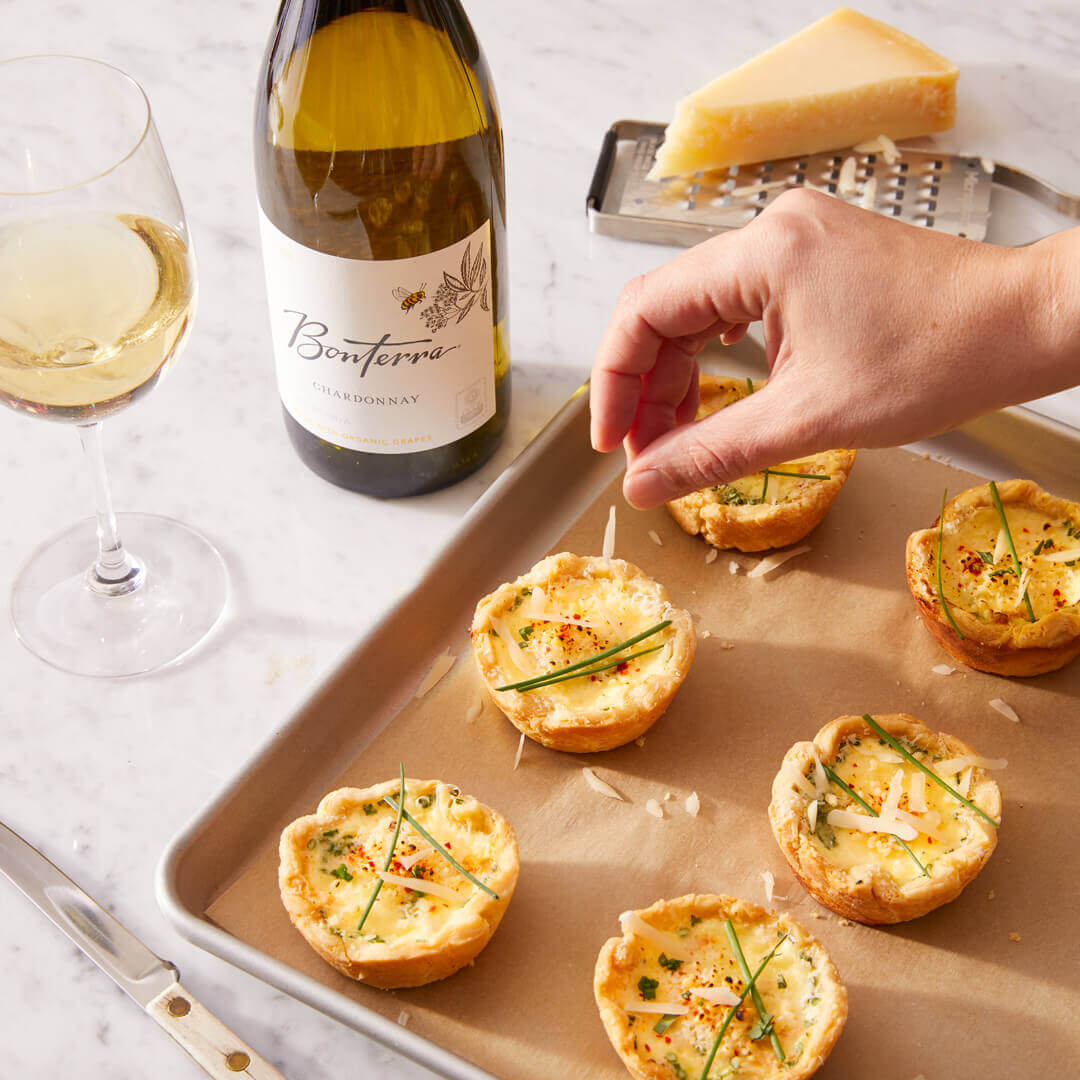 Mother's Day Brunch: Mini Quiche
Servings: Makes 12 mini quiche
Ingredients
1 package refrigerated pie crust (or make your own)
½ cup ham, diced
1 small bunch chives, chopped
2 tbsp grated parmesan cheese
¾ cup half-and-half
1 whole egg, plus 1 egg yolk
Salt and pepper to taste
Instructions
Use a 2 ½-inch cutter to cut out pie crust and push into a 12-cup mini muffin pan. Freeze for 30 minutes.
While dough is chilling, preheat oven to 375℉. Use mini muffin papers to line each shell and add dried beans to weigh down. Then, blind bake the shells for 15 minutes or until golden brown. Remove the beans and paper and divide the ham and chives between each shell.
Whisk together the egg, egg yolk, half-and-half, parmesan, and salt and pepper to taste before adding to each mini quiche. Reduce the oven temperature to 325℉ and bake until filling is puffed and feels firm. Remove from oven and cool 15 minutes before serving.