Incorporate your organic harvest in a meal full of flavor (and antioxidants) with our Roasted Harvest Salad, made with ripe vegetables and fresh greens. For a special treat, we love pairing alongside our Equinox Red.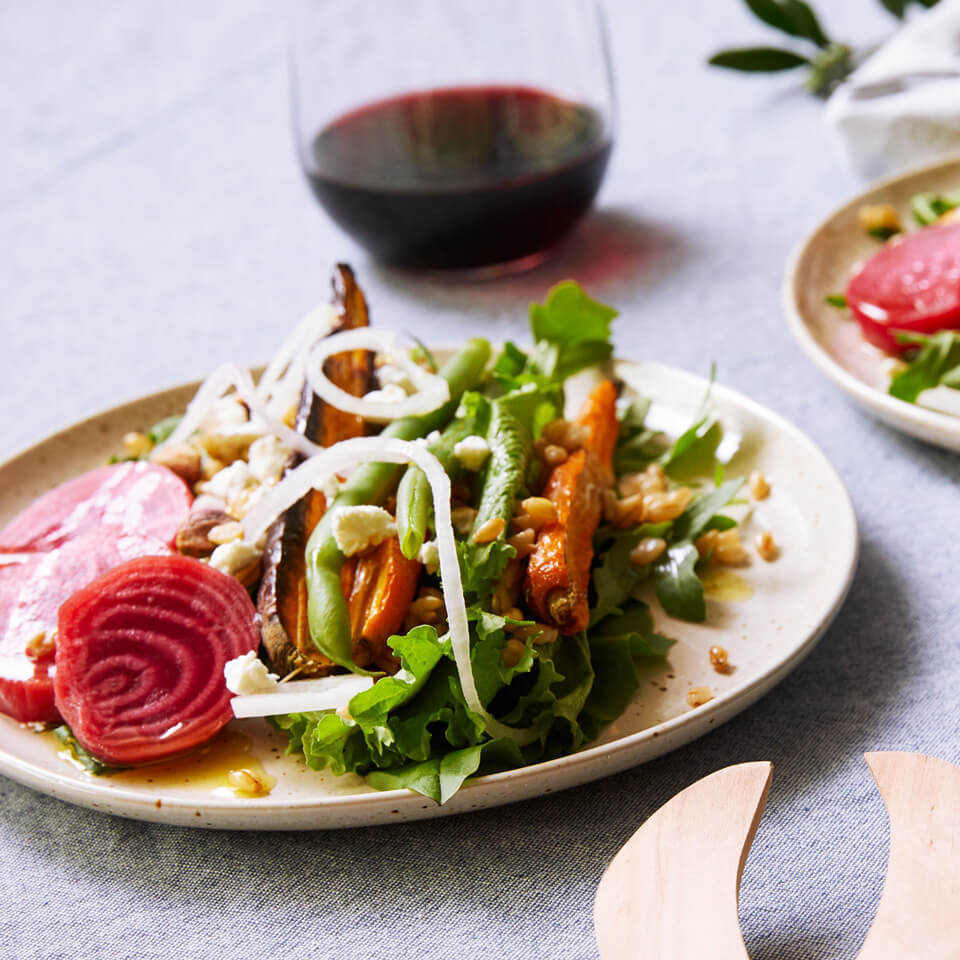 Roasted Harvest Salad
Ingredients
1 small bunch dandelion greens
4 cups wild arugula
1 bunch tender (baby) mustard greens
1 bunch rainbow carrots
2 small Chioggia beets
½ cup romano beans
1 small red onion
½ cup goat cheese crumbles
1 cup cooked sorghum (or pearl barley)
¼ cup shelled pistachios
3 Tbsp. extra virgin olive oil
1 Tbsp. red wine vinegar
1 tsp. Dijon mustard
Salt and pepper
Instructions
Scrub and roast the rainbow carrots whole (or cut in half lengthwise if large).
Toss the carrots in olive oil and salt and pepper to taste.
Roast at 375°F until lightly caramelized and tender.
Scrub and roast the beets (toss whole beets in olive oil, salt, and bake in a covered baking dish until tender with a knife).
Cool slightly and rub peels off, then slice into wedges or circles.
Blanch the romano beans in boiling salted water for 1 minute, then drain and rinse with cold water.
Peel and thinly slice the red onion.
To make the vinaigrette, whisk together olive oil, vinegar, mustard, and season with salt and pepper to taste.
To assemble salad, tear the cleaned greens by hand and dress with half the vinaigrette. Arrange the carrots, beets, beans and onion. Sprinkle the cooked grains, goat cheese crumbles and pistachio. Drizzle remaining dressing over the top and serve.