It's pretty simple. Life is better with breadsticks. Especially, when said breadsticks are herby and homemade.
The easy and elegant way to upgrade your at-home dinner plans, you'll be pre-heating your oven and pouring a glass of Bonterra Cabernet Sauvignon in no time. No matter what your main dish is, we guarantee that you'll be happy snacking on these tasty breadsticks while you finish cooking.
To complement our Cabernet Sauvignon made with organically farmed grapes, we recommend opting for organic ingredients from your flour to the fresh herbs in this Food Network recipe for Garlic-Herb Breadsticks. Ready, set, bake.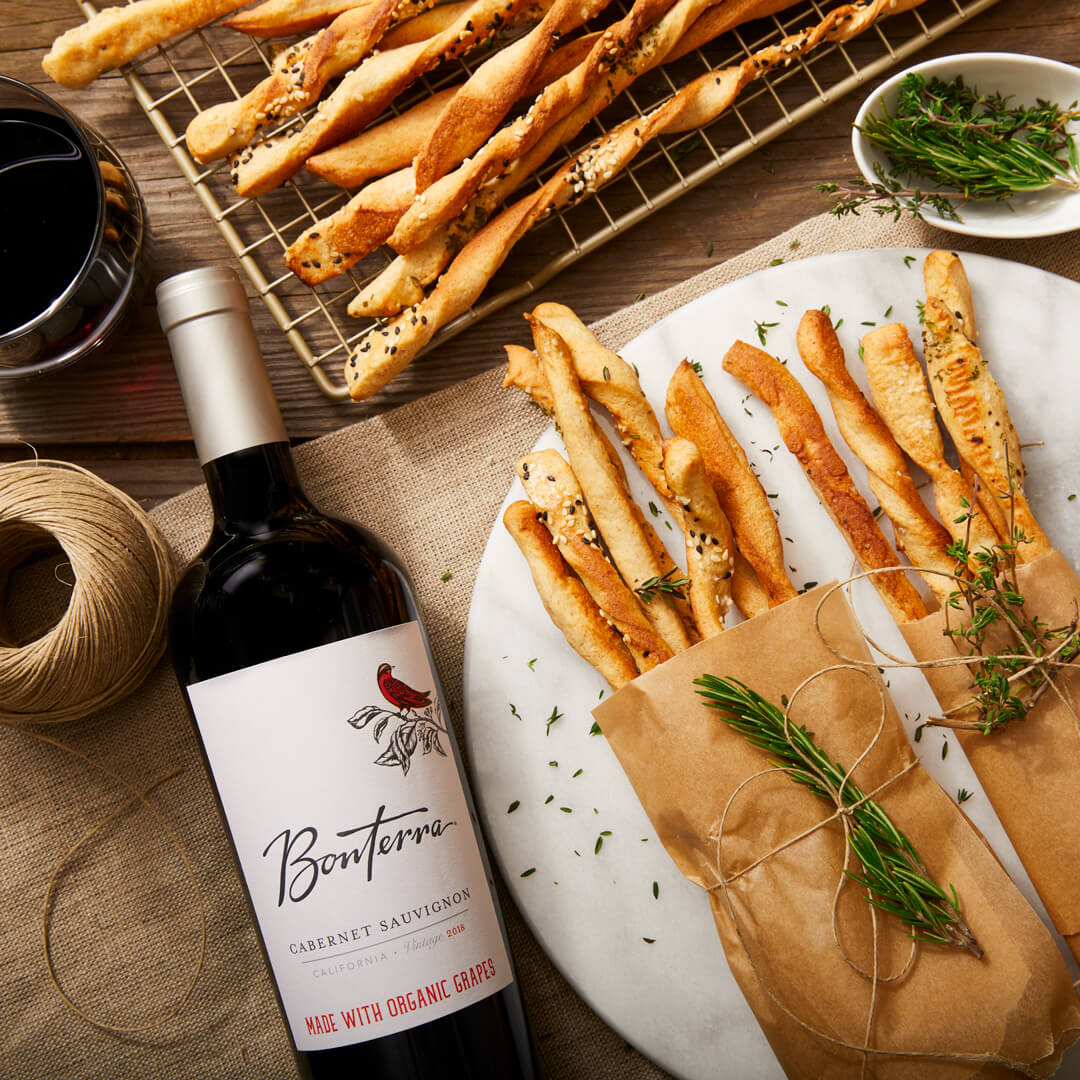 Rustic Breadsticks
Ingredients
1 teaspoon active dry yeast
2 teaspoons sugar
1 teaspoon kosher salt, plus more for sprinkling
2 1/4 cups all-purpose flour, plus more for dusting
1 tablespoon extra-virgin olive oil, plus more for brushing
4 tablespoons unsalted butter, at room temperature
1 clove garlic, minced
Chopped fresh herbs (rosemary, thyme and/or oregano), for sprinkling
Instructions
Put 3/4 cup warm water in a food processor. Sprinkle the yeast on top and let sit until foamy, about 5 minutes. Add the sugar and 1 teaspoon salt and pulse until dissolved. Add the flour, olive oil and 1 tablespoon butter and pulse until the dough forms a ball, about 1 minute. Continue to process with the motor running until smooth, about 2 more minutes.
Line 2 baking sheets with parchment; brush with olive oil. Turn the dough out onto a floured surface. Divide into 12 equal pieces, then roll each piece into a 12- to-16-inch rope. Arrange the ropes 1 1/2 inches apart on the prepared baking sheets, rolling them to coat with the oil. Cover each baking sheet with a damp cloth and set aside in a warm place until the breadsticks double in size, 45 minutes to 1 hour.
Preheat the oven to 400 degrees F. Put the remaining 3 tablespoons butter and the garlic in a microwave-safe bowl and microwave until melted, about 1 minute. Brush the breadsticks with the garlic butter; sprinkle with herbs and salt.
Bake until golden, 15 to 20 minutes.