Ah, squash – yet another reason to love autumn. These bountiful gourds have inspired many beautiful dishes during the Thanksgiving holiday, and this recipe is no exception. Try it as a pre- holiday lunch, a gorgeous vegetarian side-dish, or add leftover turkey and enjoy throughout the holiday weekend. This versatile dish is best enjoyed with a glass of your favorite Bonterra wine – we recommend Merlot!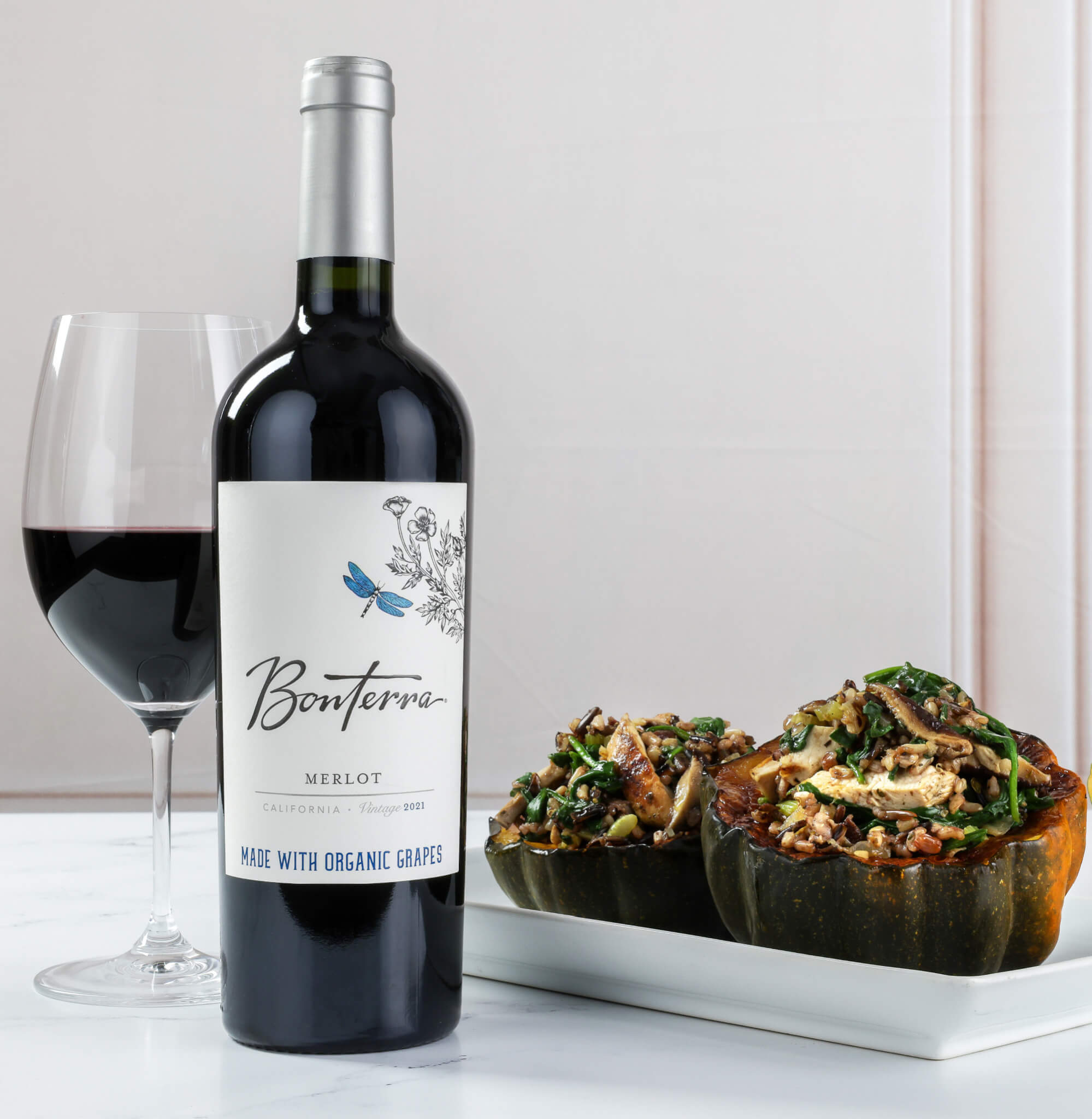 Stuffed Acorn Squash Bowls
Servings: 4
Ingredients
4 acorn squash
1 teaspoon olive or avocado oil
1/3 cup dry wild rice
¾ cup water
½ onion, chopped
2 stalks celery, chopped
1 ½ cups shiitake mushrooms, chopped
1 tablespoon oregano
1 lb leftover Thanksgiving turkey meat (chopped or shredded)
3 cups baby spinach
¼ lemon, juiced
Salt/pepper to taste
Fresh parsley to garnish
Instructions
1. Preheat the oven to 425ºF. Cut the acorn squash in half across. Drizzle the oil on the squash
and place cut side down on a baking sheet lined with parchment paper. Bake for 20 to 30
minutes, or until tender when pierced with a fork.
2. While the squash bakes, add the rice to a medium pot with the water and cook according to
the directions on the package.
3. In a pan, over medium heat, add the onion and celery and cook for 2 to 3 minutes, then add
the oregano and mushrooms, cook for 4 to 5 minutes. Add the leftover Thanksgiving turkey and
spinach and stir until turkey has warmed through and spinach has wilted.
4. Remove the pan from the heat and add the wild rice to the pan along with the lemon juice
and salt and pepper to taste. Mix all the ingredients well.
5. Spoon the turkey mixture into the baked squash and garnish with parsley. Enjoy!