Fire up the grill. It's time for one of our favorite summer recipes: Swordfish Kabobs.
Easy to make and even easier to eat, these swordfish and vegetable skewers are the perfect dish to marinate ahead of time and grill off quickly to catch the sunset. Tangy and slightly smoky, grilled swordfish is the ultimate accompaniment to Bonterra Sauvignon Blanc's crisp, clean acidity.
So, crack a can, break out a box, or open a bottle of Bonterra and get grilling.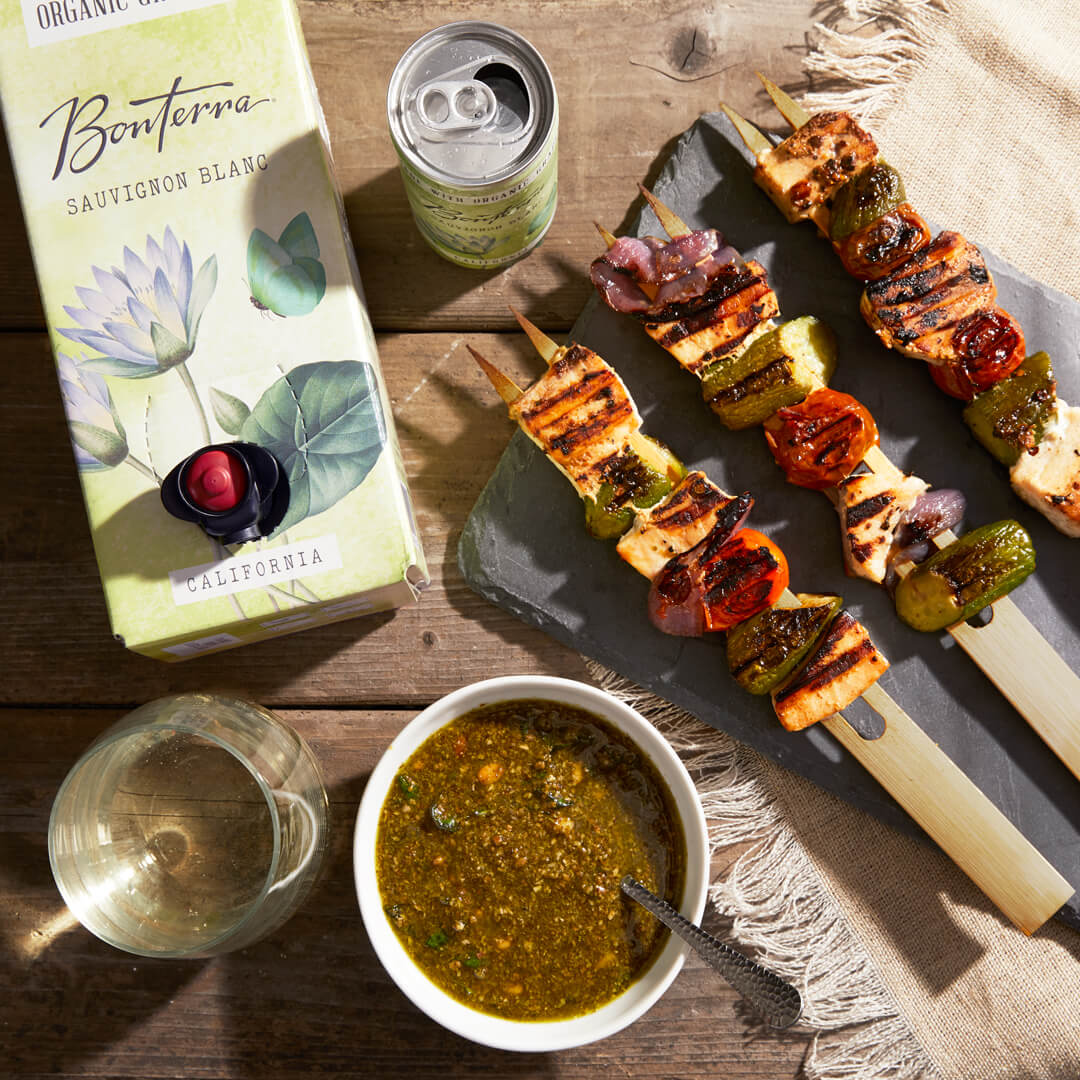 Swordfish Kabobs
Ingredients
For the Peanut Sauce:
1 medium onion, chopped
1/2 cup chunky peanut butter
4 tbsp fresh lemon juice
1 small garlic clove
1/4 -1/2 teaspoons crushed red pepper flakes
1/2 cup reduced sodium soy sauce
1 cup orange juice
4 tbsp fresh lemon juice
For the Swordfish Kabobs:
1 red onion, cut into 1 ½ chunks
1 green bell pepper, cut into 1 ½" chunks
1 red bell pepper, cut into 1 ½" chunks
1/4 cup extra-virgin olive oil
1/4 cup reduced sodium soy sauce
1/4 cup lemon juice
2 tablespoons mustard
1 teaspoon black pepper
1/2 teaspoon salt
2 1/2 pounds swordfish steak, cut in 1 1/2" pieces
12 bamboo skewers
Instructions
Combine onion, olive oil, soy sauce, lemon juice, mustard, pepper, and salt in a bowl and whisk together.
Add fish to mixture and refrigerate for at least 1 hour.
While preheating the grill, add fish to each bamboo skewer, alternating with bell peppers and onion.
Grill skewers until fish is lightly charred and cooked through (roughly 6 minutes)
For optional peanut dipping sauce, combine all ingredients into a food processor until smooth.