It's finally fall and with this beloved season comes a bounty of deeply delicious and richly colored produce, perfect for celebrating our favorite day of the week: Taco Tuesday.
For the ultimate fall-inspired recipe, try our Fall Harvest Tacos.  Sure to be a real crowd-pleaser, these tacos with a twist feature fall-apart, slow-braised chicken; sweet potatoes with seasoned with cumin and ancho chile; along with a citrusy pomegranate salsa.
A respite from the rich dishes that often accompany cool nights and cold weather months, these Fall Harvest Tacos are heavy only in flavor and leverage the best produce the season has to offer.  For a pairing sure to brighten up any fall day, enjoy with a glass of Bonterra Sauvignon Blanc. Its citrus notes complement the vibrant acidity of the pomegranate salsa.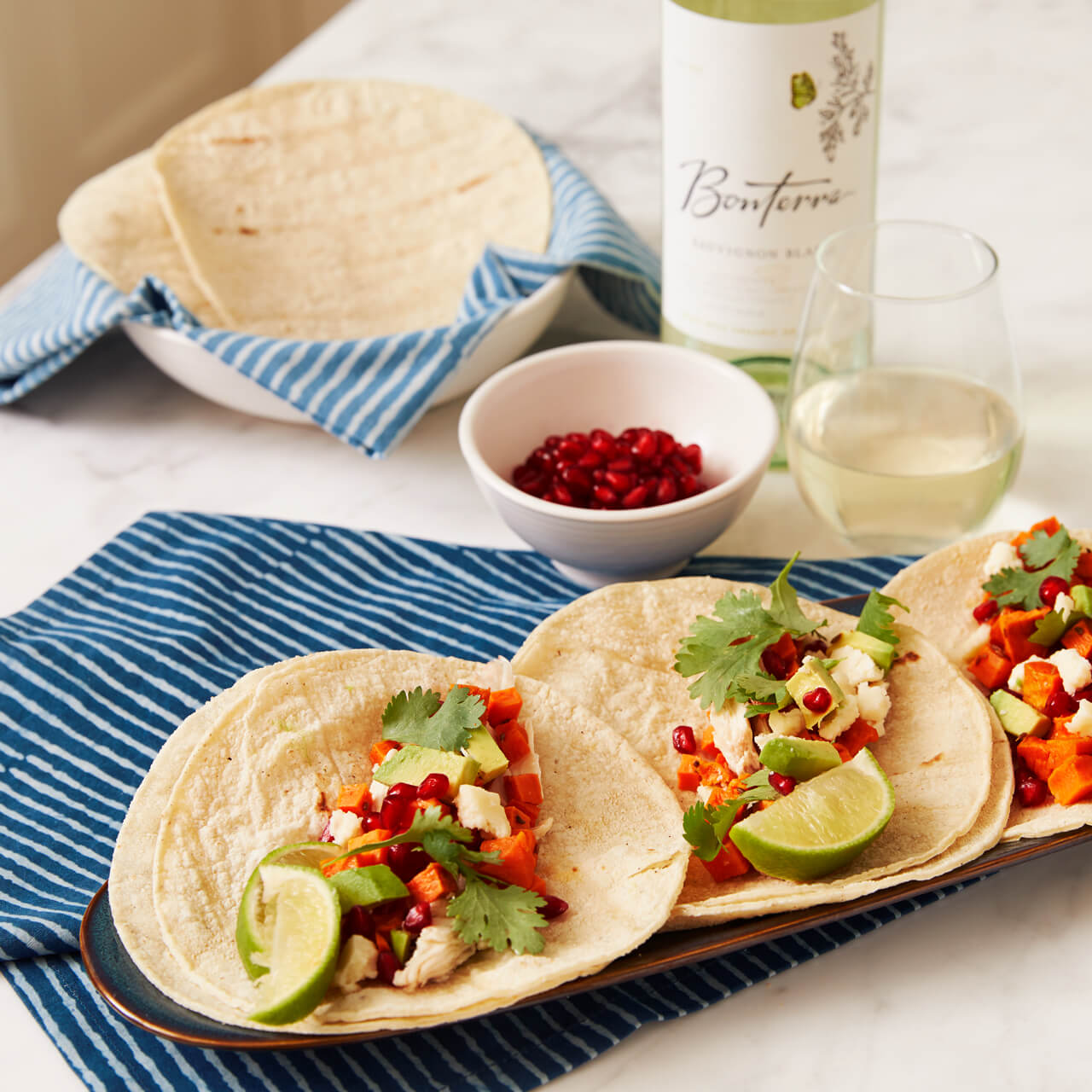 Tacos with a Twist
Servings: 4 (12 tacos)
Ingredients
12 each 6" corn tortillas
2 split chicken breasts (with skin and bones)
2 Tbsp. light olive oil, divided
½ cup water or white wine for extra flavor
2 medium sweet potatoes
¼ tsp ground cumin
¼ tsp ground ancho chile
Salt to taste
1 cup pomegranate seeds
2 Tbsp. honey
1 lime, zest and juice
½ small red onion, finely diced
¼ cup chopped cilantro
1 cup crumbled cotija cheese
2 avocados, diced
Instructions
Preheat oven to 375°F. Peel and dice the sweet potato, toss with 1 Tbsp. of the olive oil, the cumin, ancho chile, and salt to taste. Spread out on a baking sheet and roast in the oven until caramelized and tender. Keep warm.
Season the chicken with salt and pepper. Heat the oil in a saute pan and sear the chicken, skin side down, over medium heat until the skin is well browned and crisp. Turn the chicken over, add the wine, and cover the pan. Turn heat down to low and braise the chicken until cooked through. Uncover and allow to cool for about 15 minutes, then remove the chicken from the pan, reserving any juices. Remove bones (you may also remove the skin, if you prefer, or chop it up with the chicken) and use your fingers or two forks to pull the chicken into long strands. Return to the pan with the juices and keep warm.
To make the pomegranate salsa, toss the pomegranate seeds with the honey, lime zest and juice, finely diced red onion, and chopped cilantro.
To assemble the tacos, heat the corn tortillas between two damp paper towels in the microwave or in a cast iron pan until soft. Layer the pulled chicken, roasted sweet potatoes, avocado, and pomegranate salsa into each tortilla. Top with crumbled cheese.