Does anyone else get ambitious at Thanksgiving? There is so much to savor about the holiday, and we tend to over-commit in the pursuit of enjoying every delicious moment of the day. If you are like us, we are here to help. We can't set the table, but we can help you choose the best Bonterra Organic Estates wine for each course of your Thanksgiving meal.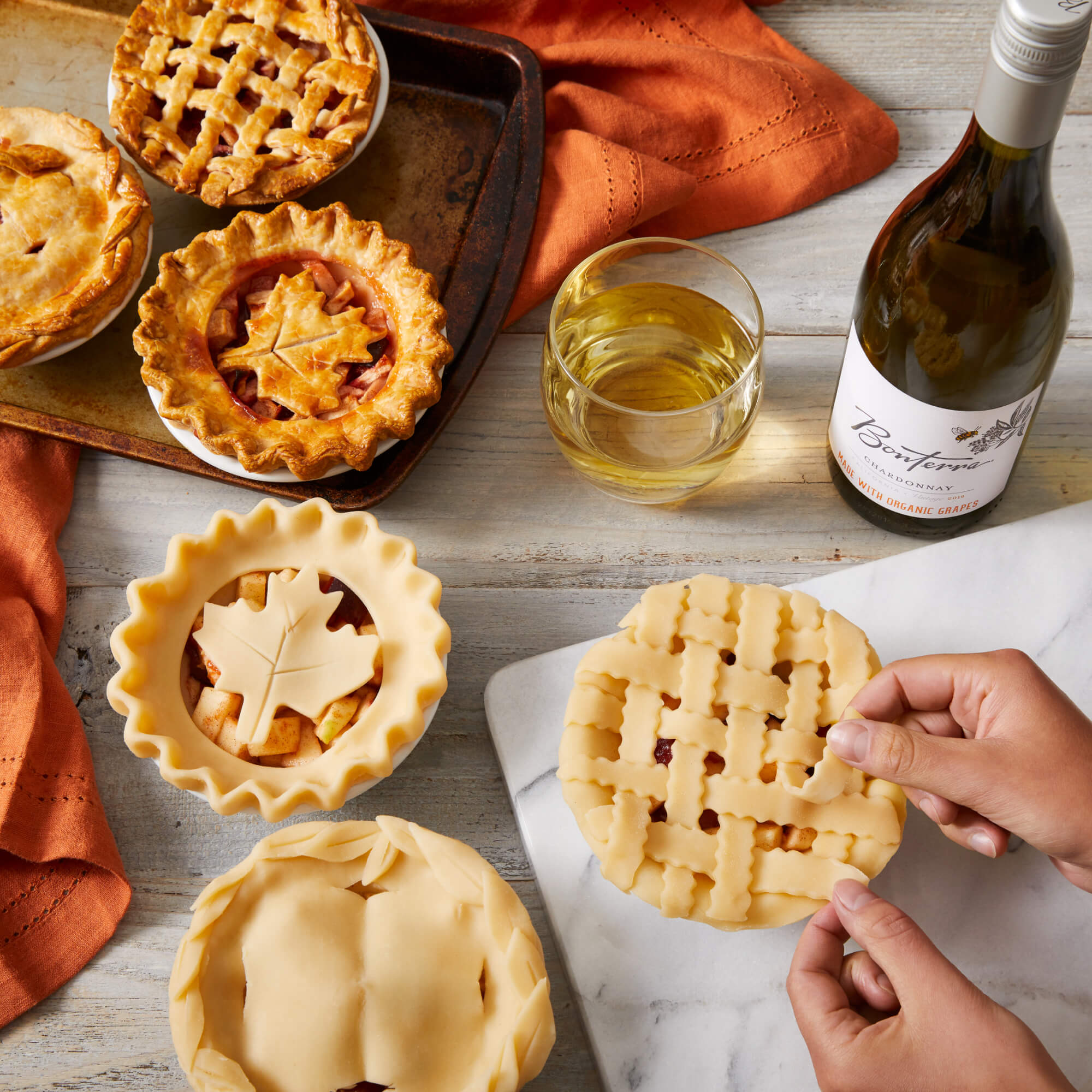 Brunch or Appetizers: If your family enjoys a brunch or a day of pre-meal grazing on appetizers, we recommend having a few cans of Bonterra Bubbles on hand to sip during the day. The light, effervescent wine makes a great pairing with deviled eggs, fruit or crudité and it's a festive start to the holiday weekend!
Cheese and Charcuterie: A day in the kitchen is made so much better by a well-appointed cheese tray and a light, refreshing wine. For mid-day nibbling on cheese, charcuterie and salty snacks, we recommend Bonterra Sauvignon Blanc. The crisp, bright acids are a classic complement to goat cheese as well as many other common cheeses such as cheddar, Havarti and Swiss. Sauvignon Blanc also makes a great palate-cleanser between courses. For those seeking a red wine with cheese, we recommend a lighter style such as Bonterra Merlot.
Roasted Vegetables: For your veggie dishes, you'll want a white wine with low acid such as Chardonnay. For something special, try pairing our single vineyard Regenerative Organic Certified 'The Roost' Chardonnay with roasted squash, mushrooms or potatoes. If an easy fruit appetizer is needed, Chardonnay also goes well with our recipe for fresh pears and burrata with hazelnut-mint pesto.
Classic Side Dishes: The true joy of the Thanksgiving meal is always in the side dishes. While turkey is standard, there is no rule book for the sides, which means they need a versatile wine which will pair with an array of foods. For this reason, we recommend Bonterra Rosé. The delicate flavors of this dry Rosé complement stuffing without diminishing the flavorful, herbaceous nature of the dish. The wine's elevated acidity also makes it perfect for creamy side-dishes such as vegetable casseroles, potatoes au gratin or creamy yams. Or, try pairing it with leftover Thanksgiving turkey hash.
Turkey (of course): The mild flavor of turkey lends itself well to the bright, tangy flavors of red fruit (think: adding cranberry sauce). This makes Bonterra Pinot Noir an excellent choice. If you prefer a slightly bolder wine, try pairing with our Zinfandel, the blueberry and pepper notes are a twist on the classic match.
Winding Down: Those relaxing hours after the dishes are done can be so satisfying. If you plan to raise a glass to gratitude and a great meal, this is the time to enjoy your bolder wines. Pour an Equinox Red or a sip on a glass of Bonterra Cabernet Sauvignon. Pair with comfortable seat and kick-up your feet – you earned it!
Happy Holidays from Bonterra Organic Estates.