You don't have to be a vegetarian to love veggie-centric dishes, especially during the fall when hearty organic produce is at its peak. A grilled cauliflower steak, tender curried lentils, and a touch of creamy, spicy hummus round out one of our favorite meals to pair with a cool can of Bonterra Sauvignon Blanc.
Cauliflower is one of those incredibly versatile fall harvest vegetables we simply can't get over. Its mild flavor and ability to take the heat make this cruciferous veggie ideal for practically any cooking method and seasoning.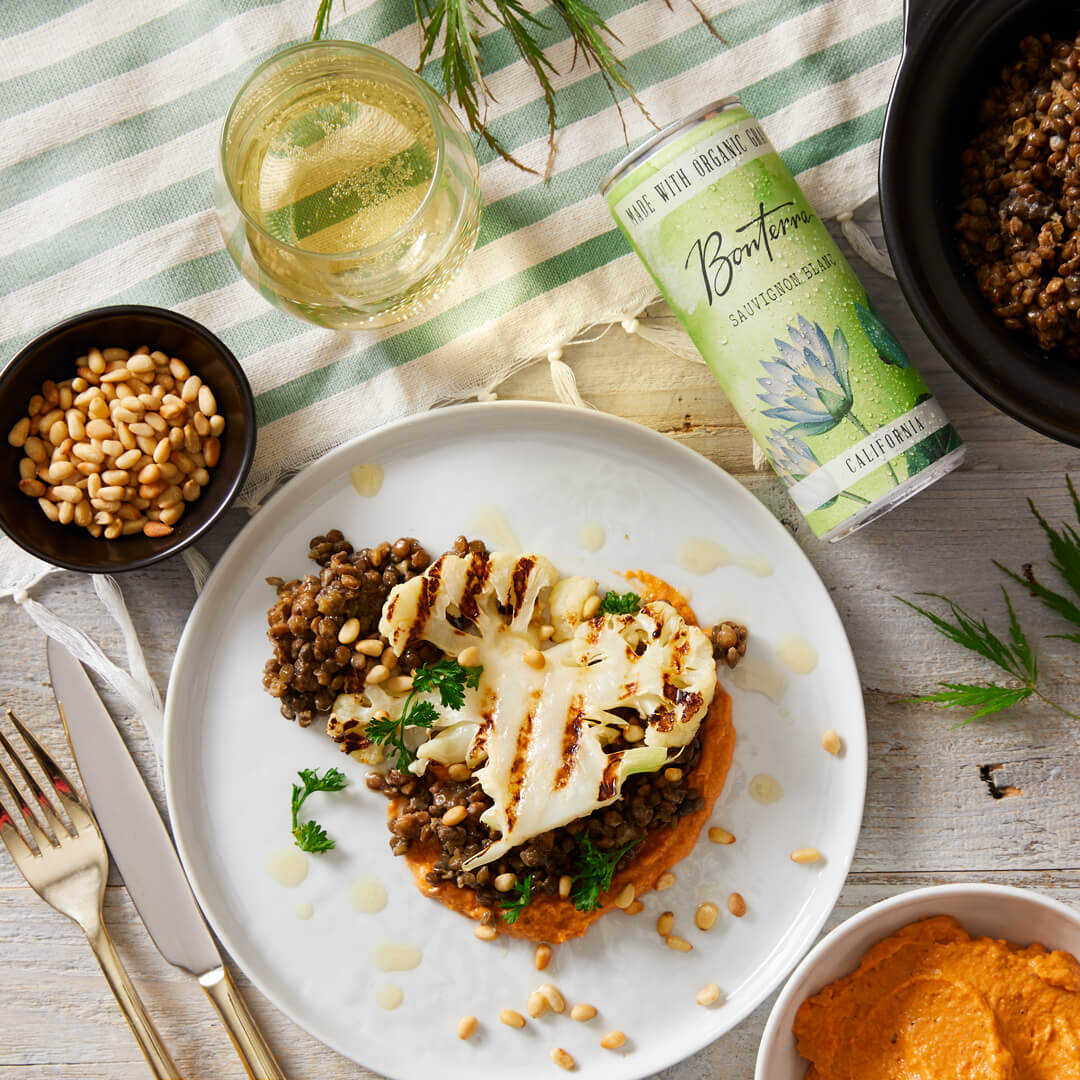 The Power of Cauliflower
Ingredients
Cauliflower (grilled, roasted, fried, riced, or mashed)
Lentils
Spicy hummus
Pine nuts
Instructions
Here are a few of our favorite ways to prepare cauliflower:
Grill: Fire up your outdoor grill or heat up a stovetop grill pan to add the perfect amount of char to a meaty cauliflower steak. To create steaks, simply stand the head of cauliflower upright on your cutting board and slice neatly, from top to bottom, into 1-inch thick cross-sections.
Roast: Sure to impress, try roasting a whole head of cauliflower in the oven at 400℉ until tender at the core. Or, simply roast a baking sheet full of cauliflower florets at 450℉ until golden brown and crispy at the edges.
Fry: Who needs chicken wings when you could have bites of crunchy, crispy cauliflower? If you're ready for a project, deep frying cauliflower florets is the way to go. 
Rice: "Riced" cauliflower is widely available in grocery stores, but why not make your own when it's as easy as food processing raw florets into tender rice-sized bits? Sautee your cauli-rice in a neutral oil to cook and get creative with your seasoning and add-ins of choice.
Mash: Step aside, potatoes. Simply steamed and mashed cauliflower is the comforting fall dish you didn't know you needed.