We often talk about our pioneering efforts around environmental stewardship, and many don't know that our Admin Building is a great example of those commitments. During the building's construction in the 1990s, the use of recycled and environmentally friendly materials were prioritized. The building also has a unique ventilation system that cools the building in the hot summer months without the use of air conditioning. Here's a blast from the past: an article from a June 1996 issue of an employee newsletter, which shares more about how the building came to life!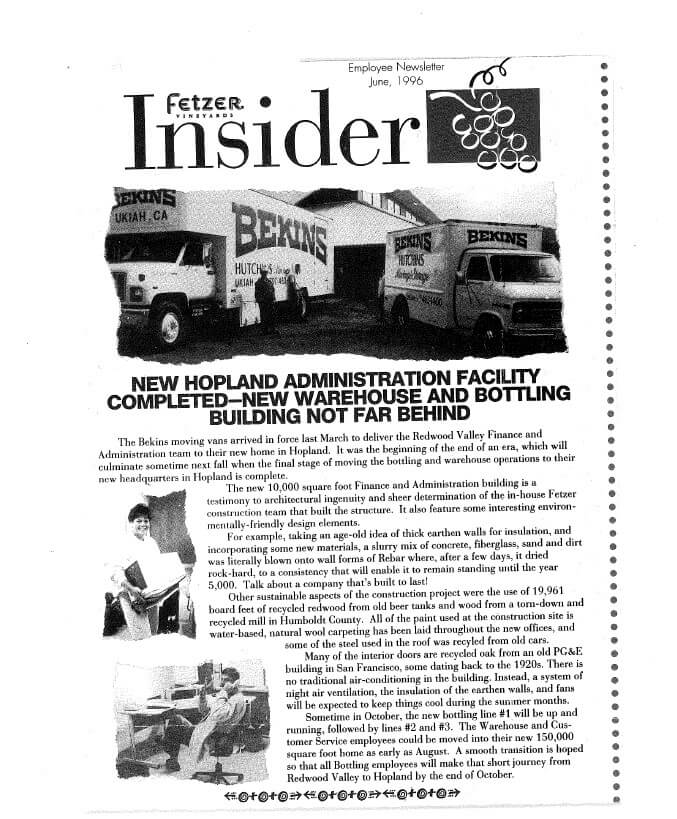 The June 1996 article reads:
NEW HOPLAND ADMINISTRATION FACILITY COMPLETED-NEW WAREHOUSE AND BOTTLING BUILDING NOT FAR BEHIND
The Bekins moving vans arrived in force last March to deliver the Redwood Valley Finance and Administration team to their new home in Hopland. It was the beginning of the end of an era, which will culminate sometime next fall when the final stage of moving the bottling and warehouse operations to their new headquarters in Hopland is complete.
The new 10,000 square foot Finance and Administration building is a testimony to architectural ingenuity and sheer determination of the in-house Fetzer construction team that built the structure. It also feature some interesting environmentally-friendly design elements.
For example, taking an age old idea of thick earthen walls for insulation, and incorporating some new materials, a slurry mix of concrete, fiberglass, sand and dirt was literally blown onto wall forms of Rebar where, after a few days, it dried rock-hard, to a consistency that will enable it to remain standing until the year 5,000. Talk about a company that's built to last!
Other sustainable aspects of the construction project were the use of 19,961 board feet of recycled redwood from old beer tanks and wood from a torn-down and recycled mill in Humboldt County. All of the paint used at the construction site is water-based, natural wool carpeting has been laid throughout the new offices and some of the steel used in the roof was recycled from old cars.
Many of the interior doors are recycled oak from an old PG&E building in San Francisco, some dating back to the 1920's. There is no traditional air-conditioning in the building. Instead, a system of night air ventilation, the insulation of the earthen walls, and fans will be expected to keep things cool during the summer months.
Sometime in October, the new bottling line #1 will be up and running, followed by lines #2 and #3. The Warehouse and Customer Service employees could be moved into their new 150,000 square foot home as early as August. A smooth transition is hoped so that all Bottling employees will make that short journey from Redwood Valley to Hopland by the end of October.