Summertime is our favorite time. But, sometimes it's just too hot to cook.
So, when the temperature says it's too warm to turn on the stove or even light up the grill, we turn to the trusty fruit and veggie plate. Easy to assemble. No pots. No pans. What's not to love? After all, the perfect summer recipe is the no-cook summer recipe.
Bonterra wines begin in the vineyard, with the best fruit we can grow using regenerative farming practices. We know that healthy vineyards mean happy grapes, which translate into delicious wine. So, picking ripe, flavorful fruits and veggies for your summer snack is a no-brainer.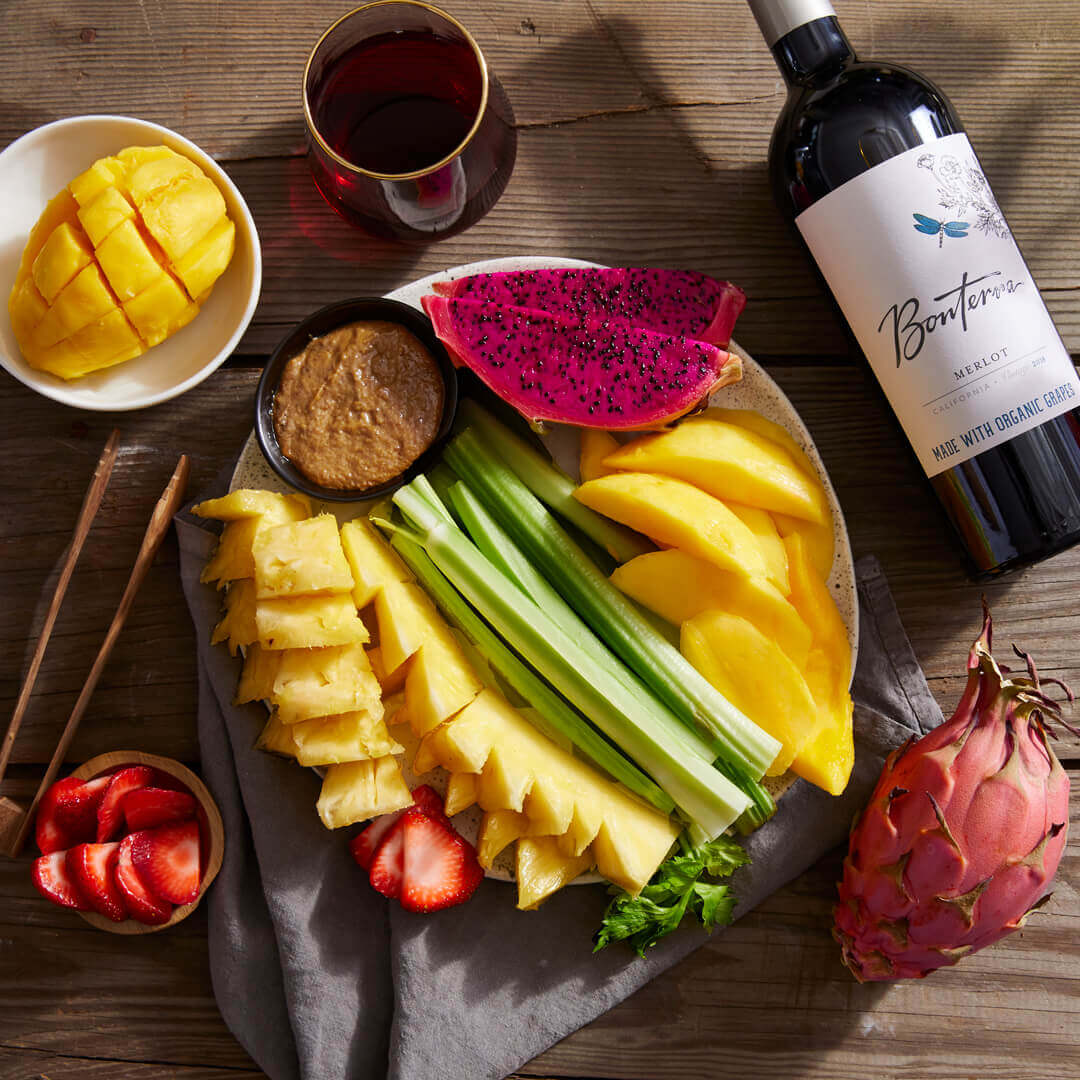 Tropical Fruit Crudites
Ingredients
Fresh produce (mangoes, dragonfruit, pineapple, strawberries, and celery are all delicious options)
An easy peanut dipping sauce (whip natural peanut butter together with vanilla Greek yogurt) can elevate your crudité platter
Instructions
Here are some tips and tricks to remember when building a better fruit and veggie plate:
Selecting Produce: Sight, smell, and touch will be your best tools for finding fruits and vegetables in their prime.  Check for deeply and evenly colored exteriors, noticeable fragrance, and the appropriate firmness.
Building Your Plate: Variety is key! Think variety when it comes to the colors, flavors, and textures of the fruits and vegetables you select.
Serving: Remember to peel any produce with tough exteriors and to cut any large fruits or vegetables into smaller, more manageable pieces before serving. Lastly, to help beat the heat, pre-chill your fruit and veggie plate for a refreshing surprise.