Brunch season is in full swing and we have the perfect twist on traditional waffles…Waffle pops! Whether you are hosting a shower, enjoying a spring meal in the garden or casually gathering with friends, these easy-to-make and fun-to-eat snacks will liven up your menu and leave your guests smiling.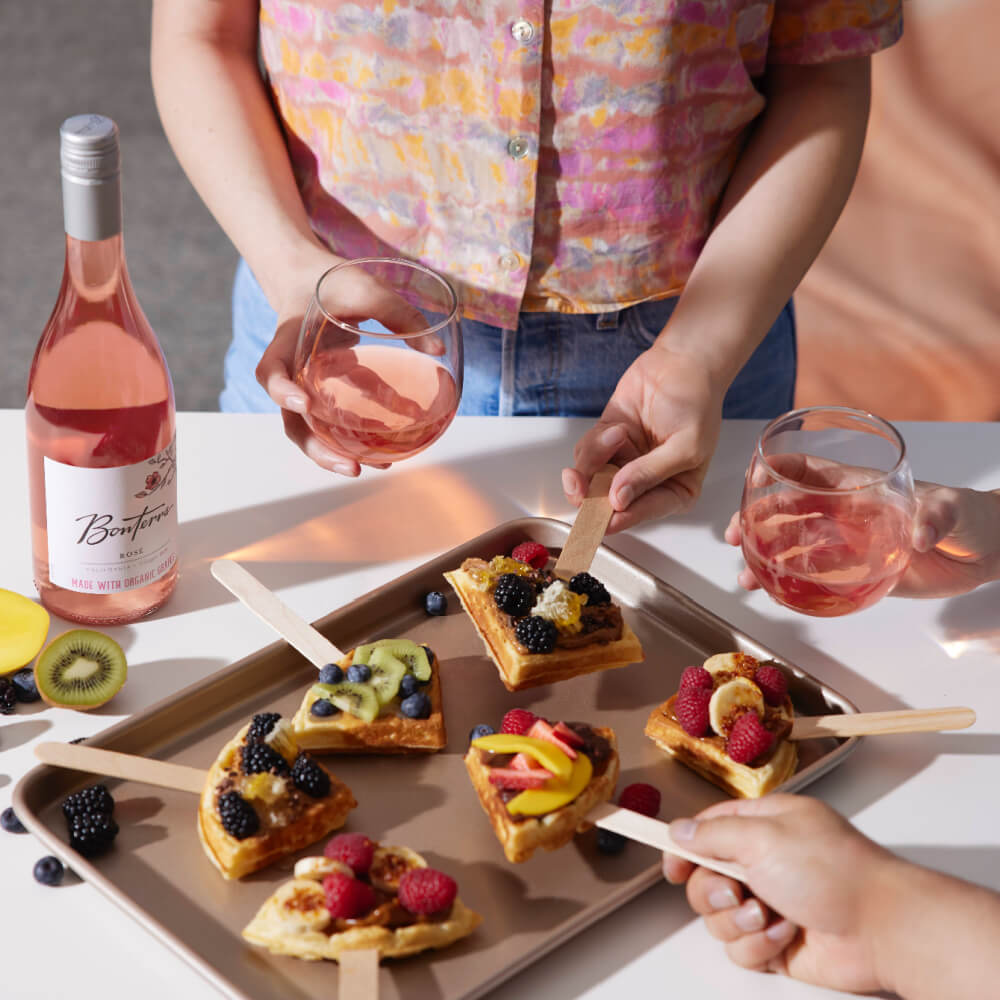 You will need:
A waffle iron
Your favorite waffle batter recipe
Jumbo-style wooden popsicle sticks
Your choice of organic fruit toppings
A sticky glaze or butter like Nutella (more on this below)
Instructions:
Make waffle batter according to your favorite recipe. The great thing about a waffle iron is flexibility. Easy recipes can be found for organic, gluten-free, whole wheat or traditional waffle batter – among others!
Cook waffles. Aim for a golden-brown colored waffle with a slightly crisp surface. Undercooked waffles will not hold up well as pops.
Cut waffle into quarters, creating four equal, triangle-shaped pieces.
Allow waffles to cool slightly, then apply a scoop of a sticky glaze or butter. This will help your toppings stay on the waffle pop. We prefer a nut butter or Nutella, but you can also use a simple glaze recipe. If you have a sweet tooth, chocolate or caramel work too!
Carefully push the popsicle stick into the bottom (rounded) side of the waffle. To help the stick stay in place, dip it first into your glaze or nut butter.
Finally, lay waffle pops flat and apply your toppings. Allow to sit for 10-15 minutes before serving so toppings stick while cooling.
Here are just a few of our favorite combinations!
Nutella with banana slices and fresh raspberries
Peanut butter drizzled with honey and topped with blackberries
Vanilla glaze topped with blueberries and kiwi slices
Of course, make sure you have your favorite organically-grown wines on hand to complement your pops! Try pairing our Rosé, perfect for sipping at brunch.
Enjoy!
Waffle Pops