Organic September Trio
>
>
>
Organic September Trio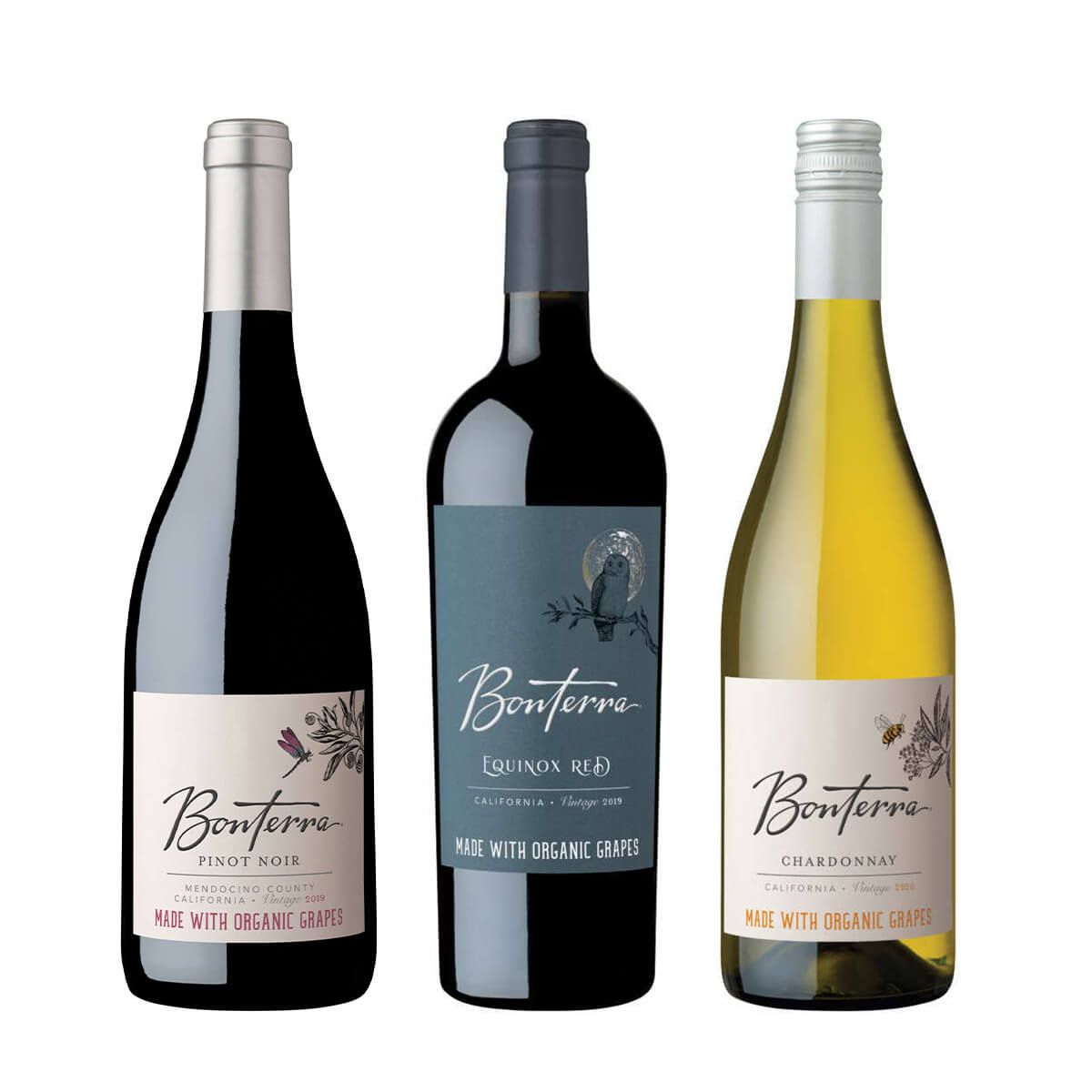 Organic September Trio
Making a planet-friendly swap to wine made from organic grapes is easier than ever with Bonterra. To celebrate Organic September, we curated a selection of go-to Bonterra classics that highlight the perfect transition of summer to fall. While seasons may change, our unwavering commitment to regenerative agriculture does not. You can rest assured our responsible practices result in award-winning wines you love while also making the world itself a cleaner place to live.
Celebrate this Organic September with our exclusive trio which includes:
Chardonnay 2020: The wine is refreshing on the palate, with a minerality that is both bright and clean, drawing you into a vibrant tartness and lemon zest that is absolutely, positively Bonterra Chardonnay, vintage after vintage.
Pinot Noir 2019: This elegant Pinot Noir opens with bright fruit aromas of cherry and pomegranate, framed by earthy undertones of Earl Grey tea, mushroom and white pepper.
Equinox Red 2019: This wine offers supple notes of juicy red and black fruit matched with a patina of intriguing spice, herb and oak tones.
Awards
90 Points, 2018 Vintage
The Tasting Panel, May 2020 Issue
Winemaker Jeff Cichocki crafts an especially aromatic white here: Jazzy perfume of jasmine and sugar-dusted apples and almond shortbread. While 70% of the juice is fermented in a combination of French and American oak, 30% is fermented in stainless steel. The palate's crispness, an initial creaminess and a focused citrus core, delivers freshness. It finishes with ripe pineapple that allows the acidity to just about nip the tongue – great for food partnering.
90 Points, 2018 Vintage
James Suckling, December 2020
A fruity and focused red with cherry, slate and some walnut character. Medium-bodied. Delicious finish. From organically grown grapes. Drink now.
90 Points, 2018 Vintage
Wine Enthusiast, December 2020 Issue
Cinnamon and clove aromas lead to a juicy, well-concentrated cherry flavor in this medium-bodied, fairly oaky wine. Light tannins add to the grippy mouthfeel and help pull the fruit flavors through the finish. —Jim Gordon
Awards

90 Points, 2018 Vintage

The Tasting Panel, May 2020 Issue
Winemaker Jeff Cichocki crafts an especially aromatic white here: Jazzy perfume of jasmine and sugar-dusted apples and almond shortbread. While 70% of the juice is fermented in a combination of French and American oak, 30% is fermented in stainless steel. The palate's crispness, an initial creaminess and a focused citrus core, delivers freshness. It finishes with ripe pineapple that allows the acidity to just about nip the tongue – great for food partnering.

90 Points, 2018 Vintage

James Suckling, December 2020
A fruity and focused red with cherry, slate and some walnut character. Medium-bodied. Delicious finish. From organically grown grapes. Drink now.

90 Points, 2018 Vintage

Wine Enthusiast, December 2020 Issue

Cinnamon and clove aromas lead to a juicy, well-concentrated cherry flavor in this medium-bodied, fairly oaky wine. Light tannins add to the grippy mouthfeel and help pull the fruit flavors through the finish. —Jim Gordon