For wintry days when warm weather vegetables seem like a lifetime away, we double-down on the winter veggies we do love and break out the tagine. Think beets, cauliflower, onions, and chickpeas roasted with lemon and warming spices like cinnamon, turmeric, and saffron. Serve over fluffy Israeli couscous alongside a glass of lively Bonterra Young Red and you've got a winning winter recipe that's hearty, without being heavy, and anything but dull.
To receive more recipes like this one, pairings, and news straight from the farm, sign up for the monthly Bonterra newsletter!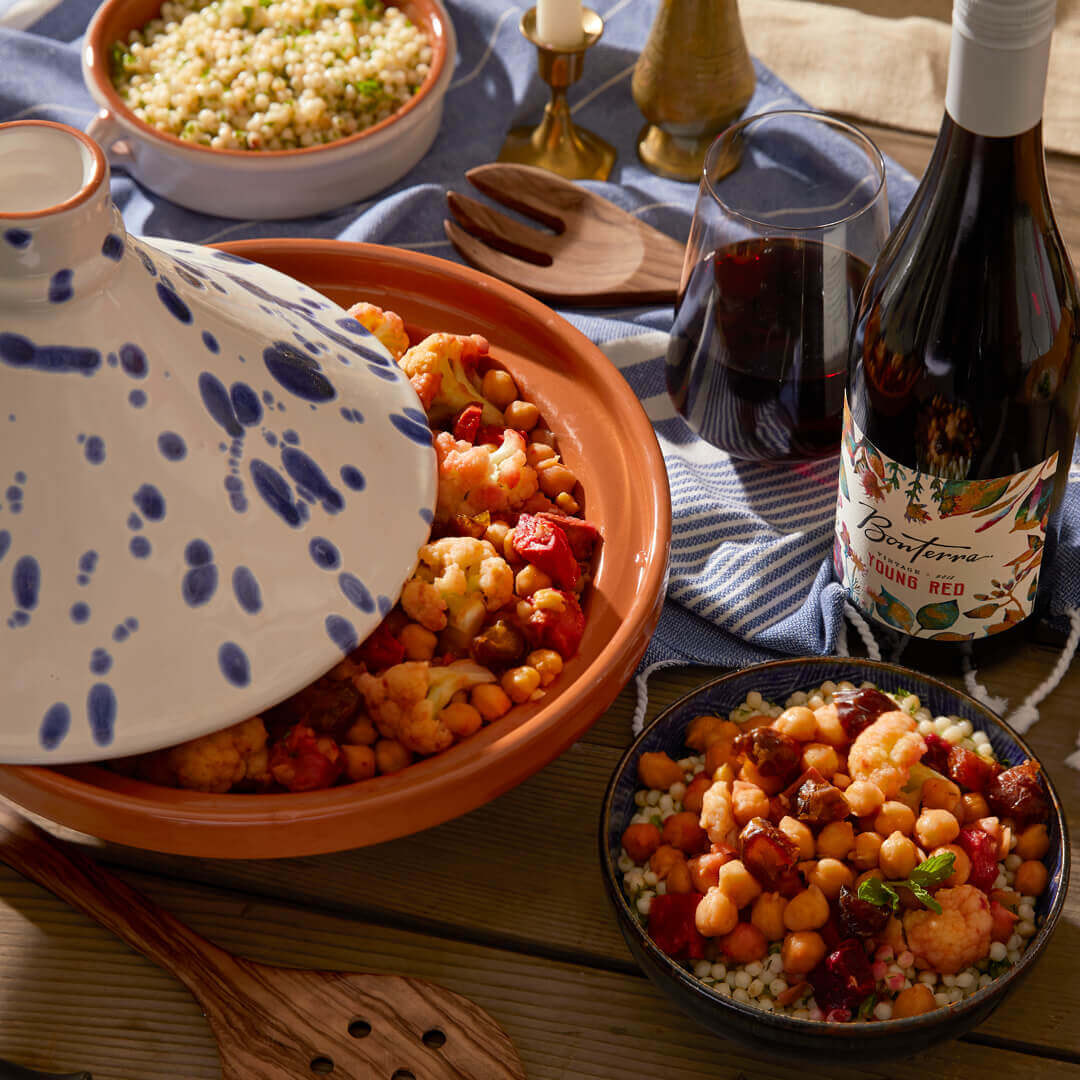 Winter Vegetable Tagine
Ingredients
1 ½ teaspoons ground ginger
1 teaspoon salt
1 teaspoon turmeric
½ teaspoon black pepper
1/4 teaspoon ground cinnamon
Dash of saffron
Cayenne pepper to taste
1 chopped onion
3 cloves of finely chopped garlic
¼ cup finely chopped parsley
½ cup olive oil
One head cauliflower broken into stalks
3 large beets, peeled and cubed
2 cups canned chickpeas
2 cups vegetable stock
⅓ cup raisins, dates or dried cranberries for added flavor
1 lemon cut into quarters
Instructions
Mix vegetables, spices, olive oil and dried fruit together with 2 cups vegetable stock and place in the base of a large tagine.
Place quartered lemon on top of the mixture and cover with tagine lid. Place in oven set to 350 and allow the tagine to reach a simmer.
Once simmering, add the chickpeas and a little extra water to moisten mixture if needed, and continue cooking until vegetables are tender and the liquids are reduced. Finish by serving over steamy Israeli couscous for a wintery treat.