If you are like us, you probably appreciate a little healthy indulgence. Perhaps you are also a sucker for a sweet snack that looks gorgeous and colorful on your summer charcuterie boards? Yes? Good. We have a suggestion for that.
Chocolate-dipped oranges are delicious and healthy, colorful and pretty. The bright citrus screams "summer" while the dark chocolate begs you to grab the wine. This easy and fun-to-make snack can be tailored to your liking and enjoyed all year-around.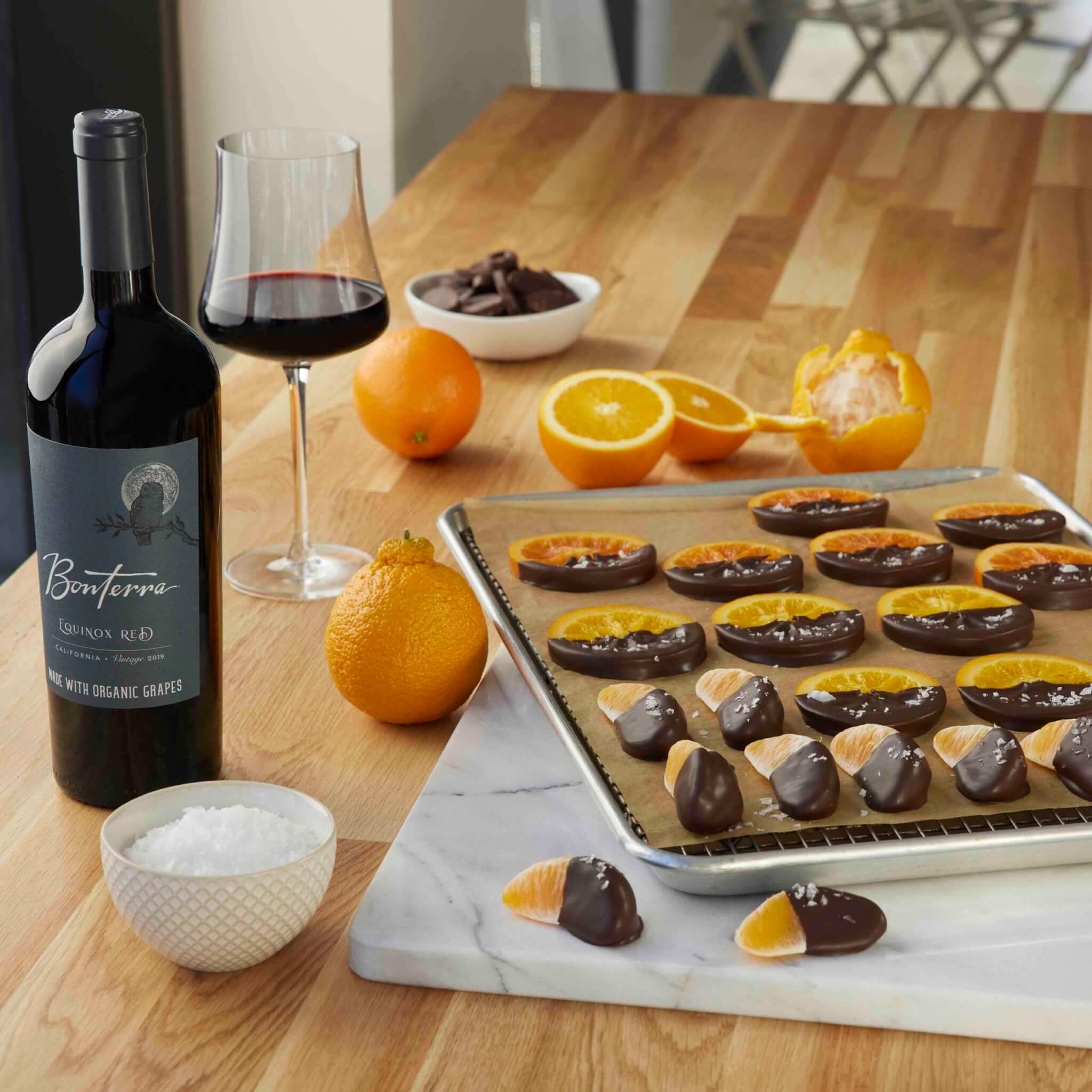 Chocolate-dipped Oranges
Ingredients
4-5 Oranges – we recommend mandarin or blood oranges
1 cup Dark chocolate squares or chips – how dark is up to you!
1.5 tsp Coconut oil
Flaked sea salt (optional)
Instructions
Instructions
1. Carefully peel the oranges, you want to avoid breaking the thin skin over the slices and letting the juice out
2. Pat slices dry with a paper towel, chocolate has a hard time sticking to wet fruit
3. Melt chocolate and coconut oil in a double-boiler over medium-low heat, stirring occasionally. The key is to heat slowly
4. Carefully dip orange slices in the chocolate about half-way
5. Immediately lay flat on wax or parchment paper and sprinkle with sea salt flakes
6. Place the tray in the refrigerator to set
Tips
If you want garnish or for your tray, try cutting oranges into slices and dipping half-way. These are not best for eating unless you have citrus with a soft, mild peel, but they look pretty.
While not traditional for this recipe, white or milk chocolate can be used as well. If you like the color of dark chocolate, but want something a little sweeter, you can stir a little sweetener into the chocolate-oil combination
If you don't have a double-boiler, you can make one by boiling water in a pot and placing a glass mixing bowl over the top – make sure the water does not touch the pot, the idea is to let steam warm gently
If you aren't a fan of coconut oil, avocado oil can also be used
If you are a fan of coconut flakes, those are another great substitute for the flaked salt
Enjoy!