Hearty and warming, it's the harvest bowl.  Making its seasonal debut everywhere from restaurant menus to home kitchens this time of year, the harvest bowl, much like flannel shirts and pumpkin spice, is a harbinger of fall weather and fall flavors.
Our take on the harvest bowl gets its fortifying power from a combination of roasted delicata squash, farro and toasted chickpeas. Apples and pomegranate seeds add a bit of sweetness to the greens while feta, avocado, and a festive apple cider dressing round out the dish.
The harvest bowl is an homage to all the wonderful fall produce popping up in our local farmers markets, but we won't be mad if you choose to add some crispy skinned salmon or a roasted chicken leg to yours.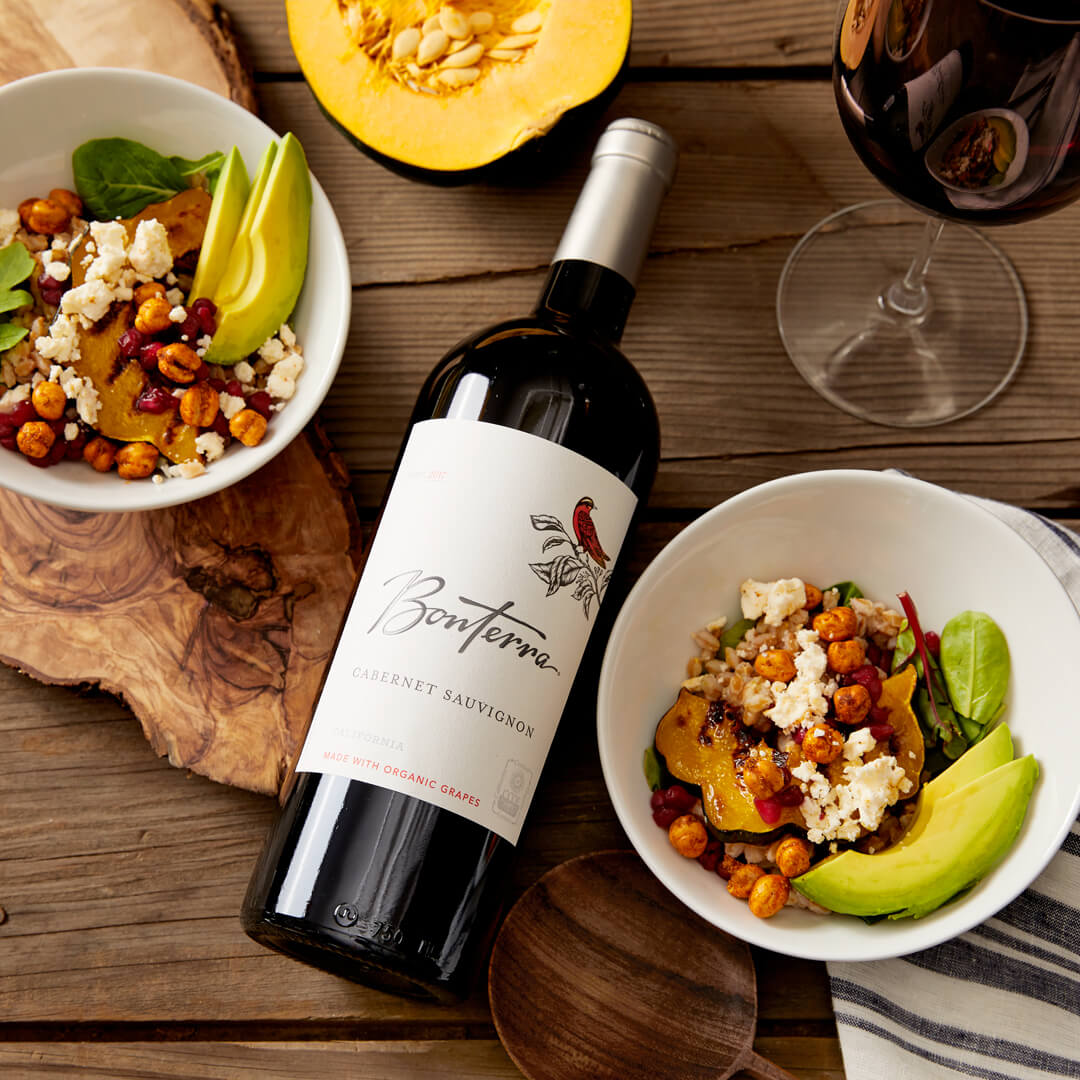 Fall Harvest Bowl
Servings: 4-6
Ingredients
1 medium delicata squash
½ cup pomegranate seeds
1 large crisp apple, such as Fuji or Braeburn, sliced into thin slices
4 cups wild arugula
1 bunch lacinato kale, stems removed
1 large, ripe avocado, sliced
½ cup feta, crumbled
1 cup cooked farro, drained
1 can chickpeas, rinsed and drained
½ cup olive oil, divided
3 Tbsp. apple cider vinegar
1 Tbsp. honey
Salt and pepper to taste
Instructions
Heat oven to 400°F.
Scrub the delicata squash and slice in half vertically. Scoop the seeds out and slice each squash half into ½" thick slices (skin can be left on). Toss the squash with 2 Tbsp. of the olive oil and sprinkle with salt. Spread out on a baking sheet and roast for 10-12 minutes, or until golden brown and tender. Transfer to a bowl to cool.
On the same baking sheet, spread the chickpeas and toss with 2 Tbsp. of the olive oil. Roast in the oven for 5-7 minutes or until golden brown and lightly toasted. Remove from oven and transfer to the bowl with the squash. Oven can be turned off.
While the roasted vegetables cool, wash the arugula and kale and drain well. Tear the kale into bite sized pieces.
Whisk together the remaining ¼ cup olive oil with 3 Tbsp. cider vinegar and 1 Tbsp. honey. Season the dressing to taste with salt and pepper and gently dress the greens. 
Place dressed greens in the bottom of a large bowl and arrange the roasted squash on top. Add the chickpeas, pomegranate seeds, apple slices, avocado slices, crumbled feta, and cooked farro. Drizzle with more dressing to taste.