Recipe courtesy of: USA Pears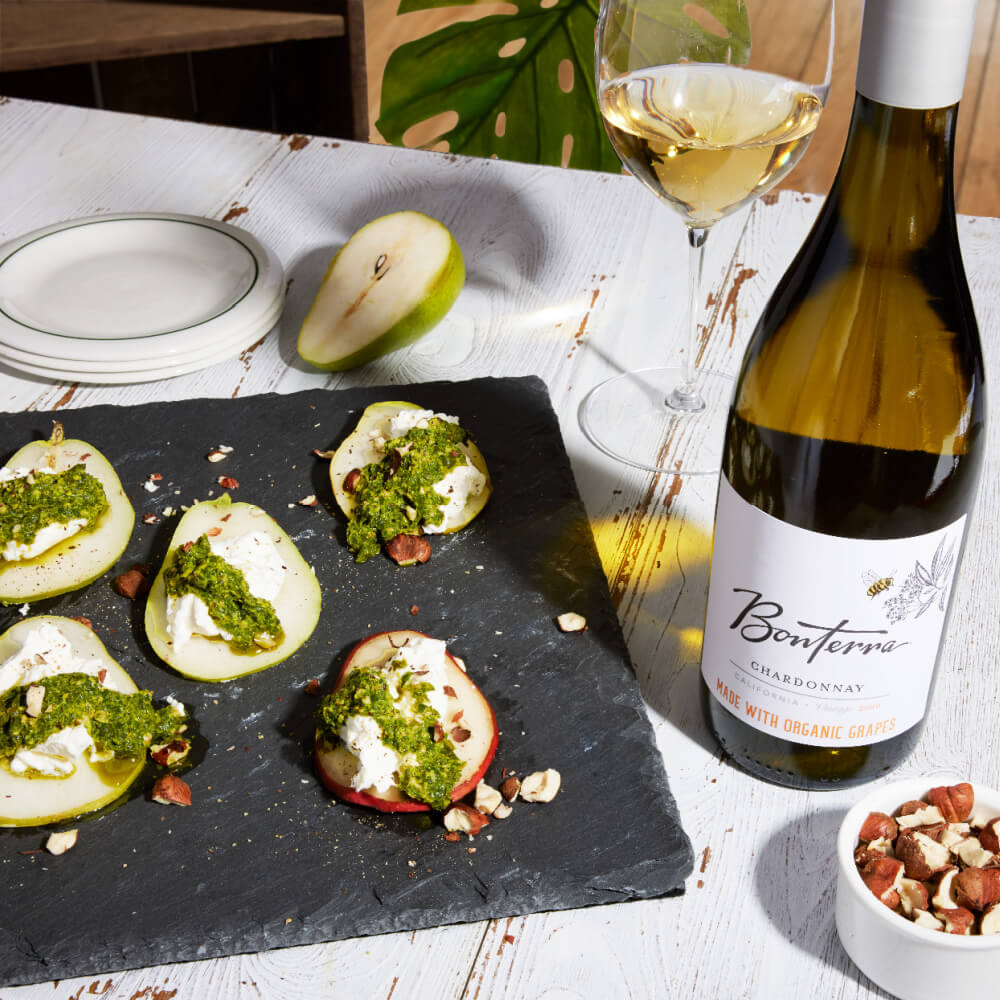 Here at Bonterra we are all about planning our entertainment menus around what is in season. Fresh, seasonal ingredients always make for the most delicious meals, and they always seem to complement Bonterra wines!
August and early September are a great time for fresh pears here on the west coast; and while pears are delicious poached, baked and glazed for sweet dishes, they are also versatile and great fresh from the market.
We recommend trying the below recipe from USA Pears. An easy and pretty appetizer of fresh pears and burrata cheese with hazelnut-mint pesto.
Fresh Pears & Burrata with Hazelnut-Mint Pesto
Ingredients
1 cup firmly packed fresh mint leaves
1/2 cup roasted hazelnuts
1 small clove garlic
1/2 teaspoon kosher salt
1/3 to 1/2 cup extra virgin olive oil
2 teaspoons fresh lemon juice, plus more for brushing
2 (4-ounce) balls burrata cheese, drained
3 large pears
Instructions
Combine the mint, hazelnuts, garlic, and salt in a food processor and process to a coarse paste. With the motor running, drizzle in the oil to make a loose sauce. Add the lemon juice and process to combine. Taste and adjust the seasoning. (The pesto will keep in the refrigerator with a piece of plastic wrap pressed directly against the surface to prevent browning for up to 3 days.)
Just before serving, cut the pears lengthwise into four 1/4-inch-thick planks, reserving the bulbous edges for another use. Use a paring knife to cut out the core from the middle slices. Brush the planks on both sides with lemon juice to prevent browning. Tear each burrata ball into 6 chunks and place a piece on each pear. Spoon the pesto on top, and serve immediately.
To see the recipe from USA Pears, click here.
Recipe by Andrea Slonecker