When it comes to Bonterra wines and the Bonterra ethos, our organic certification means more than organic practices in the vineyard – it means a wholesome and healthy lifestyle for the planet and ourselves.  What does organic mean to you?
One way to respect the environment and enjoy organically grown crops is to integrate organic products into your cooking.  Our recommendation? Fire up the grill for a Grilled Pizza Bianca (or two) featuring seasonable radicchio and a crust made with organic flour.
Our recipe calls for organic flour, which, by nature, is made from wheat grown in a pesticide-free environment, allowing it to develop more robust flavors and absorb more minerals.  
A healthy, nutritious, and delicious option to be shared as an appetizer or enjoyed as a main course, what's not to love?  
Trust us, it's delicious.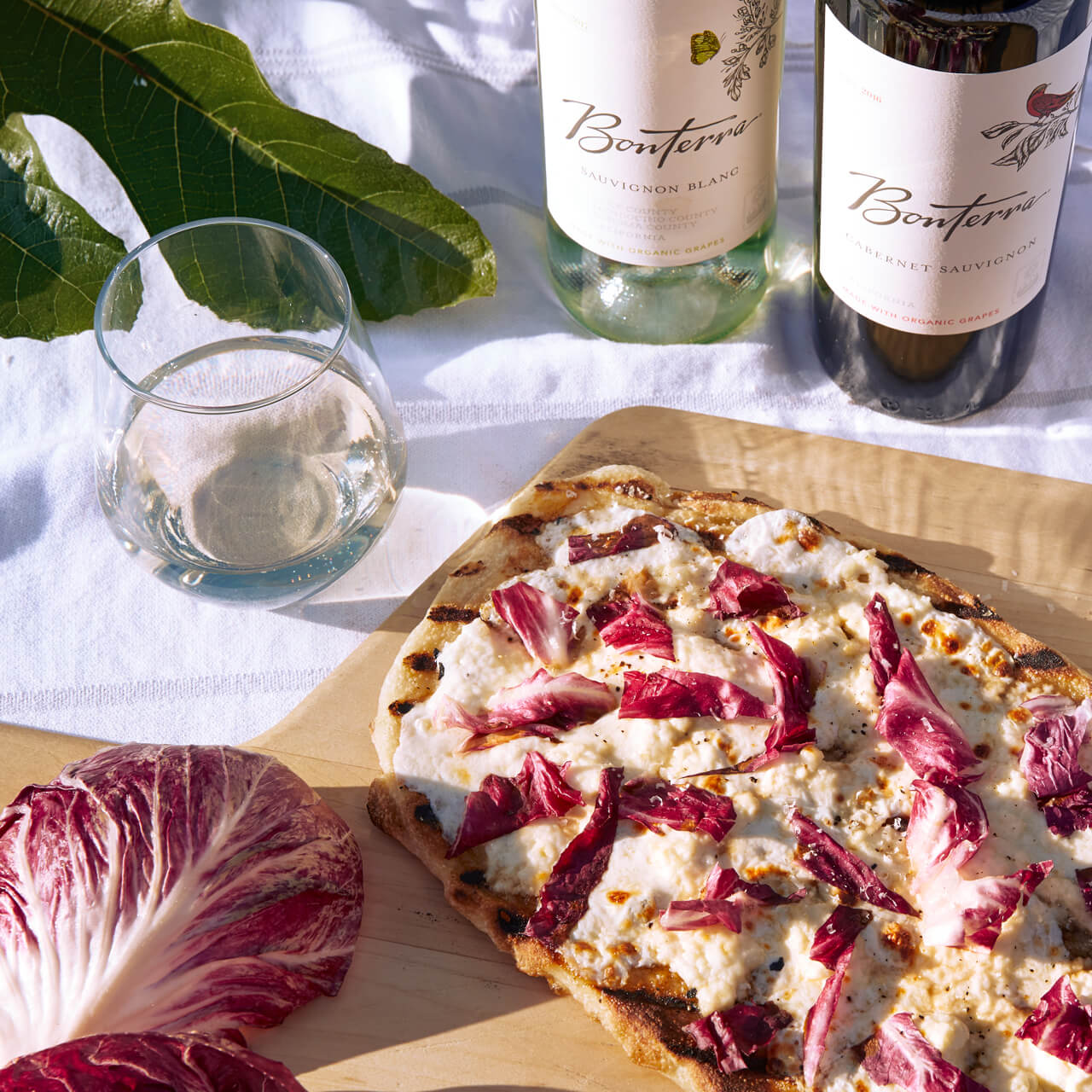 Grilled Pizza Bianca with Radicchio
Servings: Makes 2 each 10" pizzas, serves 2-4
Ingredients
1lb fresh pizza dough, divided in half
2 cups shredded whole milk mozzarella
2/3 cup whole milk ricotta, well drained
¼ cup grated pecorino romano
1 small head radicchio, washed and roughly chopped, well drained
Fresh ground black pepper and salt to taste
Extra virgin olive oil, to taste
Instructions
Preheat grill. Let pizza dough come to room temperature. Depending on the size of your grill, you may need to work with one pizza at a time. Stretch the pizza dough out to a roughly 10" circle, with the edges slightly thicker than the center. Lightly oil the one side of the dough and place, oil side down, on the grill. Grill until lightly caramelized to a pale golden brown, oil the other side and flip the dough to lightly cook the other side. Move the par-cooked pizza crusts to a pizza peel. To assemble the pizzas, put half of the mozzarella, ricotta, and pecorino over each crust. Spread the roughly chopped radicchio, drizzle with olive oil and season with salt and pepper to taste. Turn the grill down to medium, return the pizzas to the grill. Lower the lid and grill/bake the pizzas until the cheese is melted and the radicchio is wilted and lightly charred.
Alternatively, the pizzas can be made in the oven. Skip the pre-cooking step for the dough and bake the pizzas at 500°F until bubbly and well browned.