The season for outdoor grilling and healthy veggies has arrived – and you are going to need a great recipe to pair with your favorite organically-grown wine!
Our recipe for grilled pork vermicelli bowls combines classic Vietnamese flavors with milder heat and fragrant herbal notes. We recommend enjoying it with our Equinox Red. The medium-body and juicy red and black fruit characteristics of Equinox are a perfect match for the sweet and smoky notes of the grilled pork.
The pork should be marinated at least an hour in advance, so prep early. Then, pour a glass, fire up the grill and enjoy!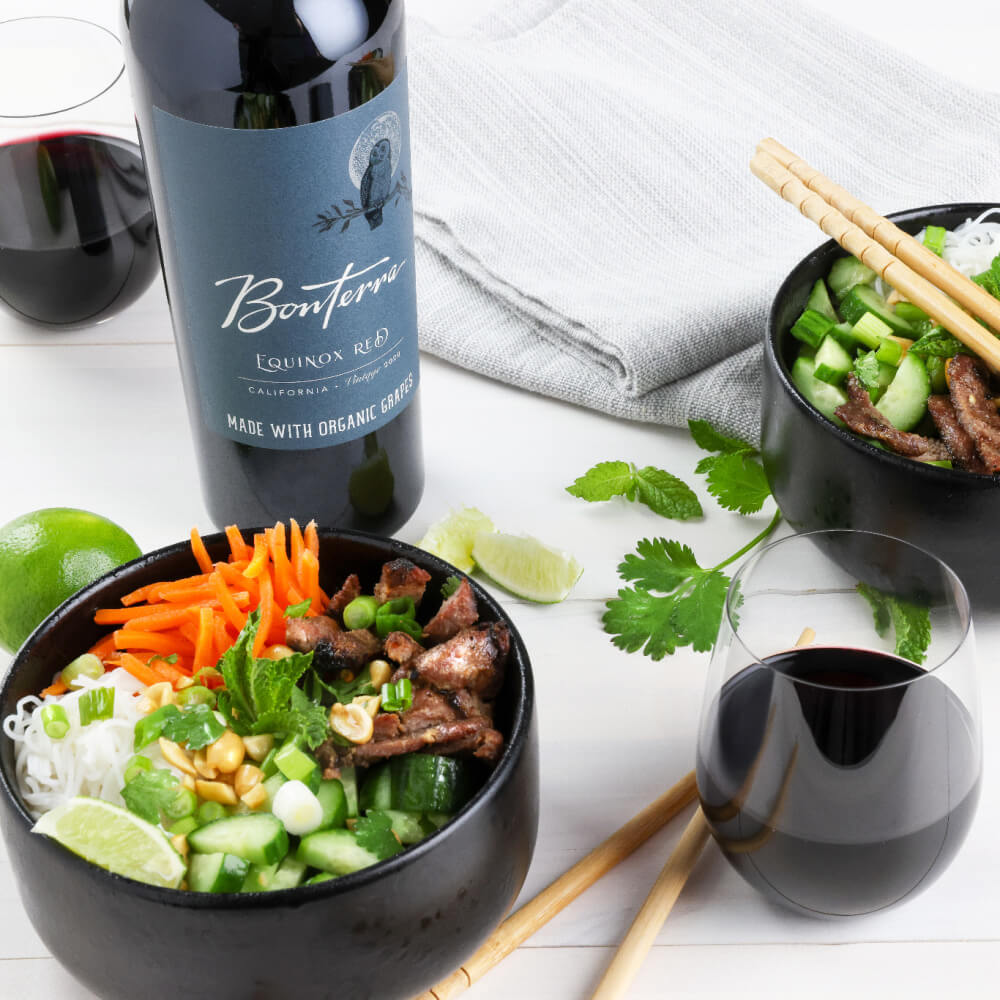 Grilled Pork Vermicelli Bowl
Servings: 6
Ingredients
For the pork:
2 lbs. boneless pork shoulder, thinly sliced
1/3 cup coconut sugar, divided
¼ cup fish sauce, divided
1 ½ tablespoons tamari
3 tablespoons avocado oil
2 garlic cloves, chopped
1 shallot, chopped
For the bowls:
1- 10 ounce box rice vermicelli noodles (thin rice noodles)
2 cups Persian cucumbers, sliced into half moons
2 cups shredded carrots
¾ cup fresh cilantro, leaves roughly torn
¼ fresh mint, leaves roughly torn
3 stalks green onion, thinly sliced
½ cup chopped peanuts
Sauce:
Rest of coconut sugar (1/6 cup)
Rest of fish sauce (1/8 cup)
¾ cup water
¼ cup rice vinegar
2-3 tablespoons fresh lime juice (about the juice of 1 lime)
Instructions
Place the sliced pork inside of a large baking dish or large zipper-lock bag. In a small blender, combine half of the coconut sugar, 1/3 of the fish sauce, tamari, avocado oil, garlic and shallots and puree until smooth. Alternatively, add all ingredients to a small bowl and whisk until combined. Pour over the pork and toss well to mix everything. Let it marinate for a minimum of one hour up to about 4 or 5 hours.
Cook the rice vermicelli noodles according to the directions on the package. Rinse under cold water and drain. Set aside.
Heat outdoor grill to medium heat and cook pork 5-10 minutes, flipping halfway through until browned on both sides and cooked through. If you don't have an outdoor grill, preheat the oven to 375ºF . Line a baking sheet with parchment paper. Place the pork on the baking sheet and cook for 15 minutes, or until just about cooked through. Turn the oven to broil and place the pork back in the oven to broil about four to five minutes, flipping halfway through, until charred and cooked through.
Meanwhile, combine the remaining coconut sugar, fish sauce, water, rice vinegar, and lime juice in a medium-sized bowl and whisk to combine until the sugar is dissolved.
Divide the noodles into bowls along with the cucumber, carrot, cilantro, mint, green onion and peanuts. Top with the sliced pork. Serve with the dipping sauce and spoon it over top of each bowl. Garnish with lime wedges, cilantro and mint.
Pair with Bonterra Equinox Red.
Enjoy!