Add a delicious twist to your homemade pasta by infusing herbs directly into the dough. Create a beautiful, flavor-filled dish and serve it with our full-bodied Bonterra Cabernet Sauvignon.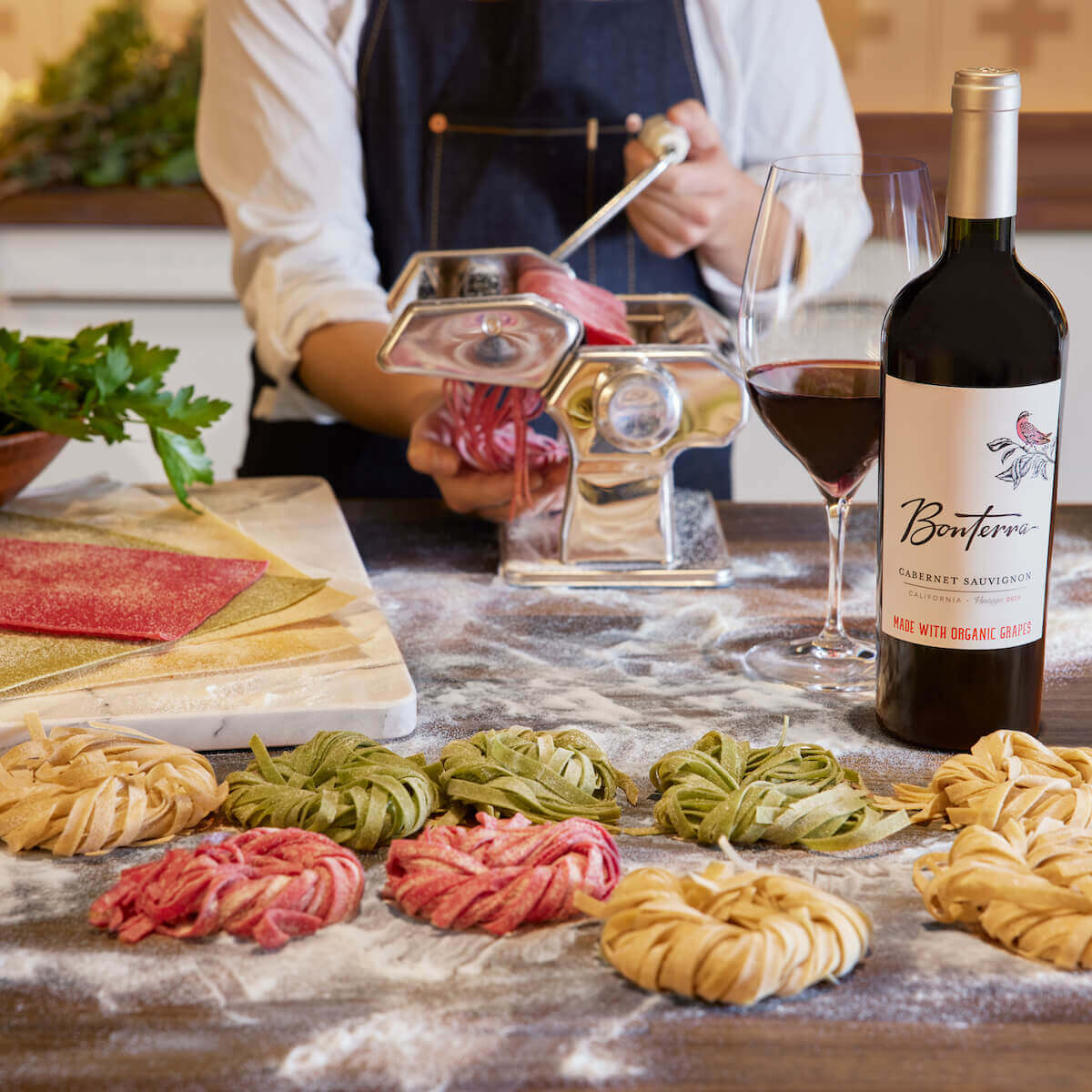 Herb Infused Fresh Pasta
Ingredients
4 cups (113g to 142g) fresh herbs or greens (approximately)
1/2 teaspoon kosher salt or coarse salt
2 1/2 cups (312g) Pasta Flour Blend
2 large eggs, room temperature
3 to 4 tablespoons (28g to 57g) cool water
Instructions
Wash and dry fresh herbs. 
Coarsely chop herbs, place in bowl and sprinkle with coarse salt. Then grind salt and herbs together into a wet paste.
Add flour and eggs to the bowl and mix well. Add water 1 tablespoon at a time until a rough dough forms and there's no dry flour in the bowl. The dough will be fairly stiff, and firmer than bread dough.
Turn dough out onto your work surface and knead for 8 to 10 minutes, until smooth and springy. Wrap in plastic wrap and let rest at room temperature for 30 to 60 minutes. 
Following your pasta machine instructions, roll dough to desired thickness. Allow sheets to dry for 15 to 20 minutes before cutting into strips. Meanwhile, bring a large pot of water to a boil.
Cook fresh pasta for 3 to 4 minutes, testing for doneness after 3 minutes. Drain pasta and serve as desired. A simple dressing of melted butter and fresh Parmesan cheese is outstanding and lets the flavors of the herbs shine through.