Create a light, crunchy treat that's bursting with taste by infusing your favorite flavors into these easy-to-make meringue pops. Get creative with your piping bag and serve your creations with some yummy Bonterra Rosé.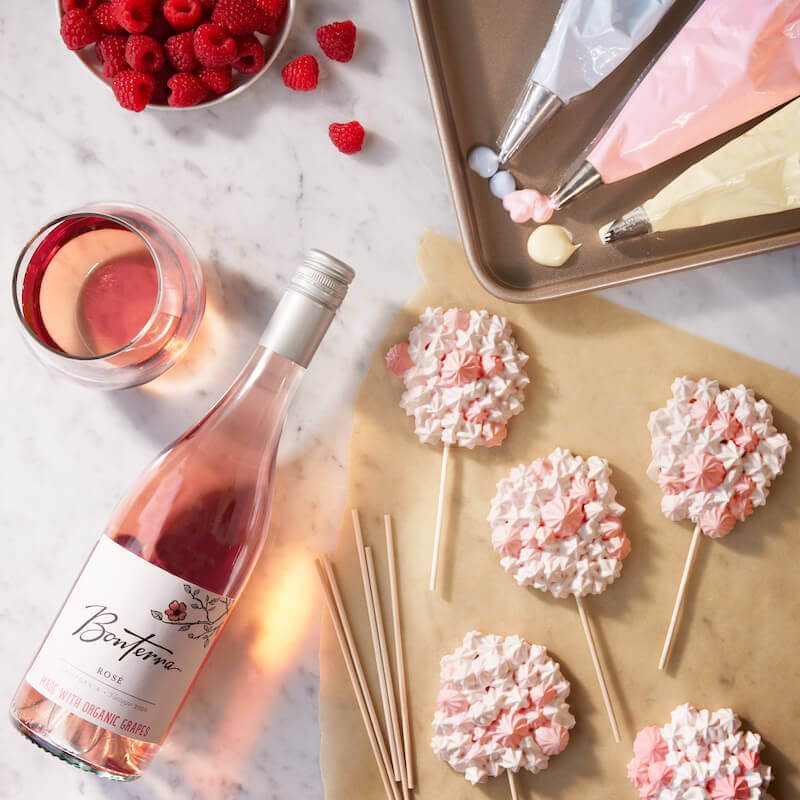 Meringue Pops
Ingredients
1/4 cup meringue powder
1/2 cup water
1-1/3 cups granulated sugar
2 tsp vanilla extract (or other preferred flavorings)
Icing colors or food coloring (optional)
Assorted colored sprinkles (optional)
Instructions
Preheat oven to 250°F. Prepare baking sheets with parchment paper.
In a large bowl, whip Meringue Powder and water with electric mixer on high speed until soft peaks form. With the mixer running, gradually add sugar in small amounts. 
Whip until stiff peaks form, typically 4-5 minutes.
Add vanilla (or other flavorings) and icing color and continue whipping until well combined.
Fill piping bag fitted with the 1M tip with meringue batter. 
Pipe 2 in. diameter circles onto parchment-lined cookie pans, spacing 1 in. apart for medium-sized cookies. 
Pipe smaller circles for crispier cookies or larger circles for more chewy cookies.
Bake 45-50 minutes or until outsides of meringues feel firm and crisp. Don't open oven while the cookies are baking. 
Turn off the oven and let cookies sit for an hour to dry them out then remove and cool completely on pan. Peel cooled meringues off of parchment paper.