There is just something about the onset of fall that inspires new energy in the kitchen. The change of season is a welcome opportunity for warm savory meals as al fresco afternoon dining gives way to cozy evenings. Equally compelling is getting back to red wine weather – and the flavors of the season.
Our Pinot Noir is a perfect wine for this time of year. Plush and light-bodied, Pinot Noir is a complex, yet versatile pairing wine. This wine compliments an array of dishes and ingredients, but is notably a great pairing with mushroom dishes; the earthy flavors of Pinot Noir just seem to belong with the rich flavor of mushrooms.
As you plan your fall menus and enjoy your favorite reds, try incorporating our Portobello Mushroom Pizzas. This recipe is simple, delicious and easily adapted to accommodate a variety of dietary needs and preferences.
Pour a glass of our 2021 Pinot Noir and raise a glass to new seasons!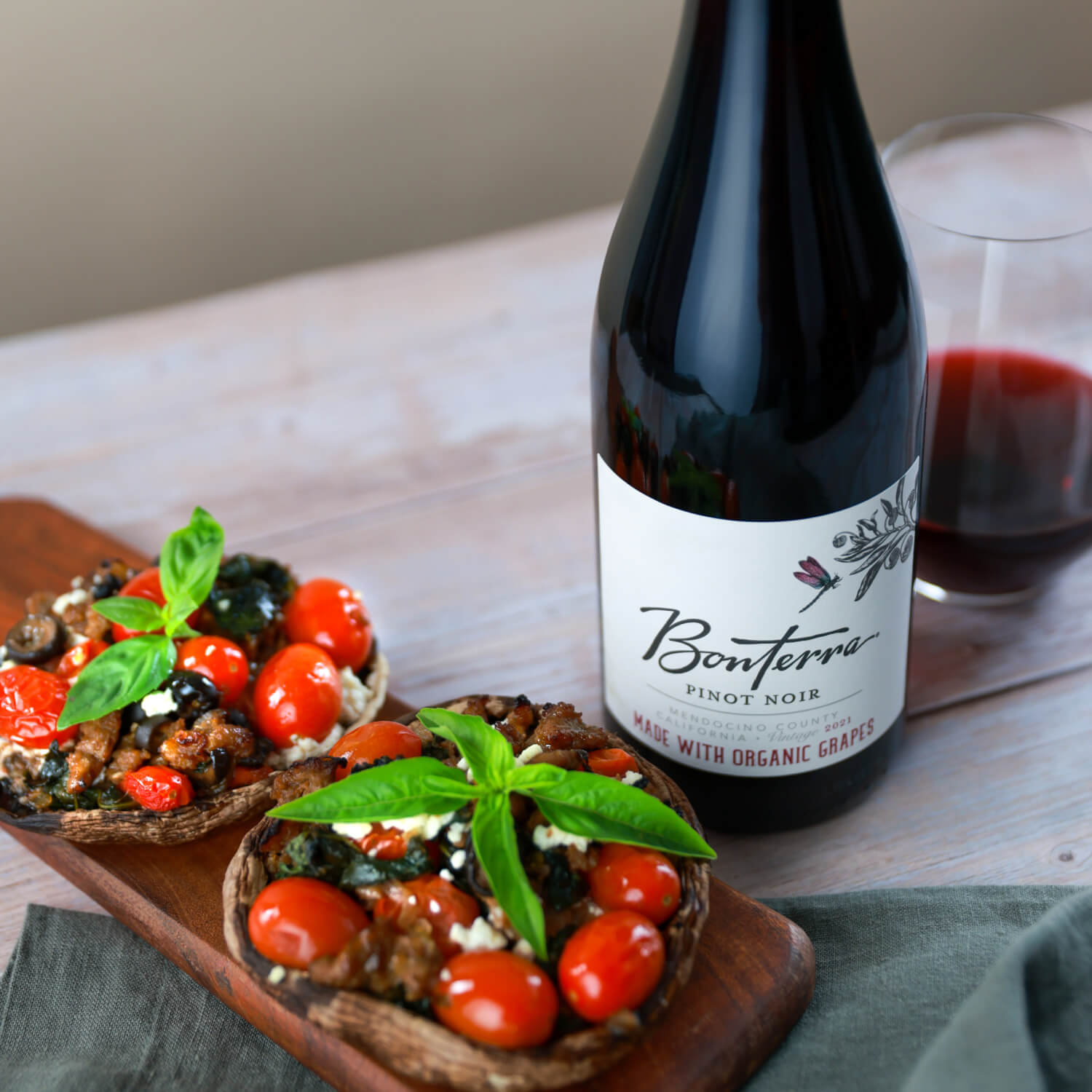 Portobello Mushroom Pizzas
Servings: 4
Ingredients
1 tablespoon extra virgin olive oil
1 small sweet onion, diced
1/2 lb Italian sausage (chicken or pork)
2 garlic cloves, minced
2 cups cherry tomatoes
1 1/2 tablespoons balsamic vinegar
2 cups baby spinach
Small can of sliced black olives
Sea Salt & Black Pepper (to taste)
4 Portobello Mushroom Caps
6 ounces crumbled goat cheese
Top with fresh basil
Instructions
Pre-heat oven to 425 degrees F.
Add olive oil to a large skillet and heat over medium heat. Add onion and sauté for about 5 minutes or until translucent. Add sausage, breaking up to crumble and cooked through.
Add garlic, cherry tomatoes and balsamic vinegar and sauté for another 5 minutes or until tomatoes start to burst.
Turn off heat and add baby spinach and black olives. Stir just until spinach is wilted. Season the mix with sea salt and pepper to taste.
Line a baking sheet with parchment paper. Sprinkle the inside of each mushroom cap with goat cheese and top with a few spoonfuls of the tomato mix. Place on baking sheet and bake for 10 to 12 minutes.
Remove from oven, top with fresh basil and serve immediately. Enjoy!
Recipe Notes:
More Veggies: Top with whatever vegetables you have on hand
No Goat Cheese: Use feta instead.
Vegan: Use lentils instead of sausage and sprinkle with some nutritional yeast instead of goat cheese.
Prep Ahead: Veggies can be diced in advance and stored in airtight containers or baggies.