This salmon  tartar  is  a  beautiful  and  simple  way  to  serve  your  favorite  salmon.  Be  sure  to  freeze  the  salmon  filet,  tightly  wrapped  in  plastic  wrap  for  at  least  8  hours.  Thaw slightly and chop while firm!  We  love  serving  it  on  potato  chips  but  crackers,  toasts  or  wonton  chips  are  equally  delicious!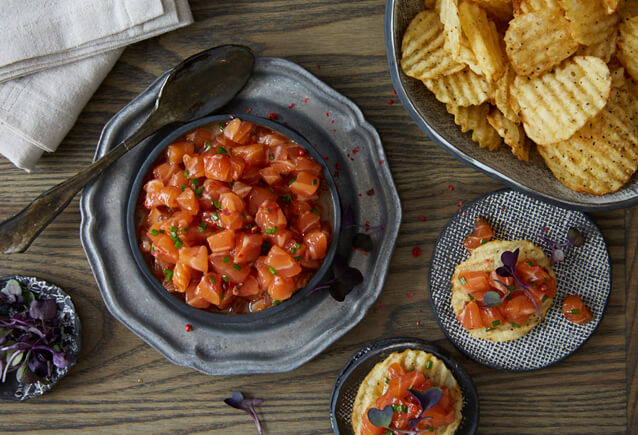 Simple Verlasso Salmon Tartar on Kettle Chips
Servings: 8
Ingredients
1 pound Verlasso Salmon Filet, skin and pin bones removed
1 teaspoon pink peppercorns, lightly cracked
¼ cup mirin
¼ cup soy sauce
2 Tablespoons chopped chives
Fresh radish sprouts for garnish
Kettle chips
Instructions
Dice the fish by first slicing in ¼-inch slices. Next,  cut  those  slices  into  ¼-inch  strips  and  lastly  into  ¼-inch  cubes.  Place the diced fish into a medium mixing bowl.    Add the peppercorn, mirin, soy sauce, and chives.    Pour  the  dressing  over  the  fish  and  mix  well,  but  gently,  to  incorporate  all  of  the  ingredients.  The  tartar  is  ready  to  eat  immediately,  but  can  hold  up  to  4  hours  in  the  refrigerator.  Place  the  tartar  in  a  large  bowl  and  lay  the  radish  sprouts  over  the  top  for  garnish.  Serve on artisanal kettle potato chips with Bonterra Dry Muscat.