May is peak-Spring and the signs of the season are all around: dirt on our hands from planting summer gardens, bustling farmers markets and the smell of the grill from al fresco neighborhood gatherings.
We love combining the fresh flavors of this season with something delicious from the grill, but we REALLY love combining both with our 2020 Single Vineyard 'The Butler' Red Cuvée – with 95 points from Wine Enthusiast, this complex and layered red blend leaves a lasting impression. Serve it with our recipe for spring salad with mustard and herb grilled flank steak for an easy, fresh and delicious meal that pairs perfectly with the season.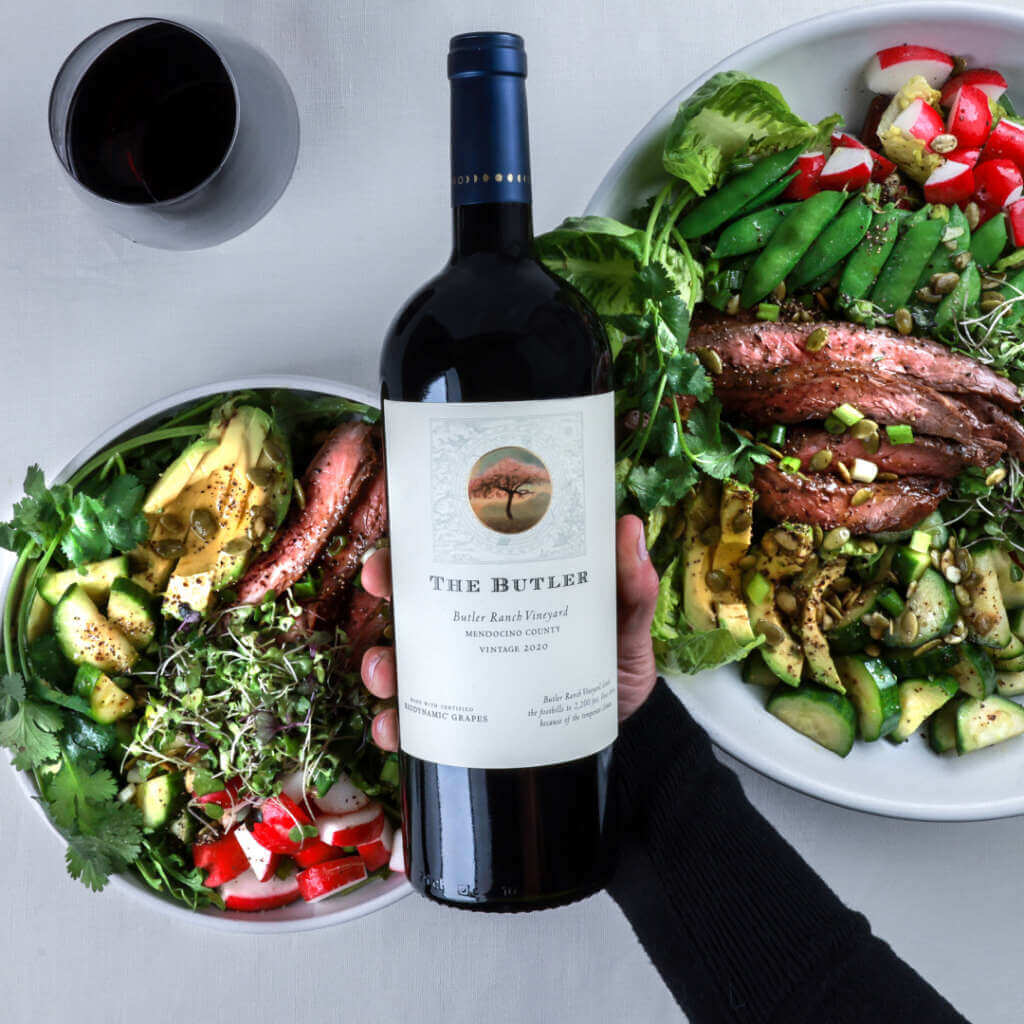 Spring Salad with Mustard & Herb Grilled Flank Steak
Serves 4
Ingredients
For the salad:
1.5 lb. Flank steak
4 cups little gem lettuces
2 cups baby arugula
1 English cucumber, sliced into half-moons
1 cup sugar snap peas
1 cup radishes, sliced or chopped
4 green onions, sliced
1 avocado, sliced
½ cup roasted pumpkin seeds
Top with Sprouts or micro-greens
Optional: sprinkle salad with goat cheese
For the salad dressing:
2 tablespoons lemon juice
6 tablespoons extra virgin olive oil
1 teaspoon Dijon mustard
Salt and pepper to taste
For the flank steak marinade:
1/3 cup extra virgin olive oil
2 cloves garlic, minced
2 tablespoons red wine vinegar
2 tablespoons Worcestershire sauce
2 tablespoons grainy/course Dijon mustard
2 tablespoons honey
¼ cup fresh parsley
¼ cup fresh cilantro
1 teaspoon ground cumin
1 teaspoon chili powder
1 teaspoon onion powder
1 teaspoon pink Himalayan salt
Sprinkle salt/pepper right before grilling
Directions:
In a medium mixing bowl, add all of the flank steak marinade ingredients and mix well to combine.
Place the flank steak in a large ziplock bag and add the marinade. Carefully close the bag and move the steak and marinade around with your hands to completely cover the steak. Add to the refrigerator to let the steak marinate for up to 12 hours, 2 hours minimum.
Remove the steak from the refrigerator about an hour before grilling to bring it to room temperature.
Preheat your outdoor grill (or indoor grill pan) to medium-high heat. Sprinkle the steak with a little more salt and pepper on both sides.
Grill the steak for about 5-6 minutes per side, or until the internal thermometer reads 130-135 (for medium rare) or around 140 (for medium). Grill time will vary depending on the thickness of your steak and how you like it cooked.
Once the grilling is done, place the steak on a cutting board and let it rest for 10 minutes before slicing. Make sure and slice your steak into thin strips against the grain.
While the steak is resting, mix together the salad dressing ingredients and set aside.
Add the little gem greens and arugula to a large salad bowl. Add the cucumber, sugar snap peas, radish, green onions, avocado, pumpkin seeds and micro-greens on top of the greens. Add the dressing and toss to combine. If using goat cheese, sprinkle on top.
Divide salad into bowls and top with steak. Serve and enjoy!
Recipe Notes:
Leftovers: Salad is best stored separate from the dressing. Keep in an airtight container for up to three days.
No Steak: Use chicken, bacon, tempeh, chickpeas, or lentils instead.
Serving Size: One serving is approximately 1 1/2 cups of salad with 4 ounces (113 grams) of steak.
Spring Salad with Mustard & Herb Grilled Flank Steak
TOP