As show-stopping as it is delicious, our Strawberry Rose Crepe Cake is carefully constructed by building layer upon layer of delicate crepes, lemony mascarpone filling, and sweet strawberries. Perfect for brunch, as a sweet treat after dinner, or anytime, really, we can't guarantee you'll have any leftovers.
So, whether you're hosting, in charge of bringing dessert, or simply feel like celebrating, it's hard to go wrong with this combination of sweet, creamy, and fruity.
Suggested Wine Pairing: Bonterra Sauvignon Blanc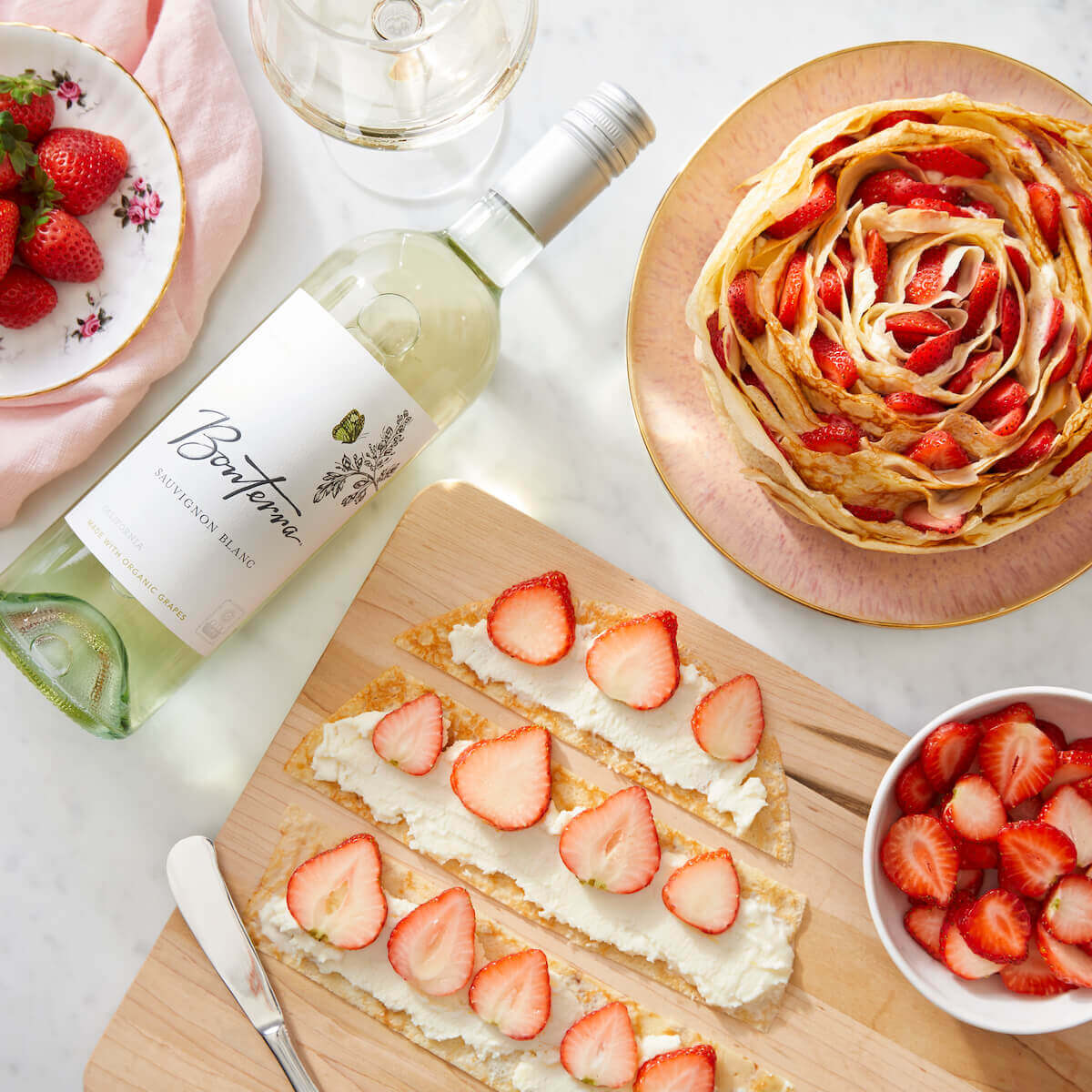 Strawberry Rose Crepe Cake
Ingredients
Crepes
1 cup flour
1 Tbsp. sugar
½ tsp. salt
1 cup milk
½ cup warm water
4 eggs
4 Tbsp. butter, melted + more to grease pan
Filling
1 cup mascarpone
¼ cup powdered sugar
⅓ cup heavy cream
1 lemon, zested
2 cups strawberries, thinly sliced
Instructions
Crepes
Combine all of the ingredients except for the butter in a blender. Blend until smooth. Add melted butter and mix until incorporated. Let rest for 30 minutes.
Heat a small pan (about 8") over medium high heat until hot. If the pan is not "non-stick," spray lightly with non-stick cooking spray. Add a tiny dab of butter to the pan and melt.
Pour about ¼ cup of crepe batter into the pan and swirl the pan to coat. Cook until the edges start to turn golden, about one minute. Gently flip the crepe and cook on the other side. Repeat with remaining batter, stacking the cooked crepes between layers of parchment paper.
Filling
In the bowl of a stand mixer fitted with the paddle attachment, combine the mascarpone, powdered sugar, and lemon zest. Gradually add the cream and mix until smooth and thickened.
Assembly
Cut the cooled crepes into thirds to create strips of equal width. Working with two or three strips at a time, spread about one Tbsp. of the filling mixture over each strip and layer with sliced strawberries. Roll a completed strip up to make a rosette, keeping the strawberries and filling on the interior. Continue building the cake by adding the remaining crepe layers to the center rosette.