The ultimate summer sipper, Bonterra Rosé is the refreshing, food-friendly rosé your summer barbecue, picnic, or date night needs and deserves. Enjoyed chilled on its own, or alongside your favorite summer eats (hello, watermelon salad and smoky chicken skewers), a glass of Bonterra Rosé is hard to beat.
But, we're here to remind you that there are even more delicious ways to enjoy the vibrant peach, watermelon, and pomegranate notes of Bonterra Rosé. Up the ante with our easy, extremely riff-able frosé recipe. It's pink, it's slushy, and it's featured in Cosmopolitan's list of cocktails made with wine.
A frosé base, with three optional variations, this recipe is our favorite way to beat the summer heat.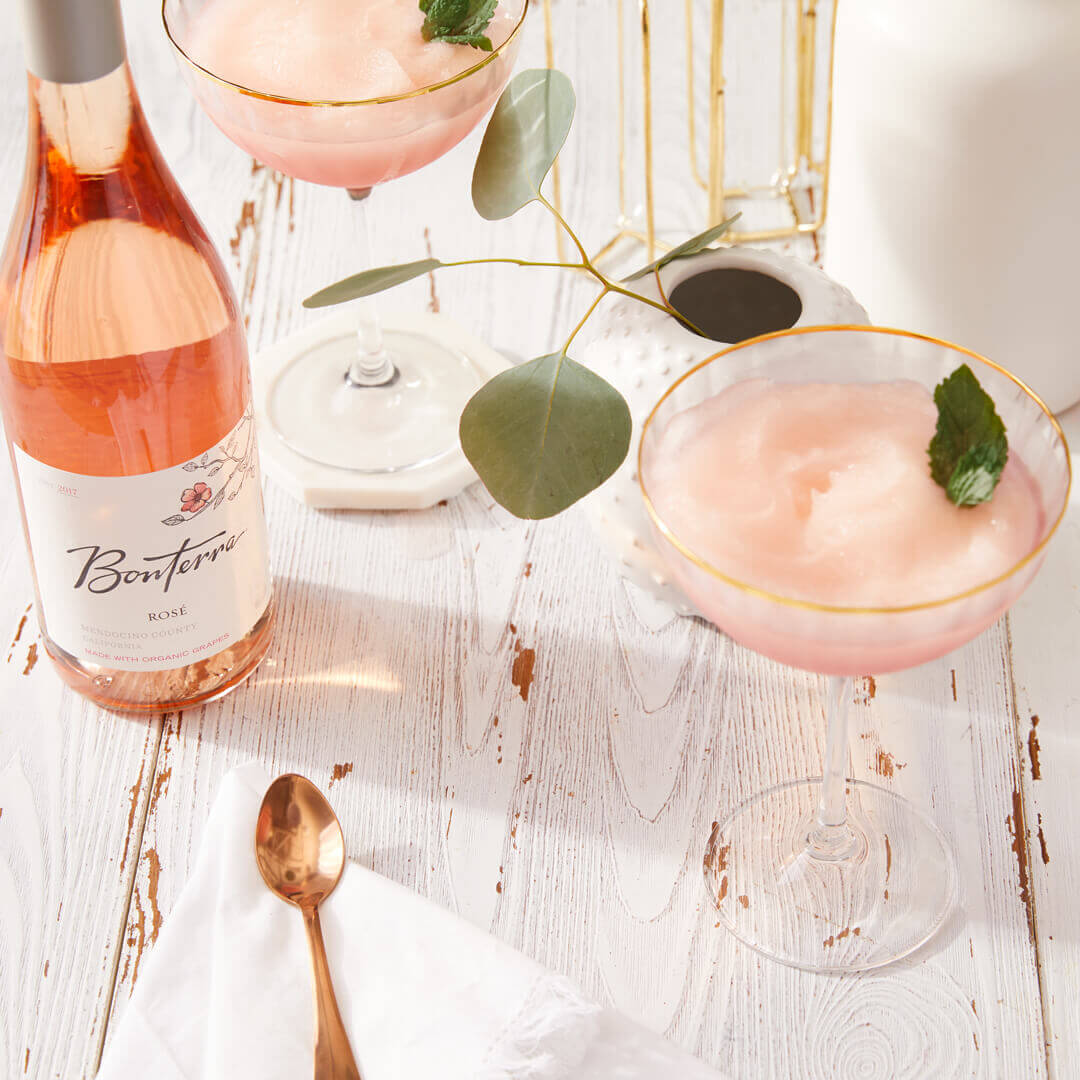 Summer Frosé
Ingredients
1 bottle Bonterra Rosé wine
¼ cup sugar
¼ cup water
Fresh mint, citrus wedges, or edible flowers to garnish (optional)
Instructions
Place a 13" x 9" baking pan in the freezer to chill.
Combine sugar and water and stir over low heat (or microwave) to dissolve sugar. Allow to cool to room temperature then pour the sugar syrup into the chilled pan and add the bottle of rose.
Stir to combine and return to freezer until mixture is nearly frozen, at least 6 hours. Because of the high alcohol content, the mixture will not freeze solid.
When ready to serve, scrape frozen wine into a blender along with the sugar syrup. Process until smooth and pour into chilled glasses, garnishing with fresh herbs, citrus, or flowers.
To jazz up your frosé, consider one of the following variations:
Melon Drop Frosé – Add 1 cup cubed watermelon to the rosé while freezing. Blend the frozen watermelon along with the rose and sugar syrup as in the base recipe. Divide between glasses and finish with a splash of elderflower liqueur and a skewer of watermelon balls and fresh mint, or fresh elderflowers, if available.
Strawberry Basil Frosé – While making the sugar syrup, simmer ½ cup sliced strawberries into the syrup. Allow to cool to room temperature then pour into chilled pan along with rose and freeze as directed. Blend and divide between chilled glasses, and garnish with fresh strawberries and basil leaves.
Amaro Frosé – After dividing froze between chilled glasses, top with a splash of favorite aperitivo or amaro. Garnish with orange wedges and fresh rosemary.
TOP