Chardonnay 2019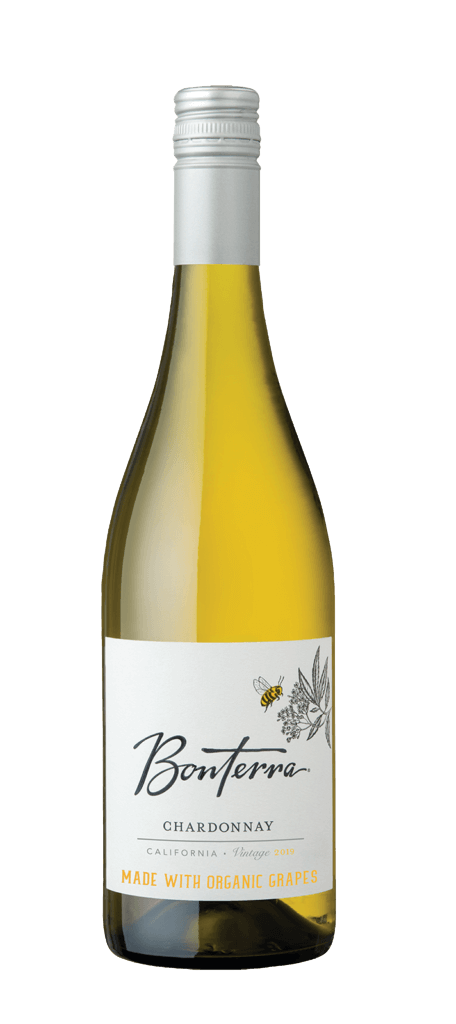 Chardonnay 2019
Our organic fruit offers the characteristic flavors of green apples, pears, and citrus to our chardonnay. We ferment 70% of the juice in a combination of French and American oak, which is allowed to undergo malolactic fermentation to create a rich, creamy wine with just a touch of new oak spice. The remaining 30% is fermented in stainless steel to preserve the crisp fresh fruit flavors. We age most of the wine using previously-used or neutral oak in order for these fresh fruit characteristics to shine through. New oak was used for just 15% of the wine to give this chardonnay a nice vanilla note.
An initial impression of rich, buttery cream quickly turns to aromas of honey and lightly toasted almonds, followed by tropical aromas of pineapple, citrusy lemon and crème brulee. The wine is refreshing on the palate, with a minerality that is both bright and clean, drawing you into a vibrant tartness and lemon zest that is absolutely, positively Bonterra Chardonnay, vintage after vintage.
Appellation: California
Alcohol: 13.5%
Download Tasting Notes
Over-delivering for the money, the 2015 Bonterra Chardonnay-made from organic grapes-is a delicious wine, and one of the best values in the marketplace. The wine shows bright apples, with enticing notes of cream and sweet spices. The smooth finish makes it a quaffable delight. Drinks well now.
Wilfred Wong of wine.com
"Winemaker Jeff Cichocki crafts an especially aromatic white here: Jazzy perfume of jasmine and sugar-dusted apples and almond shortbread. While 70% of the juice is fermented in a combination of French and American oak, 30% is fermented in stainless steel. The palate's crispness, an initial creaminess and a focused citrus core, delivers freshness. It finishes with ripe pineapple that allows the acidity to just about nip the tongue – great for food partnering. 90 PTs"
Meridith May, Tasting Panel
May/June 2020 Issue
"Soft, silky, fresh and dry with notes of tangerine, peach, mango, honeysuckle and almond biscotti. Organically grown. 90 PTS"
Catherine Fallis, Planet Grape Wine Review
March 5, 2020
Testimonial

Over-delivering for the money, the 2015 Bonterra Chardonnay-made from organic grapes-is a delicious wine, and one of the best values in the marketplace. The wine shows bright apples, with enticing notes of cream and sweet spices. The smooth finish makes it a quaffable delight. Drinks well now.

Wilfred Wong of wine.com

"Winemaker Jeff Cichocki crafts an especially aromatic white here: Jazzy perfume of jasmine and sugar-dusted apples and almond shortbread. While 70% of the juice is fermented in a combination of French and American oak, 30% is fermented in stainless steel. The palate's crispness, an initial creaminess and a focused citrus core, delivers freshness. It finishes with ripe pineapple that allows the acidity to just about nip the tongue – great for food partnering. 90 PTs"

Meridith May, Tasting Panel

May/June 2020 Issue

"Soft, silky, fresh and dry with notes of tangerine, peach, mango, honeysuckle and almond biscotti. Organically grown. 90 PTS"

Catherine Fallis, Planet Grape Wine Review

March 5, 2020
Awards
89 PTS, 2013 Vintage
Wine Enthusiast, June 2015 Issue
"Aromas and flavors of fresh, crisp, green apples and golden cherries seem to light up this medium-bodied and well-balanced wine."
90 Points, Vintage 2015, Best Buy
Wine Enthusiast, April 2017 Issue
"Ripe fruit meets butter and spice in this medium-bodied, smooth and integrated wine. It opens with Bosc pear and golden apple aromas, melding with vanilla and marzipan notes, its richness of flavor nicely buoyed up by acidity."
Awards

89 PTS, 2013 Vintage

Wine Enthusiast, June 2015 Issue

"Aromas and flavors of fresh, crisp, green apples and golden cherries seem to light up this medium-bodied and well-balanced wine."

90 Points, Vintage 2015, Best Buy

Wine Enthusiast, April 2017 Issue

"Ripe fruit meets butter and spice in this medium-bodied, smooth and integrated wine. It opens with Bosc pear and golden apple aromas, melding with vanilla and marzipan notes, its richness of flavor nicely buoyed up by acidity."