Spotted arching above Bonterra's sprawling organic vineyards and Biodynamic® estates, rainbows are a real treat, brightening up the sky and adding a little color to our days. These colorful surprises remind us of the ways we can incorporate pops of color into our everyday, especially through our diets.
A plant-rich and colorful diet helps keep us at the top of our game mentally and physically, preparing us to give our all to maintaining Bonterra's organic practices and Biodynamic® vineyards. Check out these color-coordinated tips and give our Beet Hummus a go:
Orange & Yellow: Think carrots, citrus, and sweet potatoes. These foods are often rich in Vitamin A, Vitamin C, and potassium, promoting eye health and strengthening bones.
Purple & Blue: We're talking blueberries, blackberries, eggplants, all brain foods with antioxidants galore. What's not to love?
Green: Dark, leafy-greens like spinach, collard greens, and kale are chock full of Vitamin A and also serve as a great source of calcium.
Red: Here's where the beets come in. Nitrates found in beets help lower blood pressure while natural fiber found in the colorful root veggie aids in regulating the digestive system.
Suggested Wine Pairing: Bonterra Merlot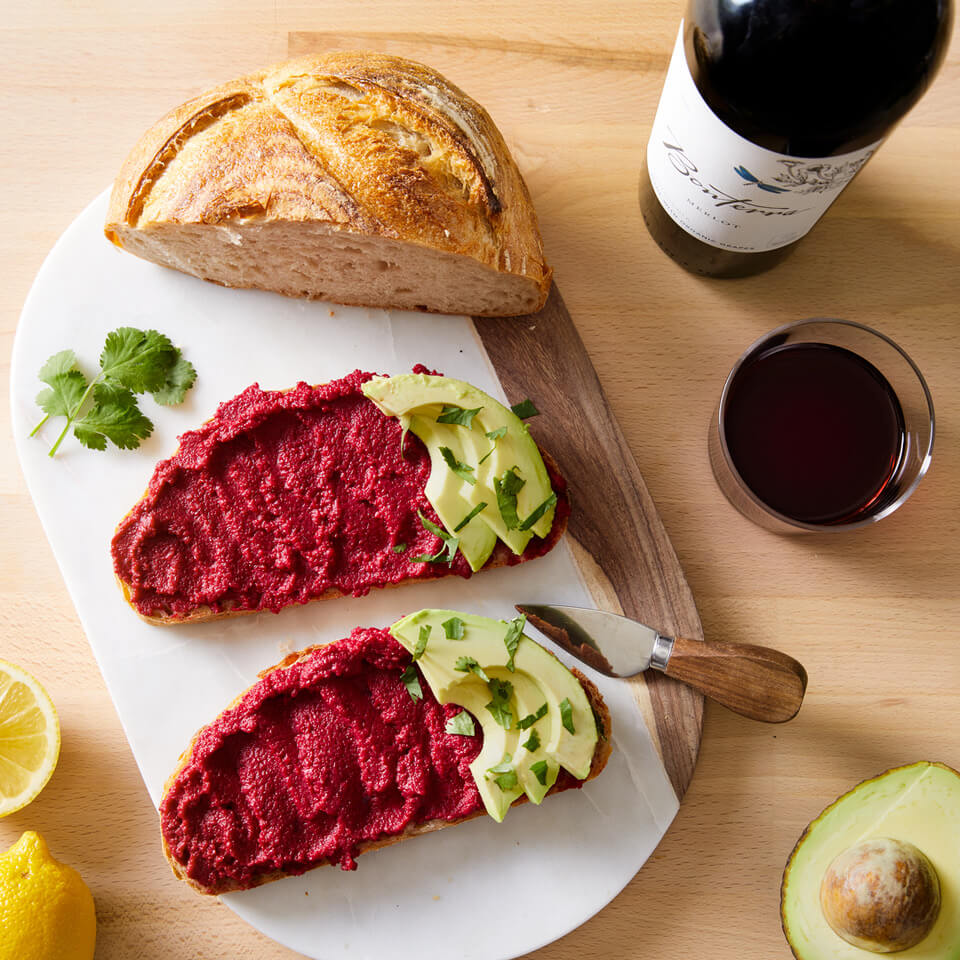 A Colorful Diet Is Hard to Beet: Bonterra Beet Hummus
Ingredients
2 large red beets
¼ cup olive oil
Salt to taste
Tahini paste to taste, 2-3 tsp.
½ lemon
Instructions
Preheat oven to 375°F.
Scrub beets and rub with 2 tsp. of olive oil reserving the remaining oil. Sprinkle with salt and place in a deep roasting dish. Cover with foil and bake until tender, about an hour. Let cool to room temperature and rub skins to remove.
Roughly chop the beets and place in a food processor with the tahini. Begin blending while drizzling in the remaining olive oil to form a smooth spread. Taste and adjust seasoning as desired.
Finish with a squeeze of lemon juice.