Say "Hello" To Hot Pot
Part cooking, part bonding with family and friends, DIY hot pot parties are 100% fun. Plus, hosting an epic hot pot party boils down to a few key components—a heat source, soup or broth, and ingredients for dipping—which are infinitely riff-able and easily adapted to match your taste and kitchen.
Don't have a countertop burner? Use a heavy dutch oven or earthenware donabe to keep your broth hot. Not a fan of meat? Skip it entirely by using a vegetable broth and mushrooms for added umami. Like it hot? We won't keep you from adding (or not adding) all the spice you can handle.
Here's our how-to. Enjoy with a refreshing can of Sauvignon Blanc and have fun!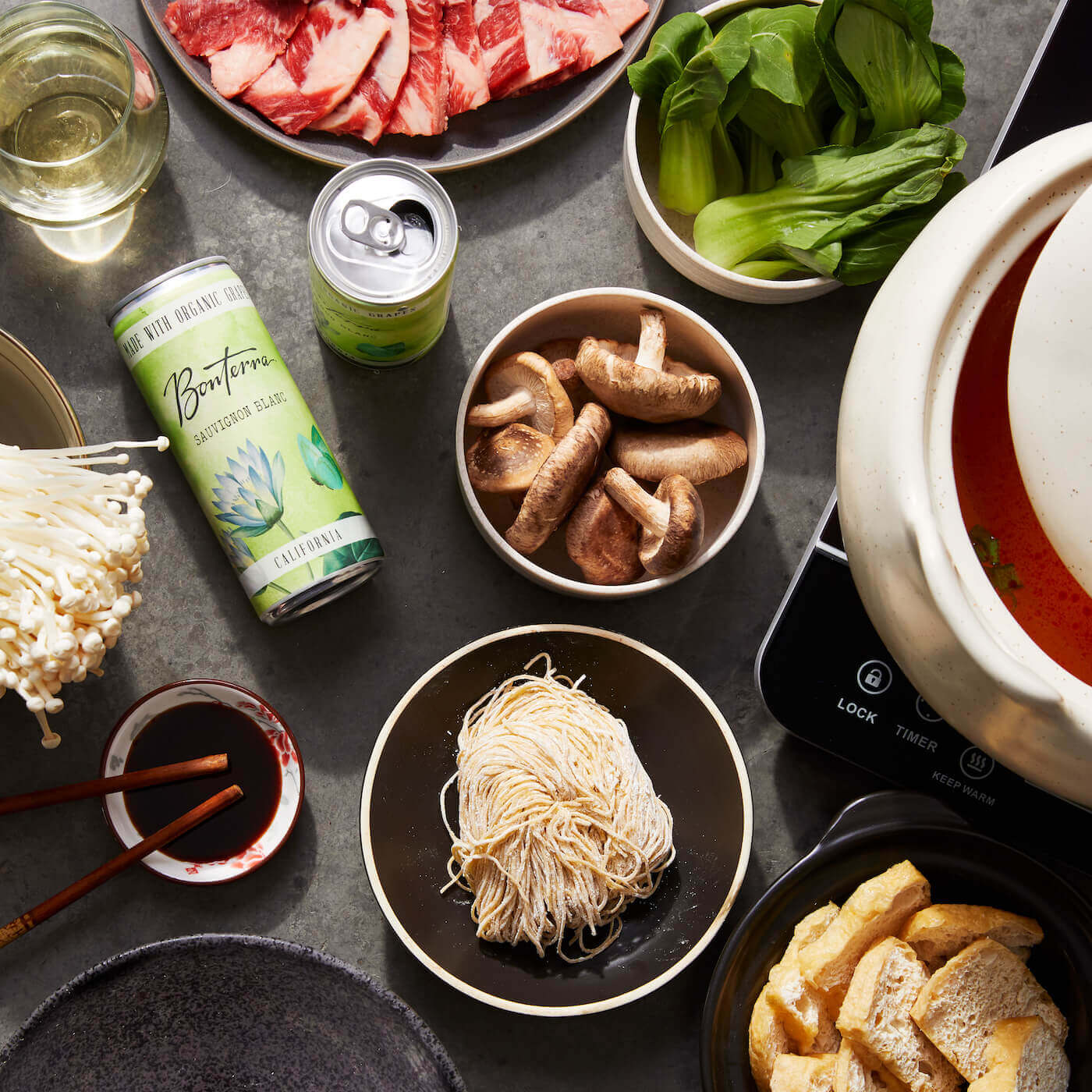 Hot Pot How-To
Ingredients
Broth:
4 qt chicken or vegetable stock
4 cloves of garlic, peeled and crushed
2 lemongrass stocks, crushed and cut into one inch pieces
One 2-inch piece of ginger, peeled and quartered
1-2 tablespoons fish sauce
2 tablespoons soy sauce
1 tablespoon rice wine vinegar
2 tablespoons brown or palm sugar
2-4 Thai chilies slices and added to taste
1 bunch cilantro
Mix and Match:
Meat or chicken (sliced thin), shrimp, egg, or tofu
Seasonal veggies like mushrooms or baby bok choy
Rice or buckwheat noodles
Instructions
Saute garlic, lemongrass, ginger and chillies to taste in the bottom of your pot.
Once aromatic, add in fish sauce, soy sauce, rice wine vinegar and brown sugar.
Once sugar is dissolved, add in stock and bring to a boil.
Reduce temperature to a simmer, and add in chopped cilantro to taste.

Bring hot pot to table and place on burner. Add your desired hot pot ingredients and enjoy!