The leaves are continuing to fall and harvest is wrapping up on the ranch, unmistakable signs that the holidays are here! Thanksgiving is a few weeks away and it's all about the food and wine. From turkey and side dishes to pie and leftovers, we plan to enjoy every moment and relish every bite of this delicious holiday meal.
Since 2014, Bonterra has been TRUE zero waste certified and while a little indulgence is definitely on the menu, we love finding ways to eliminate waste and celebrate sustainably during the holiday season. One our most fun – and delicious – traditions is finding creative ways to use leftovers after big holiday meals.
Our recipe for leftover Thanksgiving turkey hash combines leftover turkey meat, holiday spices, seasonal squash and apples for a warm, comforting day-after meal. Pair a Bonterra Rosé for a particularly festive feel – the elevated acidity and crisp finish are a perfect match for the hearty squash and brussels sprouts.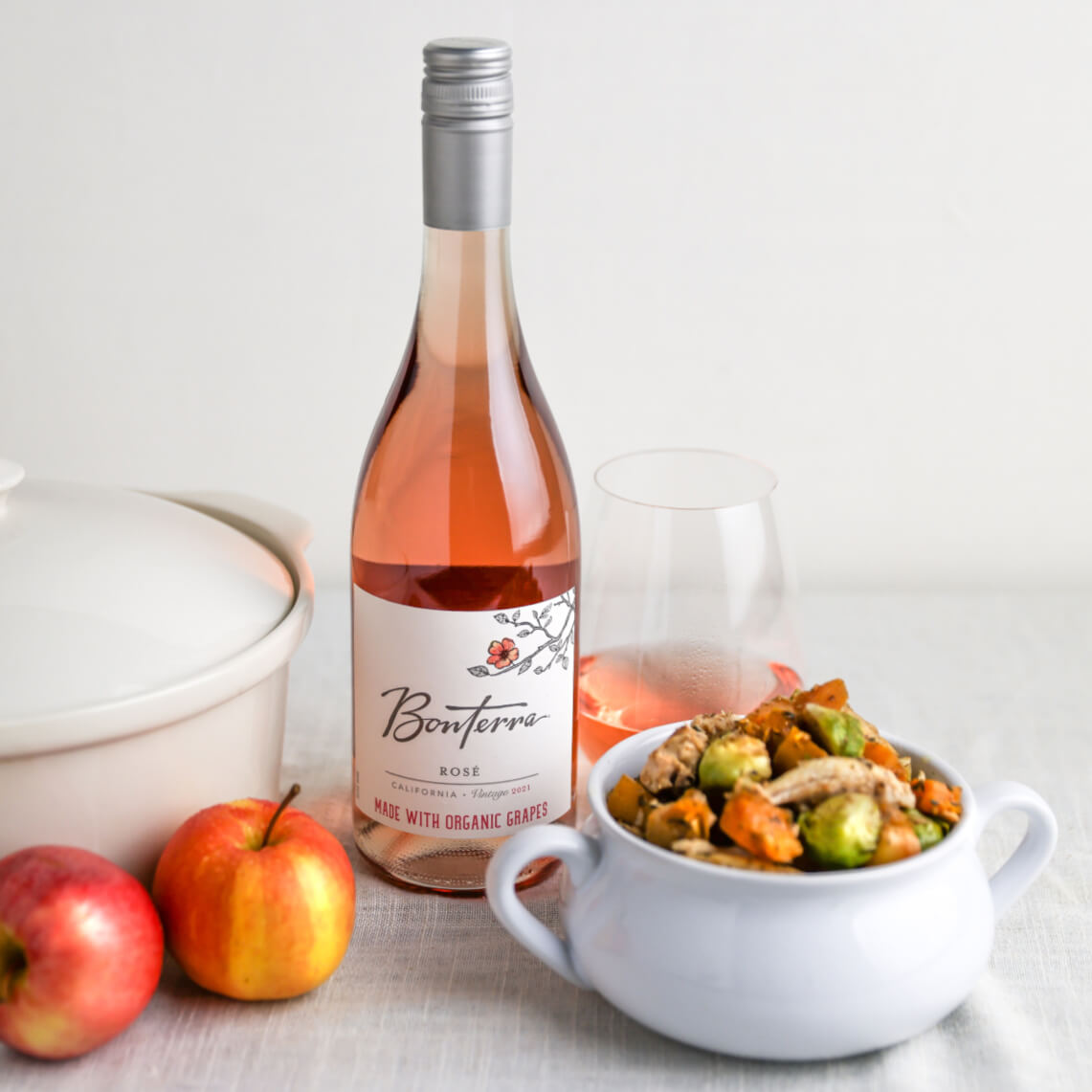 Leftover Thanksgiving Turkey Hash
Servings: 4
Ingredients
1 lb leftover Thanksgiving turkey meat (white/dark meat), chopped or shredded
1 tablespoon avocado oil
1 cup red onion, diced
2 cloves of garlic, minced
1 teaspoon cinnamon
2 tablespoons poultry seasoning
2 cups brussels sprouts, trimmed and halved
2 cups butternut squash, peeled and cubed
2 apples, cored and diced
Salt/pepper to taste
Instructions
1. Heat a large skillet over medium heat. Add the avocado oil, onion and garlic, sautéing until translucent.
2. Next add the brussels sprouts, butternut squash, and apples. Add the cinnamon and poultry seasoning and mix in. Cover and cook for about 10-15 minutes, stirring occasionally, until all veggies are soft.
3. Add your leftover turkey into the skillet and stir to combine. Season to taste with salt and pepper.
4. Divide into bowls and enjoy!