Dessert is an opportunity to make something beautiful and delicious…. and we've got the perfect "pearing" that's sure to impress. Wine Poached Autumn Pears partnered up with Bonterra Equinox Red. You can't go wrong.
And of course, we recommend opting for organic ingredients—from your sugar to your pears—in this Flavor Bender recipe for Wine Poached Pears. 
We hope you saved room for dessert!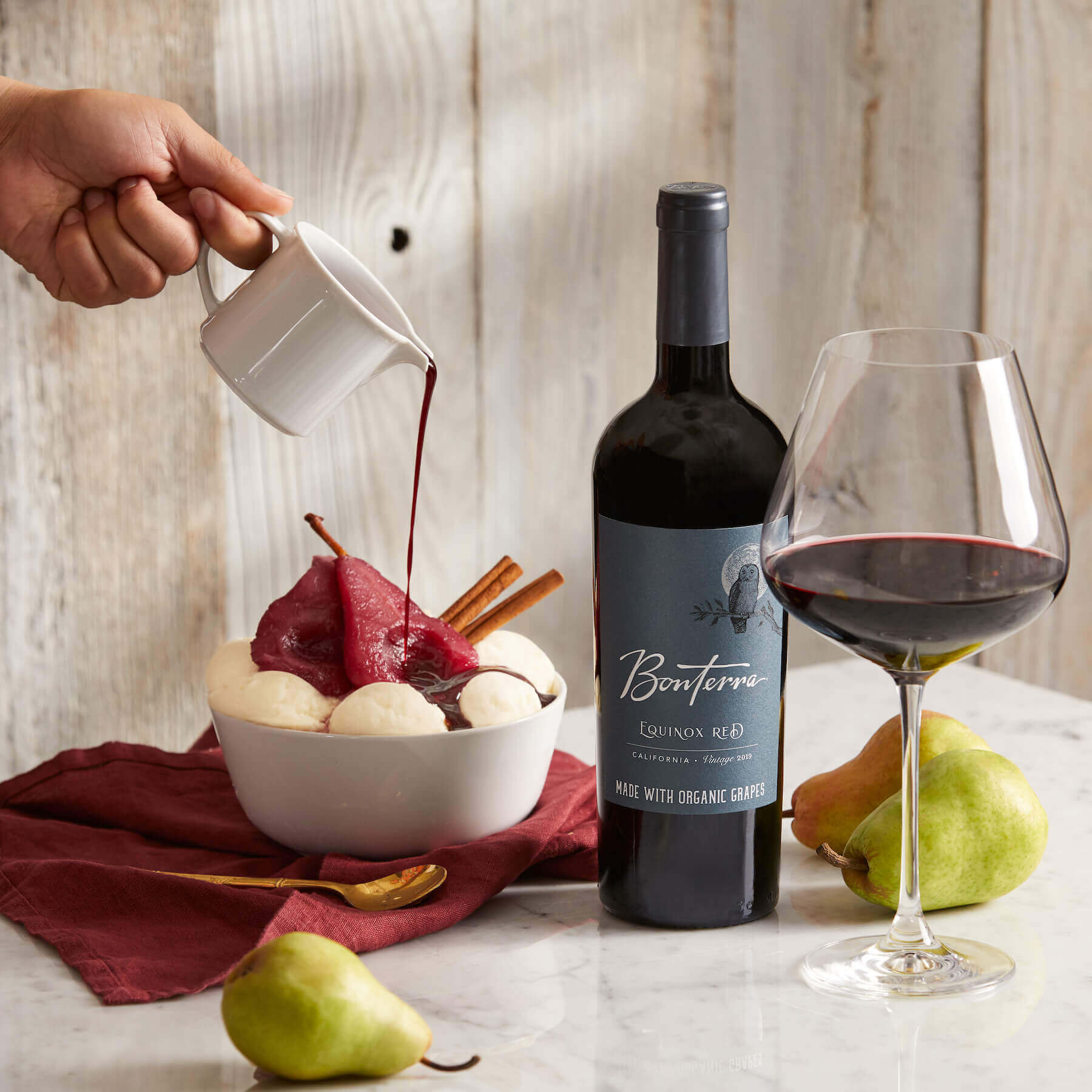 Wine Poached Autumn Pears
Ingredients
½ cup sugar (or sugar substitute)
1 large piece of orange peel
8 - 10 whole cloves
2 sticks cinnamon
2 cups Bonterra Equinox Red Wine
½ cup water / fresh squeezed orange juice
2 tsp vanilla extract
3 - 6 medium sized organic bosc pears
Instructions
Set pears aside and place all other ingredients in a large saucepan. 
Bring your Equinox Red wine to a simmer and keep stirring to dissolve the sugar.
When your poaching liquid is ready, peel your pears, lower them into the saucepan, and let them poach in the liquid on medium-low heat for 20 – 25 minutes.
TIP: Rotate pears every 5 minutes for an even poach on all sides.
When done poaching, remove saucepan from the heat and let pears cool in the poaching liquid.
To Serve
Once cooled, place your pears on a plate and cover with plastic wrap.
Heat remaining liquid in the saucepan, and let simmer until it thickens into a syrup. Too thick? Just add a little water.
Drizzle on some syrup and serve with some vanilla ice cream, fresh whipped cream or mascarpone cheese, and enjoy!

TIP: Best served chilled or at room temp.